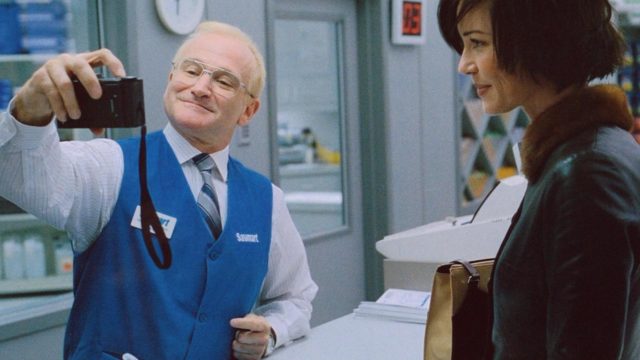 It's amazing and kind of disturbing when great comedians give some of the darkest performances of their career. You get to see another side of them that you weren't fully aware existed. In some cases you hope to never see it again simply because it's too disturbing. But in some ways it's actually enlightening because you get to see that they can actually do something else aside being dramatic or funny. They show you another layer of their psyche that might be something they wouldn't do at any other time.
Here's a few comics you wouldn't expect to be able to go so dark.
5. Robin Williams – One Hour Photo
This kind of makes you wonder about the guys at the photo hut that used to develop film, or the guys that still do it at the local Walgreens. How trustworthy are they? Granted this is just a fantasy, a piece of fiction, but Williams was such a talented actor that you couldn't help but cringe whenever he came on screen during this film.
4. Jim Carrey – The Number 23
You wouldn't think he could do suspense or any type of thriller considering what he's done in the past. But Jim Carrey put in a performance that was off the wall disturbing. He didn't gain a lot of fans for this attempt and quite honestly the movie didn't do that well but it did prove that he can go extremely dark if he has to.
3. Steve Carell – Foxcatcher
This isn't the first time that Carell has played something other than a funny guy, but it is one of the first times that anyone has seen him act truly disturbed. Acting as a rich, self-important wrestling coach he's definitely got the right attitude and strange state of mind for the role. But the lengths to which he goes leaves the mind boggling.
2. Dane Cook – Mr. Brooks
He's really more pathetic than dark in this film but he's got that mad dog look in his eyes that falls apart the moment he realizes that Mr. Brooks has tricked him. Up until that point he's the desperate kind of killer that wants to experience that moment of crazed, sickened joy when performing the act. Yes, that is uniquely disturbing.
1. Adam Sandler – Reign Over Me
You don't see Sandler go dark, ever. He's always the goofy man-child that throughout his movies feels the need to make fun of one ethnic group or another. In this film though he goes dark for a good reason because his entire family is lost in the 9/11 attacks. He simply shuts the world out, refusing to deal with anything because he is broken in a way that is nearly impossible to fix. And that is extremely dark.
You didn't think funny people could go dark? Don't take a look inside their heads then, you might not like what you see.