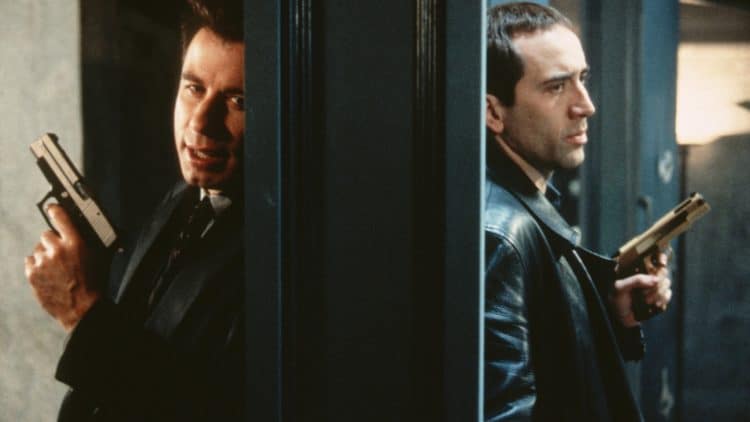 Movie theaters are finally reopening next week and as a longtime moviegoer, I'm super excited. I don't know how exactly theaters will manage their audiences during these dark times, but I do know that people like me are itching for that theater experience again. Personally, being stuck in quarantine actually gave me a chance to catch up on some of my old favorite movies. One of them stars two of the most hammiest actors to grace movies. This movie is a classic example of why John Woo should be directing more action movies. Any guesses?
If you don't know the answer already, shame on you. The movie I'm talking about is Face/Off, starring John Travolta as Sean Archer/Castor Troy and Nicolas Cage as Castor Troy/Sean Archer. If that sounds weird, it's because the premise is weird. Seriously, it's very, very weird. In fact, on paper, this movie sounded like the dumbest idea ever and would've failed hard. However, Mr. Woo made it work, and he owes it to the "unique" acting chops of John Travolta and Nicolas Cage. I use that wording because if you ask me, Travolta and Cage aren't exactly great actors. Hey man, if you're a fan of theirs, don't flip out, it's just my opinion. In fact, I enjoy them, just to a different degree.
Okay, you can bring up Pulp Fiction or Raising Arizona, but honestly, those performances didn't grab me. For me, Travolta and Cage stand out most when they're acting to their absolute hammiest. For example, Cage's best performance (in my opinion) is when he played a crooked cop in Bad Lieutenant: Port Call of New Orleans. Seriously, I think that should've been retitled as Nicolas Cage Reality TV. As for Travolta, I can honestly say I don't really have a favorite performance of his. However, I dig him when he plays villains, such as not-Sean Archer and Howard Saint in the 2004 Punisher movie. He wasn't exactly good, but he was fun to watch because he didn't hold back. Agree or disagree, I believe these two actors going full hammy is what made Face/Off such a fun watch. The over-the-top, Woo-style action was just icing on the cake for me.
After revisiting Face/Off during quarantine, an idea came to me: how about a remake? Say remakes are unoriginal, but then again, I see no harm in retelling a good story and adding some new quirks to it. For starters, don't get rid of the crazy action. Face/Off was bloody, exaggerated, and kind of felt like a video game, true to the John Woo style. If it ain't broken, don't fix it. However, much like what Shuri said, "Just because something isn't broken, doesn't mean it can't be improved."
I'll admit, Woo's action can get jarring after a while, so if I had suggest an improvement for a supposed remake, I'd say ease down on the slow-motion. It's cool to see the first two times, but do we really need to see it for the whole movie? In my opinion, no. And yes, that includes the flying-in-the-air-while-shooting sequences. I think of Max Payne when I see that and I feel like it goes overkill. Like I said, show it once or twice, it's cool, but not in every scene. Being over-the-top doesn't mean show the same cool thing in every scene. Keep the excessive violence, keep the crazy shootouts, but ease down on the slo-mo. Oh, and maybe not so many explosions. When we start getting the Michael Bay vibes, the interest starts decreasing. Style over substance can be cool at times, but there is always a middle ground.
Now I know I really praised the film based on the performances of Travolta and Cage, but I wouldn't count on them returning for a remake. They're both past their prime, but we can always find two better actors to replace them. So which two talented actors can take their spots? It just so happens I have two particular ones in mind. The actors I choose are Michael Fassbender as Castor Troy/Sean Archer and Tom Hardy as Sean Archer/Castor Troy. In other words, Fassbender would be playing the actual Castor Troy until he's wearing Sean Archer's face, and Hardy would be playing the actual Sean Archer until he's wearing Castor Troy's face. As I typed that, I realized how weird it sounds, but I also realize that's precisely the point.
Firstly, when I look at Cage and Travolta, they somehow remind me of Fassbender and Hardy. In my opinion, Fassbender and Hardy resemble younger versions of Cage and Travolta, except… they're both way more talented actors. Yes, I said it, and I stand by it. In fact, if you ask me, Fassbender and Hardy are among the best actors of this generation. That might be an understatement, but I believe Fassbender is especially overlooked. I know he was recently in some serious flops, but if you look at his most serious acting chops, it's hard to not appreciate him as an actor. From 12 Years a Slave, to the X-Men prequels, Fassbender has certainly proven he can tackle bigger projects. I just hope his recent flops don't cause him to divert to auto-racing and retire from acting.
As for Tom Hardy, let's just say the man can play all kinds of roles. He can go from the serious and angry Tommy Conlon in Warrior, to the menacing and intimidating Bane, to the comedic and well-meaning Eddie Brock, Hardy is about as diverse as it gets. Compare him to Fassbender, and he just might have a better track record, but the thing about Fassbender is that even when he's in a bad movie, his acting is always superb.
The best example I can think of is the 2010 Jonah Hex movie. Yeah, that wasn't so good, but Fassbender as the secondary villain called Burked really entertained me. He was a bowler hat-wearing, tattooed Irishman with a sadistic love for violence. What got my attention was that he wasn't playing an angry, serious character that he usually plays. This character was indeed a psychopath, but he smiled a lot and was the type of facetious villain that reveled in the violence he caused. Hold on, that sounds a lot like Castor Troy, doesn't it?
This is why I believe Fassbender and Hardy would kill it in a Face/Off remake. Both actors can play the facetious goofball with the killer smile, but they can also play the angry, more serious characters as well. Cage and Travolta had to shift back and forth during the movie when they switched faces and they actually sold it when they played the two types of characters. Castor, as Sean, had to face Sean's grieving wife after he killed their young son. Sean, as Castor, had to face Castor's family and realize even a man like him is capable of having people that care about him. It's this kind of emotional range that Fassbender and Hardy can deliver and above all else, I'm convinced they can portray the rivalry Archer and Troy had on screen. If they can nail that, then it would all come full circle.
Anyone else want a remake of Face/Off? On thing I know is that Fassbender and Hardy can be goofy, but not hammy. That makes them the better actors.