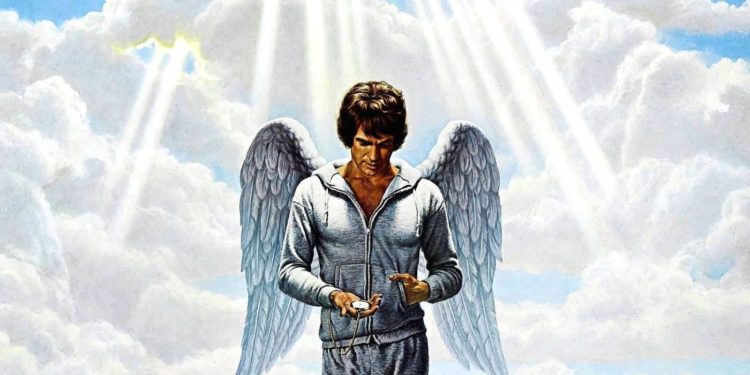 So what does heaven really look like? A lot of us have very different ideas of what that glorious place must look like, while others tend to think that heaven is the place you find where your heart is most at peace. For many that look forward to something that comes after death however, especially when it comes to movies, heaven is a place that we want to see as an idealized location where a soul can go to rest or perhaps to at least have a second chance if there's something left to be done in the wake of their demise. Some people would like to believe we become angels upon our passing, while others believe that heaven is a reward for a life well-lived and spent in the service of others. It feels safe to say that many a director has envisioned a place like this in a very different way than a lot of people might recognize within their own imagination, but that's the whole point of heaven and hell, they're largely based upon the interpretation we happen to favor the most, no matter what form that might take.
Here are some of the most interesting representations of heaven in movies.
5. All Dogs Go to Heaven
Being a place among the clouds is a common thing since many people think of God when they look up and praise the heavens, but this is a definite twist since each clock that is seen in the heavenly clouds in this movie represents a life that has stopped. Charlie isn't ready to accept his fate just yet, and in so doing restarts his own clock, thereby sending himself back to the mortal plane. He's warned in a loud and resounding manner that he can never come back once he returns, but being a rather selfish pooch he doesn't really care since he feels that he was taken before his time, and he means to get his life back.
4. Constantine
Right away it's fair to state that a lot of people didn't care for this movie since it would seem that it didn't hold with the source material all that well and people didn't care for Keanu's performance. But that being said, it was a rather interesting movie in that it was a giant game of who could one-up the other, the devil or God. In the end, when it came Constantine, it looked as though God was going to give the devil a dose of his own medicine as John's sacrifice forced Lucifer to relinquish one of his prized souls so that she could make her way to heaven. But in doing so John earned his own forgiveness for the selfless act, thereby forcing Lucifer to swallow a big slice of humble pie. Of course the devil didn't let it stand at that as he ripped the cancer from John's lungs, insuring that he would survive to make sure he would one day be sent to hell.
3. This Is The End
As post-apocalyptic movies go this one was absolutely nuts since it featured so many stars in so many different ways, mostly as themselves, and had a few bizarre twists that a lot of people likely didn't see coming. But by the time it was figured out just how to get to heaven via one of the bluish-white beams that would allow a person to ascend, some people were already lost and others were still slow in coming around. Jay and Seth however were finally greeted inside the pearly gates by their buddy Craig as they soon came to find out that anything they wanted could come true, and that heaven truly was a wonderful place.
2. Heaven Can Wait
You would like to think that guardian angels are perfect in a way but when Joe's guardian angel takes him prematurely from his life the mix-up has to be fixed somehow and the first body he gets pushed into is a wealthy gentleman that was just poisoned and drowned by his cheating wife. As he tries to regain his life after coming back to existence he finds that it's increasingly difficult since the older body is harder to get into shape and is eventually shot by the wife and her lover. After that he is slammed into the body of a quarterback who's just been killed on the field, only for all memory of who he was to be removed so that the quarterback can go on living his renewed life.
1. What Dreams May Come
This is the idea of heaven that a lot of people might enjoy, the kind of landscape that can be shaped by dreams and therefore adapted to what makes a person truly happy and content. That one little corner of heaven that can be occupied by one person and enjoyed to the fullest is usually what many people would gladly enjoy and come to love as their own, as it can change whenever they want.
Heaven is a personal place, as many people might agree in some way, but it's still gratifying to share it with others.