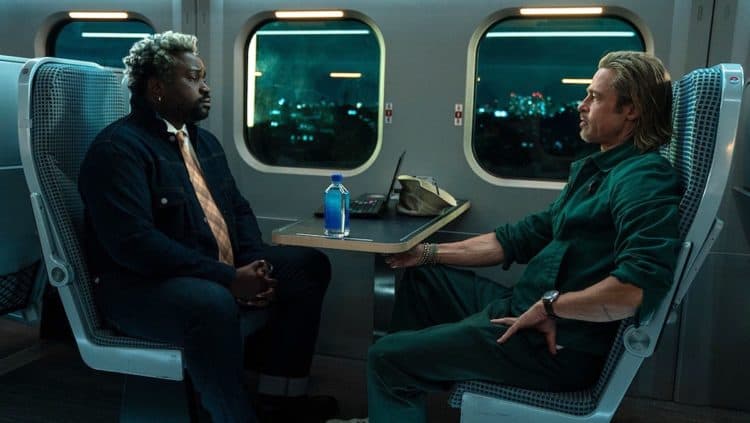 Deadpool 2 and Atomic Blonde director David Leitch is back with an exciting new action vehicle, Bullet Train, which has an all-star cast that's headlined with Brad Pitt. Set to be released in theaters on July 15, 2022, the film is about a trained killer who has found peace and severity in his world but is dragged back into the deadly game of bullets and dead bodies when his handler gives him a mission to collect a briefcase on a bullet train heading from Tokyo to Morioka. However, Ladybug isn't the only assassin on the hunt for the mysterious briefcase and the trained killers will do anything to make sure they get what they're looking for. Here are the five best moments from the Bullet Train trailer:
The Opening Between Lemon and Ladybug
Out of the gate, Bullet Train demands your attention with a funny and action-packed opening sequence between Brian Tyree Henry's Lemon and Brad Pitt's Ladybug. The whole, "assassin comes out of retirement" plot is nothing new, so Bullet Train was fighting an uphill battle from the beginning; however, the confident direction from Leitch, the writing from newcomer Zak Olkewicz, and the acting ability of Pitt are what makes this film appear must-see. Instantly, we understand the world and tone of Bullet Train. It plays a bit like John Wick, the action is crisp and hard-hitting, but the comedic nature truly sets the film apart. It's genuinely a funny moment that checks off multiple boxes at once. Bullet Train sounds like a gonzo crazy, bullet-soaked action fest and the first few seconds confirmed that we're going to be a part of a wild ride.
Ladybug Walking Through Tokyo, Japan
This is such a simple moment, but Bullet Train is such a beautiful film to look at. The cinematography and color scheme coated in such a violent and chaotic world is both striking and a nice juxtaposition at the same time. Another key part is the location, as it's always great to get a look of other aspects of the world that isn't based in the typical filming spots of California, New York, or Washington D.C. This moment gives us more insight into Brad Pitt's character; He doesn't appear to be your usual spy/assassin/police officer forced to go back into his job, he's clearly doing this at his own free will, but with a different mindset. Why is Ladybug going back to a job that's against his moral code? What exactly did Maria Beetle do to force him back into this world of trained killers? When did Ladybug come to a realization that peace and love is better than blood and dead bodies? An action trailer is supposed to do more than showcase the awesome set pieces and fight choreography, as the character's journey is also very important. These types of questions leave your mind wondering and this trailer does an excellent job showcasing that there's more to this world than mindless violence.
The Montage of Assassins and Killers
The characters are just as important as the action. You can have all the incredible action in the world, but if audiences haven't connected with the characters or story then the experience of watching people trying to kill each other is numbing and boring. The montage highlights the different and colorful personalities of Bullet Train and confirms that this will be a gory spectacle with unique fighting. Action films don't have to work on deeply rooted characters like dramas, but the audience needs to understand them. There's no telling whether Bullet Train will give that much information, but based on the entire trailer, there's clearly some craft put into the personas of the five assassins.
Hiroyuki Sanada and Ladybug conversation
Unfortunately, Hiroyuki Sanada doesn't have a movie name credited on IMDB or rotten tomatoes so his character isn't exactly known. However, in the midst of all of the thrilling action and comedic moments in Bullet Train, there appears to be some type of heart as well. Granted, this is a film about a group of assassins trying to kill each other, but this moment highlights the importance of quiet moments like this. Action films need time to breathe just to get more insight into the characters and world. Sanada appears to be the wise mentor-type in Bullet Train. He does have a sword in another scene in the film so he's likely an assassin too, but the dynamic of their relationship is surely intriguing.
Ladybug decides to Grab Some Sparkling Water
Bullet Train is packed with incredible action that's it's truly hard to separate one as a standout. However, the scenes where the action and comedy is allowed to shine get more of an edge. To have Aaron Taylor-Johnson's Tangerine and Ladybug fighting one moment, only for a waitress to interrupt and respectfully ask them for refreshments is a smooth balance of action and comedy. The scene establishes the personality of both assassins before charging right back into the action. Based off this trailer, Bullet Train is shaping up to be the John Wick of 2022.