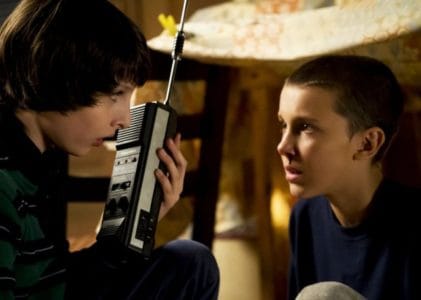 October 27th is going to be a day when a lot of people are going to be sitting down to binge-watch one of their favorite shows as it comes back to Netflix for its second season. Stranger Things is making its return, and according to the trailers and this clip below so is Eleven. Coming from the Comic Con in London, this clips shows just how Eleven has managed to make her way back to Hawkins via one of the breaks that connects the Upside Down to earth, using her telekinetic abilities to pulverize the wall surrounding the tear as she then stumbles into the hallway from which Demogorgon did in the first season before it came after the boys.
To be honest she almost looks a little surprised at the fact that the tear between the worlds still exists. Of course she wants to come back and there's no reason to assume that she wouldn't be welcomed, but then there's the realization that there is now a gaping wound in the world that connects directly to the one place that people would rather stay the heck away from. Plus, is she wearing another wig in the trailers or does her hair suddenly sprout forth like a Chia pet when she gets back to the world? So far all the trailers have shown her either with her short, short hair or with a curly mop of brown locks that seems like it would take at least a month or more to really grow to that length.
So just how long has she been gone? That's one thing that the trailers don't seem to go into. You can kind of make an assumption that things have gone back to an estimation of normal from the trailers since the boys are seen hanging out and tackling the newest craze and possible plot point, Dragon's Lair, when Will sees a vision of the Upside Down. It's kind of fair to assume that since he's so shocked that the episode he had in the bathroom at the end of season one has been written off as little more than a side effect of his time spent in the hellish Upside Down. But there's no denying that when he sees the newest and most monstrous addition to the show that the thing sees him, or senses that he's there, and that Hawkins is now under an even bigger threat than before.
I don't know about the rest of you but I'm having trouble waiting until the next season hits and I'll no doubt be watching it one episode after the next trying to figure out just what's going to happen to Hawkins and those that have no idea what's coming. It'd be nice to say that Eleven can smooth things over again and destroy the creature that might very well be coming for the town, but given that she had to strain herself so badly against Demogorgon and nearly kill herself to defeat it, this new thing might be a challenge that she's not ready to rise to just yet. Maybe her powers will continue to grow however, and possibly she'll be able to finally close off the Upside Down from the earth for good. It's just a thought, even if it isn't that realistic.