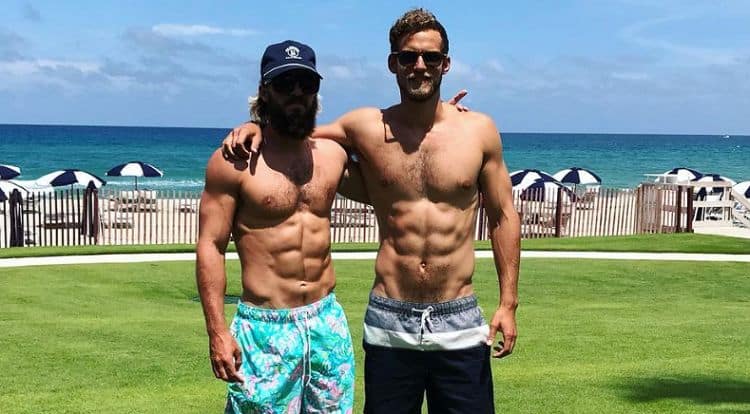 Erich Schwer is ready to settle down, and he knows that he wants his next relationship to be the one that lasts forever. The only issue is that he hasn't found anyone to call his own just yet. However, he's looking forward to changing that shortly. Erich is a contestant on season 19 of The Bachelorette. Although finding love on reality TV is a little unconventional, Erich is willing to step outside of his comfort zone for a shot at true love. We'll all have to watch the season to see how Erich's love story ends, but there are already a lot of people who think that he has what it takes to make it all the way to the end. Keep reading to learn 10 things you didn't know about Erich Schwer.
1. He Is a New Jersey Native
Erich was born and raised in New Jersey and he will always be proud of his East Coast roots. That said, Erich hasn't called New Jersey home in quite some time. He currently lives in the Los Angeles area where works as an acquisition analyst for a company called Rexford Industrial. If he does end up finding love on the show, he may have to consider relocating.
2. He Loves the Outdoors
Erich is an outdoorsy kind of guy, and he really enjoys spending as much time in nature as possible. Whether it be hiking, fishing, or hanging out by the water, he is always going to find a way to take advantage of a beautiful day. Whoever he ends up with better also appreciate the outdoors.
3. He Is a Dog Person
If you've ever had a dog you know that there's nothing that compares to the bond between a pup and its human. This is something that Erich can definitely relate to. Based on his Instagram profile, it's clear that he's a dog lover. That said, it doesn't appear that he has his own dog.
4. He Doesn't Have a Large Social Media Following
Some of the contestants on this season of The Bachelorette already have significant followings on social media. That isn't the case for Erich, at least not yet. At the moment, he has less than 2,000 followers on Instagram. However, once the season premieres, there's no doubt that his follower count will increase significantly.
5. He Likes to Travel
Erich is a very adventurous person and he likes to get out and see the world as much as he can. He has gotten the chance to do a good amount of traveling, but there's still one place he'd really like to go. According to his bio for the show, his dream is to see the Northern Lights in person.
6. He's Family Oriented
While it's true that Erich hasn't shared lots of specific details about his family, we do know that he comes from a tight family and he really cherishes those bonds. The fact that he is family oriented is something that will probably make him even more attractive to Rachel and/or Gabby, this season's bachelorettes.
7. He Likes to Take Pictures
There's no evidence to suggest that Erich thinks of himself as a photographer, but his Instagram shows that he really enjoys taking pictures when he's out exploring nature. Not only is this something he really likes to do, but he also has a natural eye for knowing when to capture beautiful moments.
8. He Studied Marketing
In addition to all of the other things Erich has going for himself, he is also someone who values education. Erich attended Elon University in North Carolina where he earned a bachelor's degree in marketing with a concentration in professional sales. He also spent a year at the University of Massachusetts in Amherst before transferring to Elon.
9. He Likes Wine
Wine is an acquired taste, and many wine drinkers prefer either white or red wine. However, this is one battle that Erich won't be choosing a side in. Erich's bio states that he likes both red and white wine. His love for wine may end up being a good conversation starter while he's on the show.
10. He Enjoys Staying Active
Staying active is important to Erich and he is serious about keeping himself in good shape. That doesn't mean that he likes to spend all of his time at the gym, though. Erich also uses his time outdoors to find ways to exercise. Not only has his passion for fitness given him a great beach body, but regular exercise also has lots of great mental health benefits.
Tell us what's wrong with this post? How could we improve it? :)
Let us improve this post!