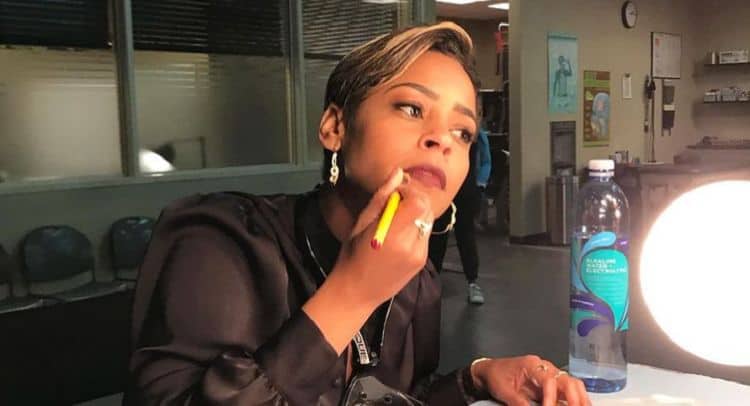 When Erica Peeples was cast in the book-turned-movie, "True to the Game 2," in 2020, she had no idea her already bright star would shine so much brighter. The talented actress made an impact with her role, and she's found that her fan base has grown substantially since. She's now part of a hit Netflix series – the biggest job anyone can have these days. She's been in the press a lot more often than she probably ever imagined, and she was even linked to a former bad-boy turned model at one time. If you're curious to know more about her, we have everything you need to know right here.
1. She is an 80s Girl
Erica Peeples is in her mid-30s, and she looks amazing. She was born on May 22, 1984, which means she did have a childhood free of all the things that stress kids out so much these days. No social media. No smartphones. No internet. It was a much simpler time to be a kid.
2. She is a Michigan Girl
She was born and raised in Michigan, and she is proud of her hometown. She hails from a small town called Mount Clemens. Though she no longer resides there today, she's someone who is happy to have a place to call home. She got to live there throughout her entire childhood, even graduating high school from the local high school.
3. She's Classically Trained
If you want to know how she got her talented acting skills, it is likely because of the amazing training she had to become an actress. She trained at Julliard. Not only is it one of the most prestigious art schools in the world, it is also one of the most difficult schools to gain entry into. She has always been talented.
4. She Had a Sister
Though not much is known about her older sister, the rumor is that her sister was killed when Erica was a small child. She was around seven when her sister's rumored relationship with a man who dealt drugs ended her own life. While we don't know much about it or even if it is true, we do know that it must have been a difficult situation for a little girl to go through – and her parents must have been devastated.
5. She Was Rumored to Date Jeremy Meeks
Does the name ring a bell? If it doesn't, perhaps hot felon rings a bell? He is the man whose mugshot went viral after the former Crips gang member was arrested a few years back. His handsome face and bright blue eyes instantly became a meme, and that meme landed him modeling contracts and so much more. She was allegedly dating him at one point, but there doesn't seem to be anything that says she has verified this information. So, as far as we know, it's just a rumor.
6. Her Brother is Her Best Friend
Sometimes, siblings grow up and they have an okay relationship. Sometimes, siblings grow up and they are best friends. Erica Peeples and her brother, Anton, are the latter. They are the best of friends, and they spend a lot of their time together. They even make TikToks together, and they're fun.
7. She Has Killer Style
Peeples is not a woman who allows her clothes to wear her. She wears her clothes, and she does it well. She's insanely stylish. She has a terrific way of pulling off everything she wears and looking like a complete supermodel anytime she does it. It's a good look for her.
8. She's Poetic
She writes poems, and she is proud of her talent. She was once asked in an interview to recite one on the spot, which caught her a bit off guard, but she was able to do it and make it worthwhile. She's not just talented as an actress, it seems.
9. She's Very Private
If she is one thing, it's protective of her personal life. The lovely actress does not appear to share too much about her own personal life with the world, but she should not have to. It's her life, and she chose to work publicly as an actress and that does not include sharing every private detail of her home life with the world.
10. She is Confident
Erica Peeples is a woman confident in her own skin, her own body, and her own life. She knows what she wants, she knows what she doesn't want, and she's always happy to make a goal and then take whichever route is necessary to reach that goal. She's a role model, and someone to follow along.
Tell us what's wrong with this post? How could we improve it? :)
Let us improve this post!