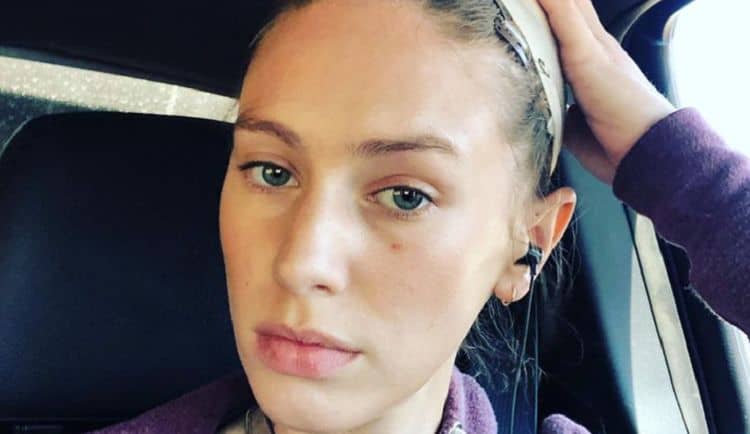 As the daughter of two successful actors (Sean Penn and Robin Wright), most would agree that Dylan Frances Penn was fated to become an actress herself. Somewhat surprisingly, though, she didn't necessarily grow up wanting to be an actor. Before deciding to step in front of the camera, Dylan initially worked a series of off jobs before getting into modeling. When she eventually decided to transition into acting, she knew that she wanted to carve out her own path. For the last several years, that's precisely what she's been doing. Despite her famous last name, Dylan is determined to show the world that she is Keep reading to learn 10 things you didn't know about Dylan Frances Penn.
1. She Loves Being Behind The Camera
Many people will be surprised to know that being in front of the camera wasn't always something that appeared to Dylan. Instead, she was more interested in being on the other side. During an interview with Vogue, Dylan said, "When I was young, I told my parents I wanted to direct. On separate occasions, both of them advised that I should know what it's like to act before I direct, so I'd know what it's like to be in the actor's shoes. So I did a lot of assisting on movie sets for a while [as a production assistant]. I did a lot of music videos and a couple of TV shows and some print shoots. I felt more in it than when I was visiting my parents on set."
2. She's Worked With Some Major Brands
For several years, Dylan had a very successful career as a model. She got the chance to work with some very well-known companies such as GAP. She has also appeared in several popular publications including Elle and GQ. From what we can tell, it doesn't appear that Dyan is modeling anymore.
3. She Went To USC
Struggling to figure out what you want to do in life is something that a lot of people can relate to, including Dylan. Because she has famous parents, some people probably assume that everything has always been laid out for her, but that isn't true. Dylan briefly attended the University of Southern California. After leaving school early, she relocated to New York City. While in New York, Dylan worked several odd jobs.
4. She's A Dog Person
If you've ever had a dog, you know that there's a lot of truth to the idea that dogs are man's best friend. There's something special about the relationship between dogs and humans that is almost impossible to describe. This is something Dylan would probably agree with. Based on her social media activity, it's clear that she loves dogs and it looks like she has a couple of her own.
5. She's Struggled With Drugs And Alcohol
Just because Dylan comes from a privileged background doesn't mean she hasn't deal with difficult times in her life. While talking to Vogue, Dylan shared, "There was a period of time right after I stopped modeling when I moved to New York for a guy and I didn't have a job. I was 25, and I was there for a year, and he was working nonstop and I kind of started living a double life…When he would go to work, I would go off and do a lot of drugs and drink a lot, and I was out with people that weren't friends of mine. I ended up getting sober, and I did a 45-day stint in an all women's group therapy healing center in Arizona, which was really life-changing. And after that I did a year and a half of sobriety just to see how I felt. And I think that really changed who I was at my core…"
6. She Has Been Nervous About Working With Her Dad
Sean Penn is one of the most legendary actors of his generation and working with him is definitely an honor. However, as his daughter, Dylan felt extra pressure to perform while working with him on the 2021 movie Flag Day. Initially, she was nervous that she wouldn't be able to keep up with his acting and directing, but she quickly proved that she could.
7. She Enjoys Being Out In Nature
Dylan has been spending a lot of time working lately, but when she does get a break she loves hanging out outside and enjoying the fresh air. Dylan has lots of love and appreciation for nature, and she loves being outside. Some of her favorite outdoor activities include hiking, boating, and swimming.
8. She's A Fairly Private Person
People who work in the entertainment industry often have a hard time keeping their business to themselves, but Dylan has been lucky. She doesn't seem to be the type of person who likes to share her every move with the public. Instead, she prefers to keep the attention centered on her work.
9. She's Not Afraid To Make Her Political Views Known
Politics are a sensitive subject for a lot of people in the spotlight, and it's something they try to avoid. Dylan, however, has no issues letting everyone know where she stands politically. She has made it very clear that she supports the election of President Joe Biden and Vice President Kamala Harris.
10. She Likes To Travel
Being able to see different parts of the world is a feeling that nothing else can quite compare to. Dylan has been blessed to be able to do lots of traveling over the years both in and out of the United States. Some of the places she's visited include Hawaii, Puerto Rico, and France.