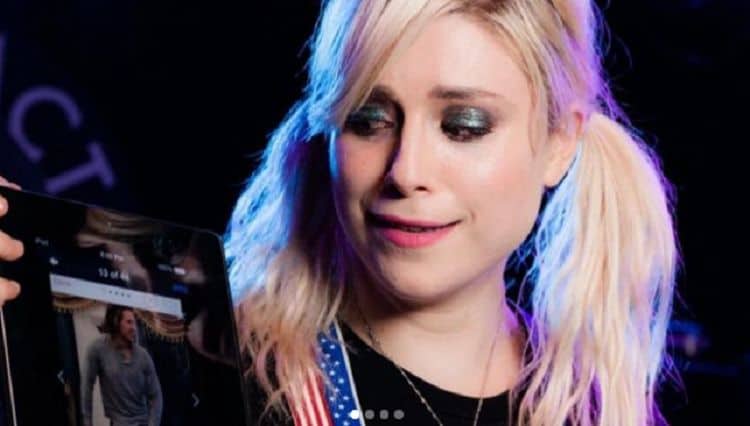 The phrase multi-talented may not even be all-encompassing enough to describe how talented Lane Moore really is. Over the years, she has found success as a comedian, writer, producer, actress, and many other things. No matter what she's doing though, one thing is for sure: Lane loves to keep people entertained. Her bright personality and undeniable sense of humor have presented her with countless opportunities. She is probably most well known for her stand-up comedy show, Tinder Live, in which she interacts with her Tinder matches in real-time as a part of her performance. It'll be awesome to see what other hilarious ideas she creates in the years to come. Keep reading to learn 10 things you didn't know about Lane Moore.
1. She Started Making People Laugh At A Very Early Age
Being a comedian is simply something Lane was born to do. Lane told Read More Co., "I was doing accents and impressions really young. There's a photo I have of me with a Pinocchio doll and it's making a weird sideways smirk, and I was about 1 or 2 in this photo where I'm sitting next to it and making the same tiny smirk, and I love stuff like that because it shows I was pretty much born with this brain."
2. She's Bisexual
Unless you're straight, being open about your sexuality can be very difficult. Even though the world is generally a more accepting place than it's ever been, being a part of the LGBTQ+ community can still have negative consequences for a lot of people. Despite that, Lane has been open about the fact that she is bisexual.
3. She's An Author
Writing has always been an important part of Lane's life and it's one of her favorite forms of self-expression. She is the author of a book titled How To Be Alone: If You Want To And Even If You Don't which was released in 2018 and eventually went on to become a best seller.
4. She Started Her Career Doing Improv
Improv comedy might not be for everyone, but it definitely is one of the best ways for a person to sharpen their skills, and that's exactly where Lane got her start. She still taps into her improv skills during Tinder Live because the conversations are happening right on the spot.
5. She Gave A Ted Talk
There's no denying the fact that Lane knows a thing or two about making people laugh, but she also understands when to be serious. In 2019, Lane gave a TEDx Talk on How To Be Alone. During the presentation, she provided insight on how people can build and maintain connections with family and friends.
6. She's An Award Winner
No matter what line of work you're in, there's no better feeling than knowing that your talent and dedication aren't going unnoticed. In the entertainment industry, this recognition typically comes in the form of an award. So far, Lane has been fortunate to take home several awards. Most notably, she won a GLAAD Media Award in 2016.
7. She's Is In A Band
Remember when I said that Lane is multi-talented? Here's another one you can add to the list. She is a very skilled musician who sings, writes songs, and plays multiple instruments. She performs under the band name It Was Romance and she has released one album. It's unclear if she has any musical projects in the works.
8. She Likes To Inspire Others
Making people laugh is obviously the major goal in all of Lane's work, but that isn't the only thing she cares about. She also loves using her skills to inspire other people. Lane also uses her social media presence to share positive and motivational messages to help people realize the importance of chasing their dreams.
9. She's Honest About Struggles She Faces In Her Career
There are a lot of people who try to glamorize what it's like to work in the entertainment industry, but that isn't Lane's style. She's all about keeping it real. During an interview with Natfluence, Lane said, " I'm very candid with how hard it is, how extra hard it is to do without support systems, how nonstop my schedule is, and how brutal it can be. But it's worth it and it's possible."
10. She's Fairly Private
Lane has been open about a lot of things during her career, but at the same time, she has also maintained a certain level of privacy. She's very calculated about what she shares with the world, and it's easy to understand why. Oftentimes when celebrities overshare, it ends up coming back to bite them.