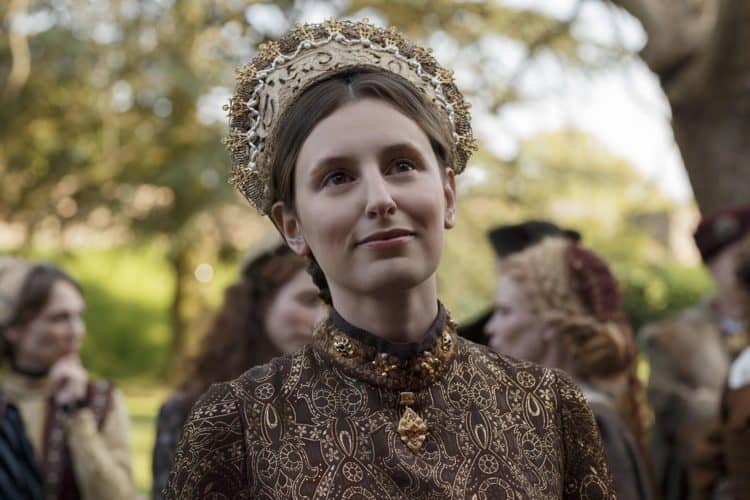 Another Downton Abbey movie is coming in 2022, which makes sense because the first one was such a hit with fans of the period drama. All of the Crawleys are expected to appear, including Lord Grantham (Hugh Bonneville), Lady Grantham (Elizabeth McGovern), Lady Mary (Michelle Dockery), and Lady Edith (Laura Carmichael). Tom Branson (Allen Leech), Cousin Violet (Maggie Smith), and Cousin Isobel (Penelope Wilton) are also expected to appear in the film. The downstairs people, led by ex-butler Mr. Carson (Jim Carter), will also reprise their roles. Rumors of a new Downton movie have been around since the first one came out but only were confirmed when a teaser trailer dropped earlier this month. In the trailer, Maggie Smith's Cousin Violet (yes, we're all surprised she's still around) reveals to the family that she has come to the possession of a villa in France. This sets a trip for the Crawley family, and perhaps some members of the staff, to France.
One character appears to be missing from the trailer, Henry Talbot, Lady Mary's husband. Matthew Goode appeared in the last seasons of Downton, as well as the first film, but he's nowhere to be found in the trailer. Fans are hoping that he does eventually appear in the movie. We're also excited to see upcoming stars of The Crown grace the second Downton Abbey movie. Imelda Staunton, who will be playing Queen Elizabeth in seasons 5 and 6 of The Crown, will be returning to Downton Abbey as Lady Maud Bagshaw. Dominic West, who is taking over as Prince Charles in The Crown, will also appear in the movie in a yet-to-be-named role.
Fans are excited to see Laura Carmichael in the movie once again. Carmichael's role, Lady Edith, saw the most significant character growth in the series, starting out as a petulant aristocrat in the first seasons to becoming an independent woman in the latter ones. With Laura Carmichael reprising her role again in the movie as the Crawleys' second daughter, fans are wondering: where else have we seen Laura Carmichael in?
Downton Abbey series
Laura Carmichael's most notable role is Lady Edith Crawley, the second daughter of Robert Crawley and Cora Crawley. Lady Edith's evolution, from a spoiled aristocrat who always fails at love to a self-assured, independent woman, has always delighted fans of the series and movie. In an interview with Town & Country, (via Harper's Bazaar), Laura Carmichael said that, prior to taking on the role, she had been struggling to get roles. "I was so close to not being a working actress. I had a hard time," she said. "It's such a painful experience, wanting to act and not doing it, and trying to figure out how to get in there. I went to audition, and because it was so top-secret, I didn't get the script before I arrived. I thought I'd probably have one line, but I had five scenes. I was reading them, going, 'My God, this is a proper part! Why are they seeing me for it?'"
Fun fact: Laura Carmichael and Michael Fox, who plays footman Andrew Parker in the drama, are a couple in real-life! Dating each other never got in the way of working together, however, given that they rarely had scenes together in Downton Abbey. In an interview with The Sunday Post, Fox said that meeting on Downton's set wasn't a significant moment in their relationship. "We'd go to work and we didn't want it to be a thing in any way when we were working together. It was great, though, to go to work with your best pal. Apart from that we like to keep it quite separate from Downton. The fact we met on set is not a big part of our relationship."
The Spanish Princess
The Spanish Princess is Laura Carmichael's first series after Downton Abbey ended, playing the real-life countess of Salisbury, Margaret Pole. Like Downton Abbey, The Spanish Princess is also a period drama, depicting the marriage of Spain's Catherine of Aragon to Arthur, Prince of Wales. The Spanish Princess stars Laura Carmichael, alongside Sai Bennett, Alicia Borracherro, and Andrew Buchan. In an interview with Entertainment Weekly, Laura Carmichael commented on how fans are comparing her character in The Spanish Princess and her character in Downton Abbey. "I don't personally compare them, but the sort of stories that I like and the acting style I like is to try and show how people do struggle on even when things are hard. It's more interesting and more realistic that you just watch people soldier on when things are incredibly scary or painful," she adds. "You feel like you can capture these moments when they are vulnerable, but in their life, they're just carrying on."
The Secrets She Keeps
The Secrets She Keeps is a breath of fresh air for Laura Carmichael. The Australian show is set in modern times and casts Carmichael as a pregnant supermarket worker, a significant departure from her previous roles as elite aristocrats. The Secrets She Keeps stars Laura Carmichael, Jessica De Gouw, and Michael Dorman. In an interview with BBC America, Laura says she's delighted to finally play a role set in the present. "You know, I had been doing The Spanish Princess as well as Downton, so I definitely wanted to look at projects that were quite modern. And then when I read the script, I just thought it was so, so great and absolutely in a genre that I was interested in doing – and not like anything I've ever read before. It was really putting the crime aspect of the story into something that was very female-focused and so relatable in lots of ways. I'm talking about the need to be a mother, and the need to be a perfect mother. And then there was this extraordinary character who's had so much happen in her life that would lead her to do these terrible things. So I just thought it was a really interesting script and really, such a gift of a part."
The Spanish Princess
Tell us what's wrong with this post? How could we improve it? :)
Let us improve this post!