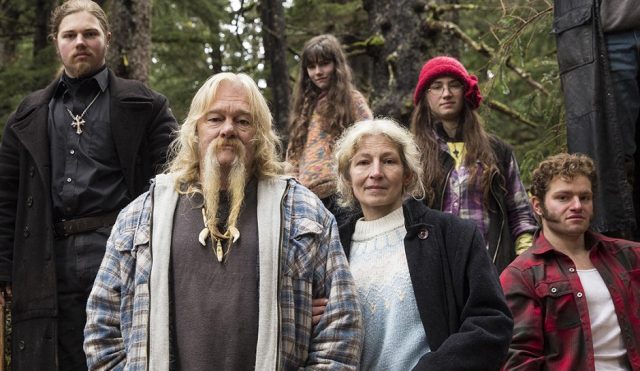 Alaskan Bush People is a reality show on The Discover Channel. It is a show about a family who is very unique to say the least. The Brown Family, which consists of Billy Brown, his wife Ami, and their 7 adult children, Matt, Bam Bam, Gabe, Bear, Noah, Snowbird, and Rain, live very far away from civilization. They live in the Copper River Valley, where the temperatures drop down to 60 degrees below zero. The family calls the area that they live in, Browntown, and they often go 6 to 9 months without seeing an outsider. They are so cut off from civilization, that they have developed their own accent and dialect. There have recently been rumors that much of the show if fake. Some people believe the false stories while others have called the family out. If you want to know more about the Browns, the good and the bad, continue reading.
They Have Nicknames
Most people hear the names of a few members of the Brown family and they think that they are very strange. While Rain and Snowbird are the girls' real names, Bear and Bam Bam are just nicknames. Bear's real name is Solomon Brown. Bam Bam's real name is Joshua Brown. Some people say that this is a sign that nothing about the show is real, however, this is just silly. There are millions of people around the world who don't go by their real names. People use nicknames all the time. There is nothing fake about that.
Billy Brown is Originally From Texas
As a child, Billy spent a great deal of time in Alaska. This is where he learned most of his survival skills. Alaska wasn't always his home, however. Billy was born in Texas and he lived there until 2012. It is there that he met his first wife and had a daughter named Twila. According to Billy, he and his daughter have been estranged for years. On a recent episode of the show, Twila visited Browntown and reconnected with her family. Some people are skeptical about how estranged Billy and Twila have been over the years. According to Alaska Dispatch News, the family didn't move to Alaska until August 2012.
Billy and Josh's aka Bam Bam's Legal Troubles
In the State of Alaska, if you are a permanent resident and you live there year round, you are eligible for an annual payment from the Permanent Fund Reserve. These are payouts that are funded by Alaska's oil royalties and they are given out to residents. The amount of money you are eligible for depends on the oil sales that year, however, the average amount is over $1,000 per resident. Often times, it is much more. In 2015, Billy and Bam Bam were caught lying on their application. They stated that they lived in Alaska all year from 2009 through 2012, however, this was not true. People magazine reported that the men were living in Seattle during that time and they collected money illegally. The men entered a plea offering to repay the $20,938 that they were paid and to severe two years probation and perform 40 hours of community service. The judge rejected their plea deal in January 2016. The judge sentenced the men to 30 days in jail and the family was fined. Also, the judge ordered that none of the jail time or the required community service could be part of the family's reality show.
People Say that Noah's Love Interest Was Staged
If you watched the episode in season 4 where Noah had a girl named Karryna Kauffman over to the house, you would know that she was supposed to be a girl that he met in the lower 48 states. She was visiting Browntown to spend some time with Noah. Many people believe that the whole thing was staged. Karryna is listed on IMDB as an actress who also competed for the title of Miss California in 2012. It is quite possible that Karryna met Noah while he was visiting California and the two hit it off, however, since she is an actress, it doesn't look good for the reality of the situation.
It All Started With a Book
In 2007, Billy Brown wrote a novel called, One Wave at a Time. According to a YouTube video posted by Nicki Swift, Billy moved his family to Alaska in hopes of selling his story. It is also said that a production crew followed to see what would happen. Billy recreated the lifestyle that he wrote about in his book, and that is how Browntown was born. Some people believe this theory and others believe that the Brown family moved to Alaska to live in nature and completely off the grid. The only people who know the truth are the family themselves.
The Rumors of Bam Bam's Marriage
Ami Brown has always said that she wants her children to get married and have children, expanding the family out in the Alaskan Bush. For the younger girls, this could be impossible since they rarely ever meet people since they are living in seclusion. There are rumors, however, that her son Bam Bam married Allison Kagan. She is the supervising field producer for the show. The rumors have yet to be addressed by the family and the network.
Matt is an Alcoholic
Matt never showed up in Browntown for the final airing of the show. He didn't even tell his parents that he was leaving the Alaskan Bush. Most people wonder what happened to the most talkative member of the family. The truth is that Matt has a drinking problem and that he went to rehab. According to the family, they are going to be behind him 100 percent during his recovery.
Alaskan Locals Say That The Family Actually Lives in a Hotel
Contrary to many reports, Billy has said that he lived in the Alaskan wilderness for 30 years. Some say he was in Texas for most of that time and others say that he was living in Alaska the whole time. When it comes to whether they actually live in the remote area where the show is filmed is also up for debate. Two Alaskan locals say that the family lives in a cozy hotel called the Hoonah. It is located in Alaska, however, it is a cozy place with a bar and a restaurant. They say that the boys all have their own rooms and that the girls share a room. The rumors have never been proven, however, it has been all over the news.
Their Former Home Wasn't Completely Remote
While the family claims to have been living in complete seclusion for 30 years, this actually isn't the case. Their former property was just 10 miles away from town and it was just a half mile away from a pizza joint. The family could have easily taken a walk to go out for pizza a few times each week.
Ami Brown Was Very Young When She Wed
Ami and Billy Brown seem to be deeply in love. When the couple got married, Billy was a 26-year-old man who had already been married and divorced. Ami was much younger. At the time of their wedding, she was only 15 years old. That is very young to get married, even if you are living in the Alaskan Bush.
There have been many rumors, theories, and scandals going around about the Brown family. If you want to learn more about the family, you should start watching Alaskan Bush People. If you aren't sure what is true and what isn't, check the internet. There is always a store to prove the truth and the falsehoods surrounding this family and their lifestyle.