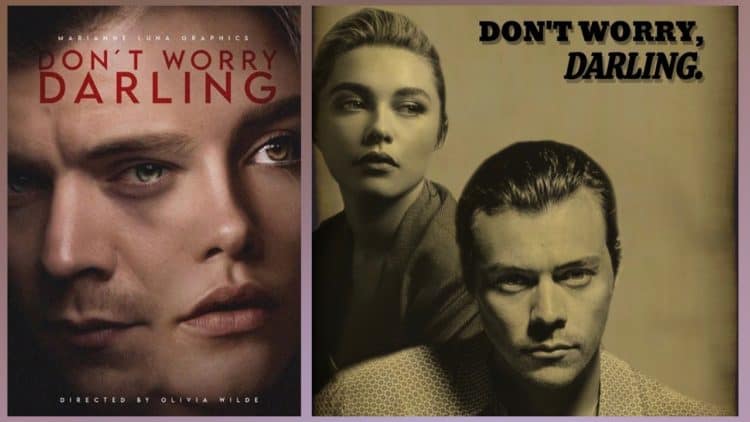 Seeing actors get out of their comfort zone, and venture off to explore the different sides of film production is a refreshing sight. No longer are they just confined to just being in front of the camera. A lot are now trading in their trailers and dressing rooms for a seat at the big boy's table. A shot at decision making instead of just following directions and cue marks. Actors are finally recognizing more ways to be more entrepreneurial. A couple have already formed their own production companies, and have achieved massive success. Show business has also seen its fair share of directorial debuts. It's always inspiring to see creativity transcend from in front of the camera to the director's chair at the back. This cross over is another way to channel innovation, and a new venue to bring wonderful stories into life. The upcoming film, Don't Worry Darling, has a famous star at its helm, and is set out to give viewers the heebie-jeebies.
What Viewers Can Expect
The psychological thriller is directed by Hollywood actress, Olivia Wilde (Cowboys & Aliens), who marks her second directorial stunt. The first one being the critically acclaimed coming-of-age comedy, Booksmart, which even earned Wilde an Independent Spirit Award for Best First Feature. The directorial field has been kind to Wilde, and has welcomed her with open arms. Even though production of this upcoming hasn't wrapped up yet, she has already been tapped to direct a Marvel movie reportedly featuring Spider-Woman. The future is as bright and promising as ever. For the meantime, viewers will get to see Wilde dabble with a whole new genre first, which unravels mysteries and reveals the deepest and darkest of secrets. Don't Worry Darling is set in 1950's suburban America, and follows a young couple who are residing inside an experimental Utopian neighborhood. The film gives off an eerie Stepford Wives theme, which only gets more chaotic as issues start to surface. The families living in the village seem to have it all together. What could go wrong in a world of polished and well-dressed couples living in charming houses with white picket fences? Turns out, nothing is what it seems to be, and reality somehow becomes stranger than fiction.
Apart from the twists and turns found in its thrilling storyline, the film also brings together an all-star cast that is composed of a diverse and interesting bunch of Hollywood personalities. Florence Pugh (Midsommar), portrays the role of Alice, an unhappy housewife who starts to question her mental stability when unusual events start to unfold in their community. Her husband, Jack, is portrayed by pop star Harry Styles (Dunkirk), who is seems to be doting and caring, but in reality, has some deep and dark skeletons inside his closet. The rest of the neighborhood is filled with unconventional characters, such as Frank, portrayed by Chris Pine (Wonder Woman 1984), a leader with a cult-like following and Margaret, portrayed by Kiki Layne (Coming 2 America), an unhinged and paranoid neighbor, who warns Alice that there is something strange going on within the community, and that there are a lot of secrets that are still unrevealed.
Although she spends more time behind the lens, Wilde also joins in on the fun as she portrays the character of Mary. The other talented cast members to watch out for include Gemma Chan (Crazy Rich Asians) as Shelley, Nick Kroll (The League) as Bill, Douglas Smith (Big Little Lies) as John, Timothy Simons (Veep) as Dean, Kate Berlant (Once Upon A Time in Hollywood) as Peg, Sydney Chandler (SKAM Austin) as Bunny, Dita Von Teese (The Death of Salvador Dali) as a Burlesque Dancer, Asif Ali (The Mandalorian) as Peter, Ari'el Stachel (Jessica Jones) as Kevin, Marcello Julian Reyes (Modern Family) as Fred, and Wylie Quinn Anderson (Raising Hope) as Anna.
The film also marks the first time the real-life controversial couple, Olivia Wilde and Harry Styles will be seen together onscreen. The film's initial teaser features some steamy scenes between Styles' and Pugh's characters. It would be exciting to see if Wilde's character has something to do with the disruption of their marriage. The film's element of mystery is still enticing at this point. It is still an open canvas where anything is possible, and wherein the more plot twists, the more desirable. Fans can only look forward to more announcements and updates in the succeeding months. For now, we can all just wallow in the fact that there is still a lot to anticipate and be excited about. Don't Worry Darling is scheduled to have its theatrical release on September 23, 2022.
Tell us what's wrong with this post? How could we improve it? :)
Let us improve this post!