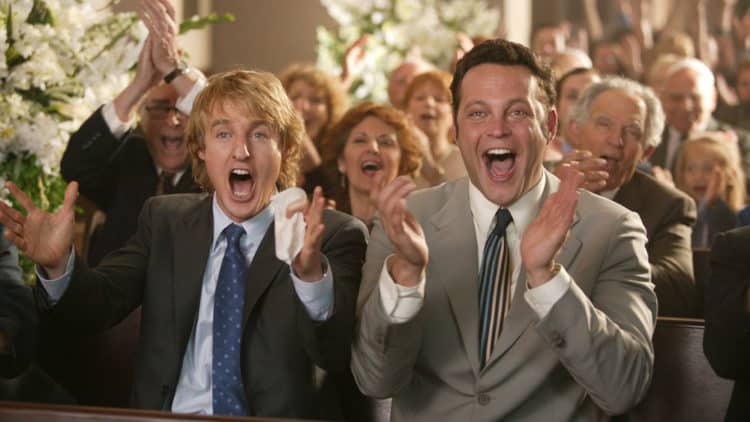 In late 2020, Vince Vaughn teased fans about a potential sequel to one of the most quintessential R-rated comedies to come out in the early 2000s, Wedding Crashers. For those of you who were under a rock in 2005, the first film was about Jeremy (Vince Vaughn) and John (Owen Wilson) who spend their time crashing weddings to get chicks. However, when Secretary of the Treasury William Cleary announces the wedding of his daughter, the duo plan to crash the high-profile event. However, their plan hits a snag when John falls in love with the bridesmaid Claire. The 2005 raunchy comedy was not only a critical darling but a smashing commercial success, garnering nearly $300 million worldwide. Throughout the last 15 years, there have been whispers here and there about a potential sequel; however, the green light was finally given back in June for HBO Max, with Maxim confirming the return of Vince Vaughn, Owen Wilson, Rachel McAdams, and Isla Fisher. There's no word yet on whether Christopher Walken, Bradley Cooper, or Jane Seymour will make a comeback for the upcoming sequel. At the moment, the plot of the film is unknown.
Let's Talk about Wedding Crashers
There's no denying that Wedding Crashers was a massive hit when it originally came out back in 2005. The comedy definitely stands along with movies such as The Hangover and American Pie as one of the best R-rated comedies of all time; however, is there truly a need for a sequel to the hilarious 2005 film? Let's get the obvious out of the way right now, this move is purely a money decision (well duh, right?) as the ending of Wedding Crashers never teased any sort of sequel. Sure, it would be great to catch up with John, Jeremy, Claire, and Gloria, but unnecessary sequels don't particularly have good track records. The Hangover Part II was pretty much a rehash of the first film, but with a monkey instead of a tiger. Part III was just bad. The same thing could be said about Home Alone II (but in New York) and Ted 2, which washed all of the hard work of the first film away because money had to be made. There's a laundry list of bad sequels that were made for purely monetary reasons, and Wedding Crashers checks all the boxes on that front.
The first film was a great comedy that holds up pretty well over 15-years later. Despite being R-rated, the movie doesn't rely on gross gags or jokes and the story is pretty good. It's a joy to see both John and Jeremy grow as people and the jokes hit way more than they miss. The chemistry between Owen Wilson and Vince Vaughn is fantastic. These two genuinely feel like brothers and despite their sleazy wedding crashing gigs, both characters are likable because of the layers added to both men. The supporting cast shines here as well. Bradley Cooper plays the perfect douchebag. Jane Seymour as the sexy, weird love interest for John provides some of the funniest and most awkward scenes in the film. Isla Fisher's Gloria is the perfect foil for Jeremy, the crazy chick that he seemingly can't get rid of. The arc between Owens and McAdams is sweet. Will Ferrell's Chaz was a great guest appearance; This funeral crasher (which admittedly would've been an interesting spinoff) provided the film with another uproariously hilarious moment.
The film's ending was simply perfect. Zack got his daylights knocked out of him. John and Claire finally got together (though what happened to that puppy remains a mystery), and Jeremy and Gloria got happily married. The four rode off into the sunset and tied any loose ends that the movie may have left open. As previously stated, it would be fun to catch up with Jeremy, Jon, Gloria, and Claire but there's truly no need for a sequel.
Why We Don't Need Another Wedding Crashers
There were no lingering questions that needed to be answered once the credits rolled. Sure, the movie will likely explore the relationship between the respective couples and it could actually turn out to be good. The sequel could also follow Jeremy, Jon, Gloria, and Claire in the crashing business together, which could be another fun exploration. We'll surely see what happens when the movie is released (an official date has yet to be confirmed) but if it wasn't clear by now, no, there's absolutely no need for a Wedding Crashers sequel. This could turn out to be great. Or (and what I fear) this will be the next Hangover Part II.