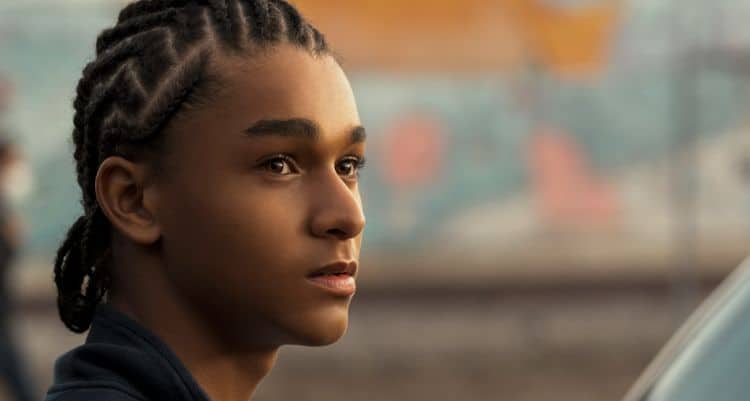 In June 2020, Netflix announced the Colin in Black And White series. The series about the former NFL player's formative years would be released at the end of this year. The six-episode series focuses on Colin's years in high school during the 2010s and his challenges growing up as a black teen. Here is everything we know about the Colin in Black and White series.
The Plot
The series will tackle themes like classism and racism that prompted Colin to take the massive step to become an activist. Each episode will run for 30 minutes. From the first look photos released by Netflix, viewers will get to see Kaepernick as he played football, baseball, and basketball in high school under the guidance of his coaches, Parker( Howard M. Locke) and Flores (Ron Rogge). Colin in Black and White is set in John H. Pitman high school, located in Turlock, California. It's a predominantly white community where Kaepernick struggles to fit in. Due to this, his relationship with his parents will also be a considerable focus for the series. Colin was adopted as a baby after his parents had lost two other kids due to illness. Kaepernick opened up to give a different perspective on Race, and Black people's stories often told through a white lens.
Speaking to The Hollywood Reporter, Ava revealed the series was a collaborative process between her and Collin to mix genres and create a unique, nonlinear series. The Emmy award-winning director said she approached the project similarly to the Exonerated five on When They See Us. Under their supervision, filming of the series began in February 2021 and was wrapped up by June. Ava also revealed the massive budget for the music used in the Netflix original because of the significant cues. Since Ava has directed music videos for the likes of Jay-Z and Beyonce, this series might feature moving empowerment-themed songs.
Cast & Crew
Some talented people came together to make the limited series for Netflix. To tell Colin's story perfectly to the masses, the director cast Jaden Michael in the leading role as a young Kaepernick. The 17- year-old actor also had a role in another Netflix original; The Get Down as Rafe. Other projects he has been a part of include, Vampires vs. the Bronx and The Island. Other actors in the cast include; Gabriel Womack, Mace Coronel, Amarr Wooten, Hal Rothwell, and Klarke Pipkin. Colin acts as himself and the narrator for all the episodes that scriptwriter, Micheal Starrbury, penned. The series is directed by Ava DuVernay, who previously worked on the award-winning limited series, When They See Us and other notable films like Selma, Girls Trip, and A Wrinkle In Time. Ava, Michael, and Collin are all executive producers in the Collin in Black and White series. Production of the biopic was done by ARRAY Filmworks, which Ava founded in 2010. Cindy Holland, the vice president for original content at Netflix, said the partnering of strong voices like Kaepernick and Ava would share his life story and message of what it's like to grow up as a person of color in America.
Why Kaepernick Deserves His Own Netflix Series
From the moment Colin Kaepernick took that knee at the stadium, he knew his life would never be the same. His Netflix series comes almost five years after he took a stand against police injustice towards the black community. During the national anthem played before a San Francisco game, Colin took a knee to protest against his community's oppression. The player's simple gesture motivated other athletes and celebrities to lend their voices to the fight against racism in their country. However, Collin has been unable to find a home as an NFL player. He became a free agent in 2017. The National Football League has been accused of blackballing him from playing the sport because of his polarizing stand. These days, he focuses most of his time on being an activist and doing his best to bring about change. Collin started a non-profit organization, Know Your Rights Camp that seeks to aid in the liberation of brown and black people. Collin also launched a Covid-19 relief fund to help communities devastated by the pandemic. That is why the Netflix original series comes at the right time. To tell the story of a young black man who wants to change the world.
Kaepernick's Other Projects
Well, this is not the only Hollywood project that Kaepernick is working on. In February of 2020, the athlete signed a significant deal with Audible for several projects. One of them included an audio version of his self-published memoir about his life. The book will come from his publishing company, Kaepernick Publishing. He started in 2019 to give Black and Brown authors a voice. Like Collin in the Black and White series, the memoir will follow Kaepernick's adolescent life. That includes everything that influenced his decision to become an activist for his people. Netflix confirmed the Collin in Black and White limited series will be released on October 26.
Tell us what's wrong with this post? How could we improve it? :)
Let us improve this post!