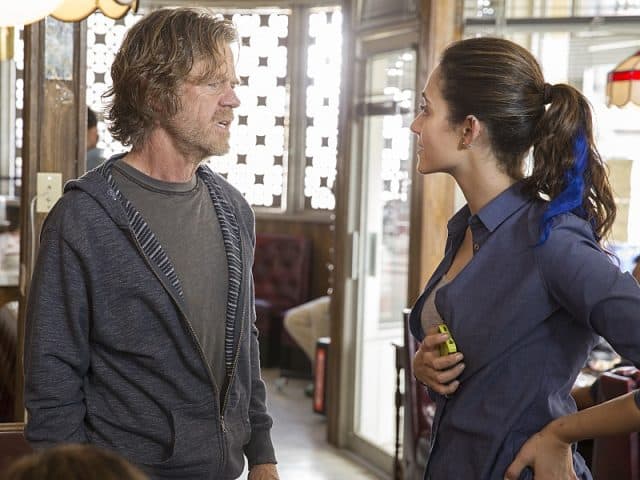 The writers Shameless Season 7 keep knocking it out of the park. It's so easy to watch and write reviews now because of how flawless these episodes have been.
"Home Sweet Homeless Shelter" follows Frank and his newfound quest to acquire a new batch of Gallaghers and create a new homeless shelter. Shameless is known for crazy characters who take risks, and I'm really thrilled about where Frank is going this season. He finds a house up for sale after hearing that the Container Store is replacing the local homeless shelter. Gentrification has been a reoccurring theme in the last two seasons, and it's finally coming to a head in this situation. Even the police don't want to mess with it, because who can blame them, right? I can't wait to see where this storyline goes, because I bet it will be great.
The most important development of this show is definitely Ian's bipolar disorder. Two seasons ago he was manic and making bad decisions. Now, he has a solid job that he likes and up until last week he was in a nice relationship. The break up wrecks him, but it's subtle. He drives too fast in the ambulance, and, in a terrifying turn of events, he releases a girl with schizophrenia from her restraints. This allows her to run out of the vehicle and she immediately gets hit by a car. Ian's boss benches him and makes him watch a video of himself saying to go home.
The moments after, with Lip, Ian and Carl, were so touching to me. Shameless can be all thrills, but this season is touching more on the emotional side of our favorite characters. Ian shares that he never feels manic when he is, and Lip tells his brother that he wished he went to rehab years before he messed up his life. Carl asks how Dom could have gotten gonorrhea if he doesn't have it himself. Whoops, poor Carl.
Dom's father almost killed Carl earlier in the episode for the same revelation, and with a giant angry cop as motivation, Carl follows Dom and finds that she is cheating on him with a college frat boy. He recruits her father, and he gets the whole police force in on the raid. Should be a fun Carl-centered episode next week.
Svetlana, V, and Kev get a new addition to their family: Svetlana's horrible father. He doesn't speak any English, and he's the perfect solution to people not paying at the Alibi. It'll be interesting to see how the dynamic changes with this new man in the house. This could be a really boring storyline, but I can't call it yet.
Yet again, Fiona's life is unbalanced and crazy. With Ian's episode, and Debbie's newfound habit of shoplifting, Fi is at risk of losing her job at Patsy's. Fiona also learns that the owner of most of the downtown area is a high school drop-out who hustled until she was worth over a million dollars. This strikes a chord in Fiona, and she calls a family meeting for two reasons. First, everyone is old enough to contribute money to the rent, or they can leave. Second, put Fiona at the bottom of their emergency contacts. I'm excited for the future of Fiona this season. I hope she doesn't end up in another relationship, and actually pursues the life she wants.
Will this show ever let me down? Probably not! Until next week's Shameless shenanigans.
[Photo credit: Cliff Lipson/Showtime]
Shameless Review: Frank Finds a Home Sweet Homeless Shelter
Summary
Frank finds a home sweet homeless shelter; Lip, Ian, and Carl have a heart to heart, and Fiona lays down the law in the Gallagher family.