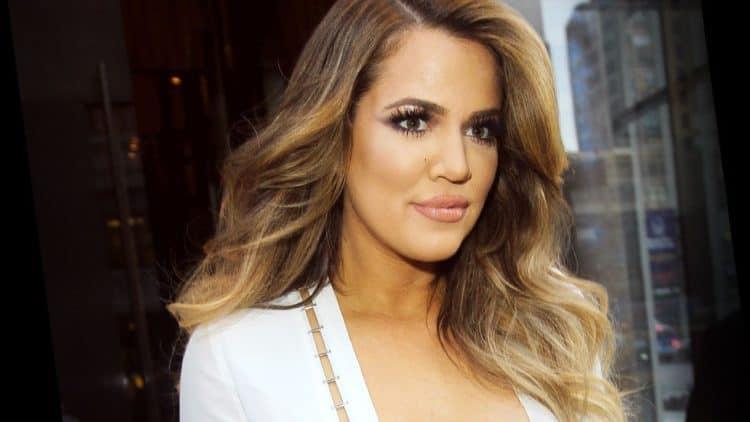 It was 2016 when Khloe Kardashian and Tristan Thompson made their relationship official by announcing it to the world. Six years later, they're still together. Or not. Maybe? No one really knows, to be honest. However, we do know that their relationship has not been all sunshine and rainbows. It's been tumultuous from the start, and their fans cannot stop watching their story unfold. When news broke in July 2022 that Kardashian is expecting her second baby with the NBA player, her fans went wild; and not necessarily in a positive manner. A lot has happened in the past six years, and we are wondering why Khloe would have a second child with the man who has been caught cheating on her on multiple occasions? We don't actually know, and we are not going to speculate. However, we are going to pose this simple question: Does Khloe Kardashian have a type?
Khloe and Rashad McCants
From 2008 until 2009, the then 24-year-old reality television star was in a relationship with the former NBA star. He was just ending his four-year run with the Minnesota Timberwolves and transferring his game to the Sacramento Kings when the two dated for seven months. Their relationship ended in January of 2009. She and her sister Kourtney filmed an episode for their reality show, "Kourtney and Khloe Take Miami," in which they listen to his voice messages only to find out he'd been cheating on Kardashian. However, the athlete is adamant that they'd already been broken up and that they staged the entire scene.
The Lamar Odom Marriage
Eight months after ending her relationship with McCants, Kardashian became involved with Los Angeles Laker star Lamar Odom. Their relationship progressed so quickly that within a month of meeting, the couple was married. The two filmed a reality show together, they seemed to be doing wonderfully, and then it was the end. By 2013, she'd filed for divorce. It would take two years for the divorce papers to be signed, though it still wasn't finalized when Odom was found unconscious in a brothel in Nevada and taken to the hospital in critical condition. During his coma, Kardashian decided not to go through with the divorce. She made it very clear that the couple was not back together, but that she had to withdraw the divorce paperwork so that she could make his medical decisions for him while he was in a coma. Their divorce was not finalized until the last month of 2016. It was later revealed that Odom was unfaithful to his wife on many occasions – typically while under the influence of drugs – and that Khloe and her mother once walked into a hotel room to find him high and in the presence of a significant number of naked women.
Dating Rapper French Montana
She was still married to Lamar Odom – patiently waiting on their divorce to be finalized – when she began dating French Montana in 2014. They didn't make it through the end of the year, but it is rumored that she caught him sending inappropriate text messages to her own best friend, Malika. Whether he physically cheated on her remains a mystery.
The James Harden Relationship
She met NBA star James Harden in 2015. The couple met at Kanye West's birthday party the same year. After eight months together, Kardashian ended her relationship with the Rockets player after alleging he cheated on her with a stripper. A photo of him in a stripper's bed was leaked to the press.
The Khloe/Tristan Relationship
It was 2016, and the world wanted to see the youngest Kardashian sister happy. She'd already been involved in a few high-profile relationships that did not go well for her after each and every one of her former partners cheated on her. The couple seemed happier than ever when they began their relationship, and all seemed to be going well for the couple. Just before Christmas in 2017, the couple announced they were ready to welcome a baby together after months of pregnancy rumors. Delighted, happy, and over-the-moon, it seemed that Kardashian finally found her happily ever after. Just days before the 2018 birth of their daughter, True, videos of Tristan Thompson kissing another woman began circulating in the press. Despite the evidence, the birth of their daughter was more important, and the couple decided to give things a go. Kardashian decided a second chance was worth it for her, and the new little family of three seemed happier than ever. Things seemed happier for a while, but the couple broke up in February of 2019.
This time, it was because Thompson cheated on his baby's mother with her own sister's best friend. To make that easier to read, he was seeing Jordyn Woods, Kylie Jenner's best friend, behind Khloe's back. The two ended their relationship, but they made a lovely effort to co-parent happily while putting their daughter first. It was a mature and amazing move on their part. While in quarantine together during the pandemic days of 2020, the couple decided to try again. Things lasted a little over a year this time. By June of 2021, he'd been seen going into a hotel room with three women in Bel-Air by numerous witnesses. Sources said she was done for good, but the couple was back together by October of 2021, and they conceived a child via surrogate in November of 2021. Unfortunately, a month after their second baby was conceived, a woman hit Thompson with a paternity suit saying that she got pregnant by the star during his 30th birthday party in March – the party he attended with Khloe and their daughter, True. A paternity test verified he was the father of a brand-new little boy. She will welcome her second child with Thompson at some point in the summer of 2022.
Khloe Does Have a Type
At the end of the day, yes, Khloe Kardashian does have a type. With the exception of her one musician boyfriend in the middle of her high-profile relationships, it would appear the reality star is very much into athletes. She's a big fan of basketball players despite the fact that every single one of the basketball players she's been with over the years has been unfaithful to her. Here's hoping she can see the similarities in the men she dates and find herself a man who is nothing like the many she's dated before. We're all cheering for her to find happiness.