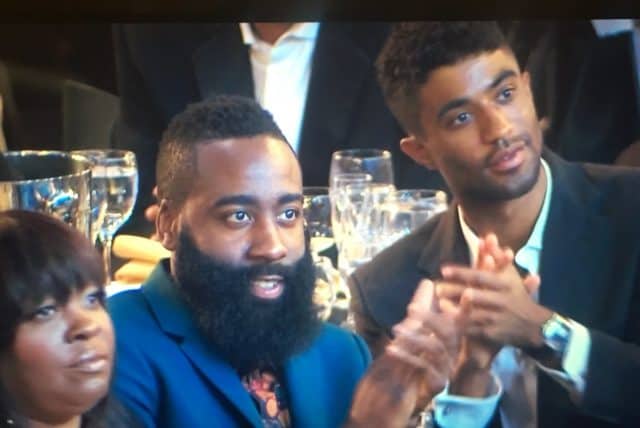 We're going to forget about the NBA Awards last night. Who cares? Russell Westbrook won the MVP. Who cares? Enes Canter took at a shot at Kevin Durant after Westbrook's victory. Who cares? KD now has a championship. James Harden didn't win the MVP. Who cares? I understand his mammoth offensive production this season but in my eyes anyone who scuffs it on defense like Harden does every year doesn't deserve the MVP.
However, it's evident after last night that Harden certainly has the intensity to play defense. He just chooses to never, ever utilize it. The proof is in his reaction to Nicki Minaj's performance that everyone is talking about today. As her musical act concluded Harden gave her a look that a lion would give to potential prey. If only Harden would channel that energy into his defensive side of the ball, the Houston Rockets would be a serious contender and he'd be worthy of an MVP.
Check out the gaze Harden gives Minaj and tell me this guy doesn't just mail it in on D.
https://twitter.com/World_Wide_Wob/status/879518826479722496