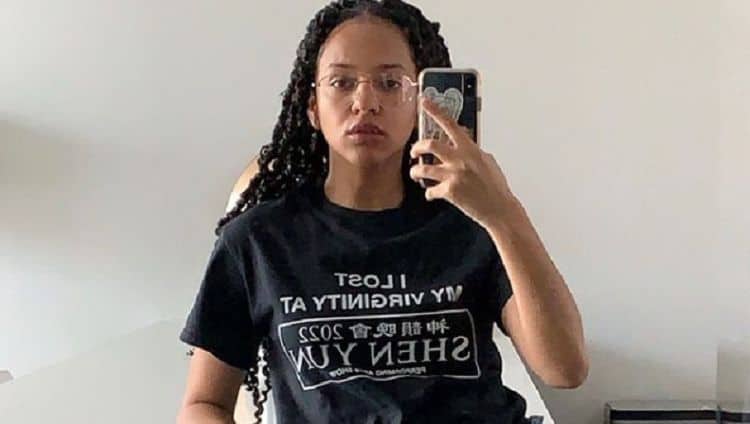 Djouliet Amara is still relatively new to the professional acting world, but she's already taking it by storm. The talented young actress is showing and proving why she deserves all of the opportunities she's gotten so far, and 2022 is a year she'll probably never forget. After playing a series of small roles over the last two years, she got a major opportunity when she was cast as Corrine in the TV series The Porter. She has managed to keep the ball rolling and she currently has three big projects in the works including a TV series called The Big Door Prize. If you're not familiar with Djouliet, now is the perfect time to find out what she's all about. Keep reading to learn 10 things you didn't know about Djouliet Amara.
1. She Was Born in Russia
Djouliet comes from a diverse background and she had a very interesting upbringing. During an interview with Karina Michel Feld, Djouliet said, "I was born in Russia. My mom is Russian, and my dad is from Sierra Leone — a super interesting cultural mix. We moved to Canada when I was a little kid so my parents could make a better life for our family. By My family wanted to go somewhere where racism was less pervasive, where their half-Russian half-African kid could thrive."
2. She's a Dancer
Acting is what Djouliet is becoming most widely, but dance was her first love. She fell in love with dancing when she was a kid, and it quickly became apparent that she was very talented. She began her training at a local dance studio and eventually took classes at Alvin Ailey American Dance Theatre.
3. She Loves Fashion
If you thought acting and dancing were the only ways that Djouliet likes to express herself, you might want to think again. Fashion is another one of the ways she shares her personality and love of creativity with the world. She has a knack for putting outfits together and she isn't afraid to try new colors and patterns.
4. She Likes to Travel
Djouliet has already lived in three countries, and she's gotten to see even more. She is an adventurous person who loves the experience of traveling to new places and learning about different cultures. As her career grows, she'll probably get to visit even more places.
5. She's Worked with Major Brands
Even though Djlouiet doesn't have much professional acting experience, she's still a natural in front of the camera. That is largely due to the fact that she's done lots of modeling over the years. In fact, she has modeled for some very well-known brands including Nike and Chanel.
6. She's Part of the LGBTQ+ Community
For anyone who doesn't identify as cisgender and/or heterosexual, coming to terms with identity can be a bit of a challenge. However, it appears that Djouliet is at a point in her life where she can fully embrace herself. Her interview with Karina Michel Feld mentions that she is queer, but her sexual orientation and/or gender identity were not specified.
7. She Was In an Episode of Riverdale
Even though Djouliet doesn't have a long list of acting credits at the moment, she has already gotten the chance to work on some great projects. In 2021, Djouliet appeared in an episode of the popular TV series Riverdale. She has also been in shows like Superman & Lois.
8. She Likes Spending Time Outdoors
Just because Djouliet is on her way to Hollywood doesn't mean that she wants to spend all of her time in studios or on red carpets. She still has lots of appreciation for the simple things, and one of those things is being out in nature. She loves spending time outdoors and making the most of a beautiful day.
9. She Enjoys Her Privacy
There are lots of people in the entertainment industry who love sharing their every move with the world, but that isn't the case for Djouliet. So far, she seems to be a fairly private person. Since we've all seen how things can crash and burn when people in the spotlight overshare, it's not hard to understand why she's chosen to keep lots of personal details to herself.
10. She Has Advice for Up and Coming Actors
Despite being a relative newcomer, Djouliet knows a thing or two about what it takes to be successful. When asked if she had any words of advice, she told Karina Michel Feld, "Just dive in. Find your community, and know that there are people looking out for you…The worst thing you can do is be alone in it. You have to find your people. Talk about everything! Be transparent. But with the right people. Your homies! And listen. When you have a dream, you just gotta keep pushing towards it."
Tell us what's wrong with this post? How could we improve it? :)
Let us improve this post!