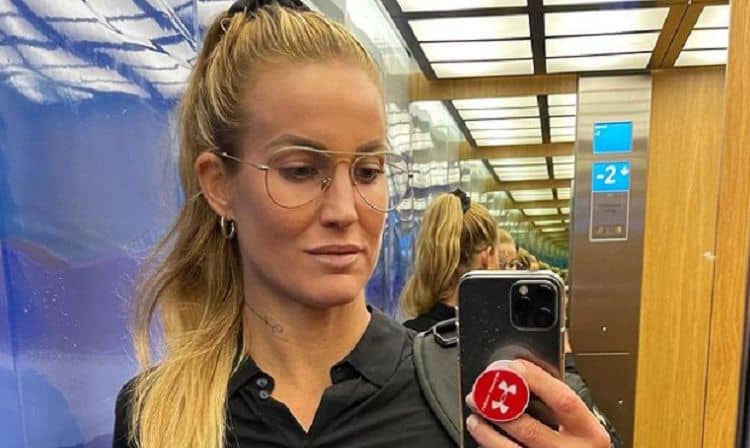 Madeleine Vall isn't the type of actress who always dreamed of getting into the entertainment industry, but the universe clearly had other plans for her. Although she got her start in acting a little later than most, Madeleine definitely came in with a bang. She made her acting debut in the 2017 film Wonder Woman in which she played Egeria. She will also be in the upcoming movie Last Man Down which will give her yet another chance to put her talent on display. Madeleine may only have two acting credits at the moment, but we feel confident that she'll be adding plenty more to the list in the years to come. Continue reading for 10 things you didn't know about Madeleine Vall.
1. She Grew Up Riding Horses
When Madeleine was younger, she spent most of her time outdoors. While talking to Fighter Interviews, she said, "I was born in Falkenberg and had a somewhat pain free upbringing. I was a happy one who spent about all time in the stable, being a horse girl…I started riding when I was 4 years old, got my own horses early and went to the stable every day, sometimes both before and after school."
2. She Used To Be A Bouncer
Over the years, Madeleine has had lots of odd jobs, including working as a bouncer at a nightclub. Although the job involved lots of altercations, she didn't mind. She told Fighter Interviews, " I never thought it was weird to work as a bouncer, but looking back I can understand that people were surprised to see a 19 year old chick telling people what to do."
3. She's Trainer
Fitness is one of the things that Madeleine is the most passionate about, and she loves being able to share that passion with others. She works as a trainer and she is serious about helping people push their bodies to the limits and get in good shape. Of course, working out isn't just good for its physical benefits, it's also great for the mind as well.
4. She Was A Muy Thai Fighter
Madeleine Vall is one woman you definitely don't want to mess with. She is a former Muay Thai fighter who was once considered one of the best in the world. She was known for being a fierce competitor who always gave 100% when she stepped on the mat. Her days as a competitive fighter may be over, but she still likes to spar for fun.
5. She Suffered A Brain Injury
Anybody who participates in a contact sport like fighting is putting themselves at risk for some serious injuries. While lots of people are able to go their entire careers without getting severely hurt, Madeleine wasn't so lucky. She sustained a head injury that resulted in brain damage. As a result of the injury, her fighting career was brought to an end.
6. She's Done Stunts
Acting isn't the only thing Madeleine has done in the entertainment industry. She got her foot in the door in 2015 when she did stunts for the movie Johan Falk: Blodsdiamanter. Little did she know, that opportunity would eventually open the door for her to get into acting. It's unclear if she plans to do any other stunt work.
7. She's A Model
Even before Madeleine got into acting, she realized that she was a natural in front of the camera. She has been a model for several years and it has become a great way for her to express herself through photography and fashion. Unfortunately, we weren't able to find a comprehensive list of the brands Madeleine has worked with.
8. She's A Dog Mom
As far as we can tell, Madeleine is single and doesn't have any children. However, that doesn't mean that she hasn't started a family. She is a very proud pet parent and she has an adorable dog. Although Madeleine's dog has made frequent appearances on her Instagram profile, she doesn't have an account of her own.
9. She Comes From A Big Family
Madeleine's parents divorced when she was a child and they each went on to have other children. During her conversation with Fighter Interviews, Madeleine said, "Most siblings were a lot younger than me so I was closest to my older sister, who also had a horse. Now, when everybody is adult, we hang out more and have good relations between all of us."
10. She Originally Wanted To Be A Veterinarian
When Madeleine was young, her love for horses inspired her to want to become a vet. That was her goal for many years until she somehow found her way to fighting. At the time, she probably had no idea that fighting would eventually change the entire course of her life.