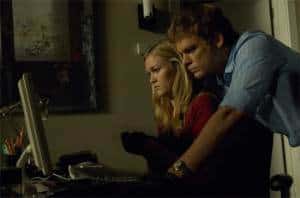 The penultimate episode of Season Five was a race against time for Dexter (Michael C. Hall) that still managed to get in some key character building moments, especially for Quinn (Desmond Harrington).
How quickly has Quinn gone from zero to hero? Suddenly he's interesting, helped in great part by the scene where Dexter and Lumen (Julia Stiles) search his apartment and find, among other things, a cat that can fart and hiccup at the same time. This is what Quinn needed all along, some rounded edges that give him depth (even via his shallowness). His confession of love to Deb was genuinely touching and made us root for him in a way that I didn't think was possible even just a few episodes ago.
"Is this really the only kind of love I'll find? The kind that ends in blood?"
That's been the underlying question of the entire season, and while we don't have any definitive answers yet, watching the bond between Lumen and Dexter continue to grow can't simply be another cruel joke (can it?). As is typical of the next to last episode of a season, we had a lot of walking into traps, followed by narrow escapes that led to even bigger derailments. It was still a little "by the numbers" for me (we knew Lumen would get taken by Jordan (Jonny Lee Miller) for example), but that didn't make the episode any less entertaining. We also knew that in all likelihood Dexter would kill Robocop and that Emily would end up dead. Sometimes you have to get the obvious out of the way to make room for the big reveals and surprises and judging from the look of next week's finale preview, we could be in for some big ones. Is it possible that we end the season with Deb finally catching Dexter in the act? How do you think it will end?
It's true that Dexter's relationship to Lumen is pretty messed up, but Deb also pointed out what we also know to be true: that in it's own way, it's also beautiful. Perhaps it took too long to develop, but 5.11 cemented our feelings for their love, just in time to put them all in serious jeopardy. It was a surprisingly emotional episode for being the next to last and that's where it succeeded despite its predictability. I have no idea what will happen next week. And that's a great thing.
Grade: B