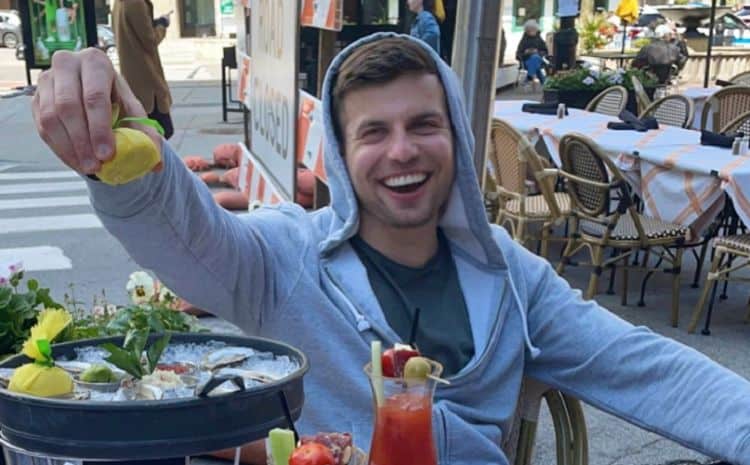 Now that Katie Thurston's new season of "The Bachelorette," has aired, bachelor nation is asking all the questions. Who are these men? Are they here for good cause? Did they just want to get out of their hometown quarantine and be quarantined a luxury resort? Will Katie find love? Will any of them be interesting? Who will be the next bachelor? Bachelor Nation is known for its many questions, and it's time we answered a few about Dennis Walega. This young man is looking for love alongside his 34 new friends, and the world wants to know if Katie Thurston is as interested in him as he is in her.
1. He is Younger
Of the many men on the show, he's among the youngest. Every man on the show fits into an 11-year age range from 25 to 36, and Dennis Walega is right at the low end of that. He's 26-years-old, and he is looking for love.
2. He's from Illinois
Walega is from the Chicago area. He currently lives and works in his home state. He graduated from college there, too. He graduated from Western Illinois University. Following his college graduation, he went on to pursue his dreams of working near his hometown doing what he loves.
3. He is a Police Officer
Dennis Walega took an oath to protect and serve, and that is what he does. He's a police officer in the Village of Barrington Hills. Right now, his job is more dangerous than ever before with some feeling that the police are not here to protect and serve but to look out for their own interests. Walega wants to serve and protect the people of his community, and that is what he does each day.
4. He is a Travel Enthusiast
When he is not working or spending time with his friends and family, Walega is on the road. He loves to travel, and he spends time all over the world. He's been able to visit some of the most beautiful places in the entire world, including Prague and Budapest. His travels came to a halt for some time, but now that the world is finally opening back up, he can get back to it.
5. He's Funny
If you want to find a guy with a sense of humor, we get the feeling that Dennis Walega might be your guy. He's a funny guy. His Instagram captions are on point, and we found ourselves smiling and even giggling a little bit when we went through and read them.
6. He is Close to His Family
While we don't know too much about his family, we can see that he has a large one. It looks like he might be one of four – all boys – and that his mom and dad love to spend time traveling with their family. They post photos together on their Instagram pages, and they are a sweet family.
7. He Gives Back
When we said he likes to spend time protecting and serving the people of his community, we meant it. He's a young man who does not just wear his uniform and go to work, he goes above and beyond. For example, he likes to go into local schools and read books to the youngest students. He's a king guy who likes to give back to his community.
8. He is Close to His Mom
He shares so many photos of her online, and each one is more adorable than the next. He refers to his mother as a son's first love, and we believe it. Sons love their moms something fierce, even when they are adults and no longer living at home. Katie Thurston will either love that he is so close to his mom and that she is his first love, or she will hate it. Some women don't like it, after all.
9. He's Been Pepper Sprayed
Job training is a nightmare for some, and being pepper sprayed right in the face is nothing that he enjoyed. He did not give it a good review, and he does not recommend it. If you're training to work in law enforcement, however, you might be prepared for this unpleasant situation at work.
10. He's an Outgoing Guy
Dennis Walega is a man who is outgoing and not afraid to have a good time. He enjoys his life, he enjoys his time with friends and family, and he appears to live every moment to its fullest. He has a lot to bring to the table, and we imagine he will not show up to his reality television debut empty-handed.