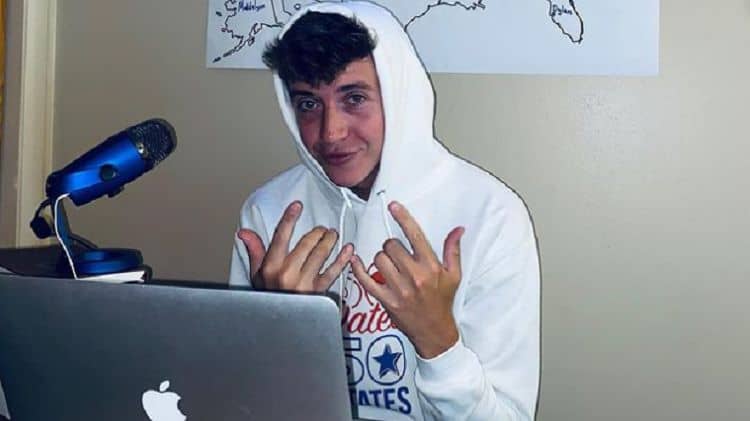 No matter where people live, they have a tendency to think that the dating pool in their city is trash. But is that really true? Social media star Matthew Wurnig decided to find out for himself. He came up with the idea to go on dates with women in every state in the country and he's discovered some interesting things along the way. Matt has been documenting his journey on social media, and his following has grown a lot as a result. People love tuning in to see what kinds of dates he's going on and it's also a great way for people to learn about cool places in different parts of the country. While it doesn't appear that Matthew is really looking for a serious relationship, he might just end up finding one. Here are 10 things you didn't know about Matthew Wurnig.
1. He Studied Sports Management
Becoming a social media star wasn't always in Matthew's plans. Instead, he was on a much more traditional path. He attended college at North Dakota State University where he graduated with a bachelor's degree in sports management in 2018. Shortly after, he got a job with the Bismark Larks baseball team.
2. He's From Montana
Since Matthew went to college in North Dakota, there are a lot of people who assume that he's from there. However, he was actually born and raised in Montana and he has nothing but love for his home state. He even decided to make it the last stop on his 50 Dates in 50 States run.
3. He Has Lots Of Volunteer Experience
As you may have been able to guess, Matthew is the kind of person who enjoys dedicating his time to the things he's passionate about. According to his LinkedIn profile, Matthew has done lots of volunteer work over the years. Some of the organizations he's volunteered with include the YMCA and the NFL.
4. He's Never Had A Girlfriend
There are lots of people who have serious relationships in college, but Matthew wasn't one of them. Some people may be surprised to know that Matthew has never had a girlfriend and he isn't necessarily looking. He seems to be enjoying the dating process which many would agree is important before making the decision to settle down.
5. There's A Podcast To Go Along With His Dating Journey
50 Dates in 50 States is more than just a social media thing for Matthew. He's turned it into a whole brand complete with its own website and merchandise. He also has a podcast where he recaps the his time with each of the women and also shares the scoop on the local spots they visited.
6. Tinder Inspired His Idea For 50 Dates in 50 States
Tinder has been one of the most popular dating apps for the last few years, and Matthew decided to make the most of it. Matthew told Inforum, "I was doing my thing swiping through and a notification popped up and it said that you could put your location anywhere in the U.S. for free, and obviously I was in North Dakota at the time so I was like lets see who's in L.A., lets see who's in Dallas and New York".
7. He Has A YouTube Channel
Matthew started a YouTube channel in 2020 to help document his journey. Unfortunately, however, he hasn't posted consistently on the channel. If you really want to stay in the loop, following him on TikTok or Instagram is probably your best bet. However, he may decide to start getting more active on YouTube in the future.
8. He Loves A Good Adrenaline Rush
The standard idea of a date usually involves something simple like dinner and a movie, but that's not how Matthew gets down. Through his date ideas for 50 Dates in 50 States, we learned that Matthew is an adventurous person who loves to think outside of the box and try new things. Some of the dates he went on included zip-lining, hiking, and boating.
9. Family Is Important To Him
For the most part, Matthew has been pretty low-key when it comes to his personal life. However, it's clear that he has close relationships with his family. His sister, Kaitlyn, is part of the 50 Dates in 50 States team and even created the logo. Matthew also shared a photo of him and his grandmother hanging out at a bar together.
10. He's Gotten Some Big Name Sponsorships
Throughout his journey, Matthew has built a large online following which has made him attractive to brands who are looking to market their products. This also means that he's gotten some cool free stuff. Some of the companies he's gotten to partner with are Budweiser, Bear Bites, and FRS Energy.
Tell us what's wrong with this post? How could we improve it? :)
Let us improve this post!