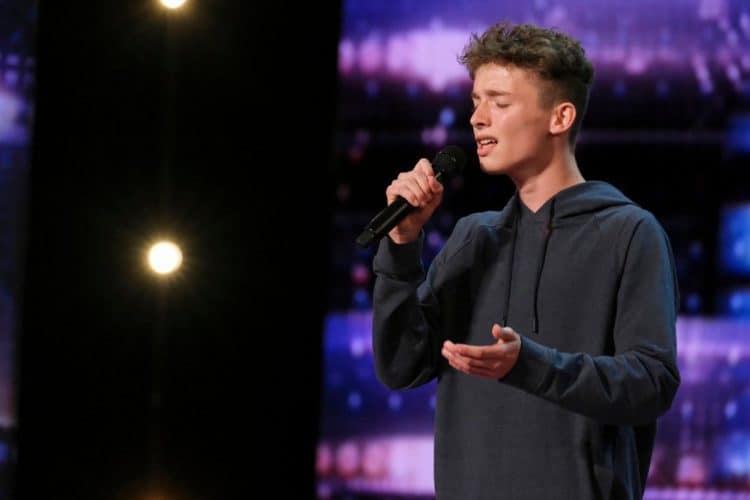 So far on his America's Got Talent journey, Zac Taylor hasn't gotten much screen time. However, his audition performance has recently started circulating around on the internet, and people are falling in love with him already. When he finally got a chance to step on the AGT stage, he certainly didn't disappoint. The talented young singer came ready to show the judges and the audience what he could do. His rendition of "Best Part" by Daniel Caesar earned him lots of applause and praise from the judges. The competition certainly isn't going to be easy, but Zac is ready to give it his best shot and he's hoping to make it all the way to the end. Keep reading for 10 things you didn't know about Zac Taylor.
1. He Didn't Really Fly In From The UK For The Audition
When the judges asked Zac where he was from, he told them that he was from the UK. Simon then asked Zac if he flew in for the audition, and Zac answered yes. However, there's a chance he may not have been telling the truth. While Zac has lived in the UK in the past, he currently lives in New Jersey where he is a rising senior at Morristown-Beard School.
2. He's Popular On TikTok
Even before his America's Got Talent audition, Zac had already built a pretty decent following thanks to TikTok. He currently has more than 50,000 followers on the platform. During an interview with Morristown Green, Zac shared that he started becoming very active on TikTok during quarantine.
3. He's Part Of His School's Chorus
We weren't able to find any information on how long Zac has been singing or what inspired him to get started in the first place, but we do know that's a huge part of his life. He is a member of the Upper School Chorus at Morristown-Beard which has been a great way for him to sharpen his skills as a performer.
4. He Enjoys Spending Time Outdoors
Now that Zac is an America's Got Talent contestant, there are some things about his life that are very different from other kids his age. One thing that remains the same, however, is the fact that he loves to hang out with friends and have a good time. Zac likes spending time outside and he especially loves being near the water.
5. He's A Private Person
Even though Zac has gotten a taste of the spotlight, that doesn't mean anyone should expect him to start being an open book. So far, Zac hasn't shared any information about his personal life even though he is very active on social media. That said, we may get to learn more about him during his time on America's Got Talent.
6. It Doesn't Look Like He's Released Any Music
There are quite a few contestants on America's Got Talent who have already released a lot of original music. Some of them have even had record deals in the past. Neither one of these things seem to be the case for Zac. From what we can tell, he is just getting started and hasn't done any music of his own yet.
7. He Participated In Blackout Tuesday
Zac may be young, but he's already proven to be the kind of person who isn't afraid to stand up for what he thinks is right. In the summer of 2020, Zac participated in a virtual protest called Blackout Tuesday which was designed so that people could show their solidarity in the fight to end racism.
8. AGT Is His First TV Show
America's Got Talent may not be Zac's first talent show overall, but is the first time he is part of a TV competition how. Even though he's new to such high-stakes performances, Zac still carried himself with lots of confidence and he was able to let his vocal abilities speak for themselves.
9. He's A Soccer Fan
We weren't able to find any information to suggest that Zac is a member of any of the sports teams at his school, but some of his Instagram posts reveal that he is a soccer fan. He appears to be a fan of the English National Team. By the looks of things, he has been following their more recent season very closely.
10. "Best Part" Is His Favorite Song To Perform
No matter how talented a singer is, picking the right song is extremely important. Zac feels that "Best Part" is the perfect song for him. Zac told the Morristown Green that when he was on TikTok he "saw people singing everyday, saw someone singing Best Part, downloaded it, listened to it, and it became my favorite. Just suits my voice, too."