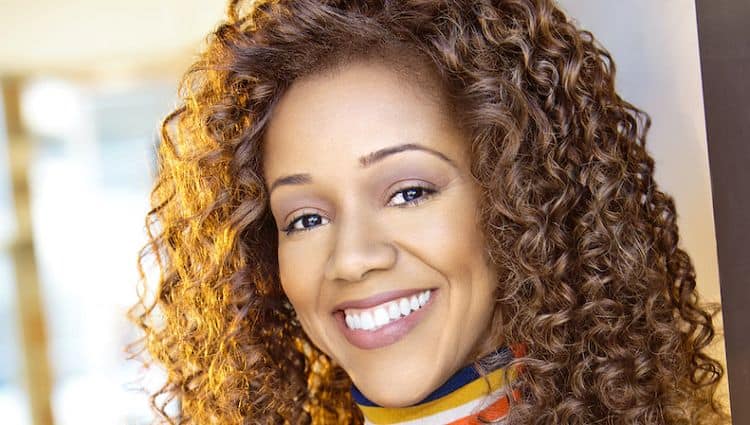 Chrystee Pharris blazed onto NBC TV as Simone Russell on the hit daytime soap opera Passions and she returned to NBC at night creating passion with Golden Globe Nominee Zach Braff on the hit show Scrubs as "J.D's girlfriend Kylie". Currently she can be seen on Craig Ross Jr's Monogamy and recurring on Season 3 of Goliath, both on Amazon Prime. It's time to get to know her and here are 10 things you didn't know about her.
1. Chrystee can manifest what she wants
Ever since Chrystee was a little girl, she could manifest what she wanted. If she needed a $100, she could envision it and then she would find a $100 on the ground. If she thought about someone – she would run into them or if it was a celebrity- she would meet them. She also had to learn to keep control over her thoughts and what she said because it would also happen! Like using the excuse that she couldn't get her homework done because her dog got hit by a car for example and then it would happen so she has to make sure she keeps her mind free of negative thoughts or visions. Only positive images. And she really believes that is what has helped her achieve her goals. A positive mindset that has helped her manifest her dreams.
2. Chrystee loves audiobooks
Los Angeles traffic does not bother Chrystee if she has a great audiobook that she is dying to get through. Listening to books is one of her favorite things to do when she is cleaning or driving in the car. Or when she needs to relax. What are her current books? Will, by Will Smith; Showtime- Magic, Kareem, Riley and the Los Angeles Lakers Dynasty of the 1980s. In the que -Just as I am by Cicely Tyson and The 1619 Project. Completed- The Magic of Believing, The Alchemist, Man's Search for Meaning, On the Come Up, Alex Cross and so many more.
3. Still keeps in touch with her 4th and 5th grade teacher
The 2 teachers that had the most influence on Chrystee was her 4th and 5th grades teachers Ms. Eichler and Mr. Reese. And she still keeps in touch with both. She credits the both of them as the 2 who helped her realize her potential as an actress by giving her acting parts. Every time she gets a new role in film or tv she reaches out to them to say thank you.
4. Chrystee lost her brother and father 6 months apart
Right before the pandemic, Chrystee lost her brother and her father 6 months apart. She describes the experience as the most painful thing she has experienced. It's a daily journey of healing. One thing that she does when she gets sad about it, is she allows herself to have the moment but doesn't allow herself to dwell and sit in it for long. Chrystee said "Never deny your feelings, but you also can't allow yourself to stay in it for weeks or months. I allow myself to cry and then I try to find a happy memory about them. If that doesn't snap me out of the sadness, I try to be a blessing to someone else. Whether it be a person I know, or a random person. Example- going to starbucks and paying for the car behind me. That always brings me joy. When I have done it for someone else or when someone has done it for me."
5. Volunteered at a women's prison for 2 years
Chrystee volunteered at a women's prison for 2 years helping the inmates navigate through their emotional trauma and giving them tools to use when they got out so that if they received negative comments from family and friends telling them they will never make it- it wouldn't affect them as much. They had mental tools to combat that negative energy to turn it into a positive. Sometimes it hits harder when a parent tells you that you will never amount to nothing. But through the role play she would do with the girls/women, it helped them to not be crushed when they heard it.
6. Has the Peloton Bike
She rides the Peloton bike and loves it! What made her want to join? Seeing the transformation in the Peloton Facebook groups. The communities are funny and inspirational and she just couldn't be left out. And yes, she got it during the pandemic.
7. Chrystee loves going to the playground and getting on the swings.
Swinging makes Chrystee forget about being an adult for a second and makes her very present. It's freeing for her. Having the sun beat on her face as she leans back in the swing. It just brings her joy.
8. Chrystee loves playing Spades
Chrystee loooooooves play cards. Especially spades. It brings a smile to her face even when she is not winning… well kind of but you get the point. She just enjoys having friends and family over and playing spades. Trash talking is allowed and slamming the cards on the table is too. Just don't break the glass table and no sore losers, cause she's running a Boston on you.
9. Chrystee is very sensitive to energy
Sometimes she will hear the Spirit of the Lord tell her to go into a particular place and start talking to someone. By the end, the random person will be crying on her shoulders. Another time her heart told her to go outside in the middle of the night to talk to a homeless person. She did. While she was talking with her, the homeless person revealed that she was going to commit suicide. Chrystee really tries to stay as present as she possibly can to hear when God is telling her to do something specific. You never know if you might be saving a life.
10. Chrystee enjoys teaching the business of acting to beginning actors
It's a joy for her when she has a student that is hungry to learn. She said she wants to give back what was given to her. Wisdom. She just wants them to learn how to get work on their own, how to not get scammed and how to trust their gut.
Tell us what's wrong with this post? How could we improve it? :)
Let us improve this post!