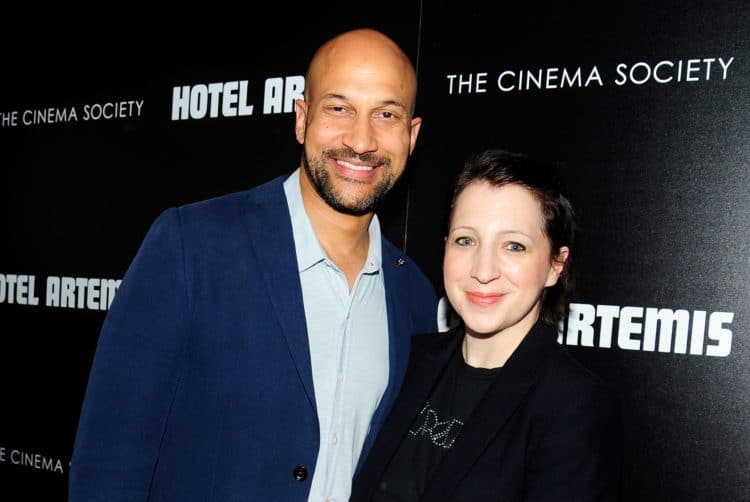 Elisa Pugliese, also known as Elle Key, has been in the entertainment industry for more than 20 years. While she's accomplished some great things during her career, her personal life is what she has become most famous for. In 2018, Elisa's name was all over the internet after her marriage to Keegan Michael Key. The couple had been engaged for less than a year, but they were ready to make a lifelong commitment to each other. While being Mrs. Key may be what she's best known for, it certainly isn't the only thing that Elisa has to offer. She is a very talented and hardworking person, and she hopes to be able to share more of that with the world. Here are 10 things you didn't know about Elisa Pugliese.
1. She's A Bronx Native
Elisa was born and raised in the Bronx and she is a very proud New Yorker. We weren't able to find any information about her upbringing. Thanks to her and her husband's work, she probably spends a good amount of time out on the west coast these days, but the east coast will always have a very special place in her heart.
2. She Works In The Entertainment Industry
Elisa's ties to the entertainment industry go far beyond her relationship with Keegan. She is perhaps best known for the work she's done as a director and producer. Through her behind-the-scenes work, she has gotten to work with some of the biggest names in the industry. However, what many people don't realize is that she's also done some acting over the years. She has seven on-screen credits and her most notable appearances were in the movie School of Rock and an episode of Law & Order. Her last acting role was in 2007. According to her LinkedIn profile, she also owns a company called 98 Films, LLC.
3. She Likes Her Privacy
Elisa may be married to someone in the spotlight, but that doesn't mean she wants to share her every move with the world. Both she and Keegan have remained relatively private about their personal lives. Instead, they prefer to keep all of the attention on their work.
4. She Studied At Syracuse
Even though not much is known about Elisa outside of her relationship with Keegan, we do know that she attended Syracuse University in New York and graduated sometime in the early 90s. Unfortunately, we weren't able to find any details on what she majored in.
5. She's A Sports Fan
There are some people who are completely bored at the thought of watching sports, but Elisa definitely isn't one of them. Elisa loves watching sports and particularly enjoys football. She and Keegan love attending games together and it looks like she's a fan of the New York Giants.
6. She Isn't Afraid To Share Her Political Opinions
Elisa certainly isn't the most active social media user out there, but when she does get online she likes to use her platform to raise awareness to the things that are important to her. She isn't afraid to speak her mind and has shown her support for the election of president Joe Biden. Elisa has also supported the Black Lives Matter Movement.
7. She's A Tiffany Haddish Fan
The fact that Elisa is married to Keegan Michael Key indicates that she probably has a pretty good sense of humor. Keegan's brand of comedy isn't the only kind she enjoys, though. In a tweet in March 2021, Elisa revealed that she is a fan of comedian and actress, Tiffany Haddish.
8. Keegan Is Her First Husband
As far as we know, Elisa was never married prior to meeting Keegan Michael Key and she has never been romantically linked to anybody else in the entertainment industry. She also doesn't appear to have any children. Keegan, however, was married for almost 20 years before marrying Elisa.
9. She Likes To Travel
Elisa is the kind of person who likes to get out and explore the world as much as possible. She is fortunate to be in a position that has allowed her to travel far and frequently. She and Keegan enjoy traveling together and have visited lots of beautiful destinations over the course of their relationship.
10. It's Unclear How She And Keegan Met
Celebrity relationships always attract a lot of attention. However, since both Keegan and Elisa are the type to keep their love lives low-key, some fans still have a couple of questions about the couple's relationship timeline. While we know that they got engaged in 2017, it's unclear exactly when or how they met.