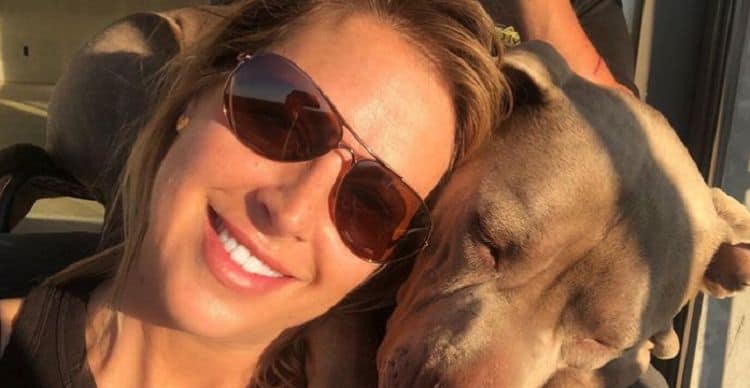 Amanda Martin probably never imagined that she would be a reality TV star, but life has a funny way of taking people on rides they never expected. In 2016, Amanda become widely known as one of the stars of the reality TV series Iron Resurrection which she appeared on with her husband, Joe. The show follows the Martins and their custom car-building business as they work to give their customers the best looking and highest-quality work. It didn't take Amanda long to become a fan favorite, and viewers really admired her knowledge and dedication. Although being thrust into the spotlight comes with its challenges, Amanda has always handled them with grace. Keep reading to learn 10 things you didn't know about Amanda Martin.
1. She Is A Texas Native
Amanda Martin was born and raised in Texas and she comes from a very close-knit family. Unfortunately, however, we weren't able to find any specific details about her upbringing. What we do know, however, is that she has two siblings: one brother and one sister.
2. She Is A Dedicated Dog Person
Amanda is an all-around animal lover, but dogs have an extra special place in her heart. She loves spending time with her fur babies and they have become the stars of her Instagram profile. In addition to being a proud parent, Amanda is also passionate about raising money for causes that benefit dogs.
3. She Is Passionate About Children's Cancer Research
Amanda and Joe are the proud parents of three children, one of whom was diagnosed with cancer. As a result of her child's illness, Amanda developed an interest in children's cancer research and it is a cause she has supported for several years. She has donated to St. Jude's hospital and has also promoted fundraisers that are dedicated to spreading education and awareness about different childhood cancers.
4. She Worked in Banking
These days, Amanda is best known for the work she's done with her husband. However, some people don't realize that she had a very successful career in a completely different field before deciding to give it all up to be part of Iron Resurrection. Amanda worked in the banking industry for a decade and she was a vice president at both Wells Fargo and Pioneer Bank.
5. She Likes Spending Time Outdoors
Between trying to balance work and a busy family life, things can get pretty hectic for Amanda. However, she still likes to make time to do some of the things she enjoys, and one of them is being out in nature. She loves going for walks, exploring her surroundings, and hanging out by the water.
6. She Is All About Positivity
Let's be honest, the world isn't always a kind place. Most people end up dealing with more than their fair share of ups and downs, and as a result it can be difficult not to develop a pessimistic attitude. However, no matter what kinds of challenges Amanda has has to deal with, she's always found ways to remain positive.
7. She Is Fairly Private
Even though Amanda is a reality TV star, she isn't someone who likes to put all of her business on display. In fact, she's almost the exact opposite. She is pretty private when it comes to her personal life. She and her husband have also worked hard to ensure that their children are able to enjoy some privacy.
8. Iron Resurrection Is Her Only TV Experience
Once some people get in the entertainment industry, they'll do just about anything to stay in the spotlight. That hasn't been the case with Amanda, though. As of now, Iron Resurrection is the only show she's been a part of. It's unclear if she has plans to do any addition work in the entertainment industry.
9. She Loves A Good Adventure
Some people are perfectly content spending their entire lives playing it safe and following the same routines. That has never been Amanda's style, though. She isn't afraid to step outside of her comfort zone and try different things. Having this kind of attitude has probably been instrumental in all of the success she has achieved over the years.
10. She Likes to Stay Active
Keeping herself in great shape is something that is important to Amanda. Despite her hectic schedule she still tries to make sure that exercise is part of her routine. Not only does working out have lots of physical benefits, but it has also been proven to improve mental health as well by helping to combat things like anxiety and depression.