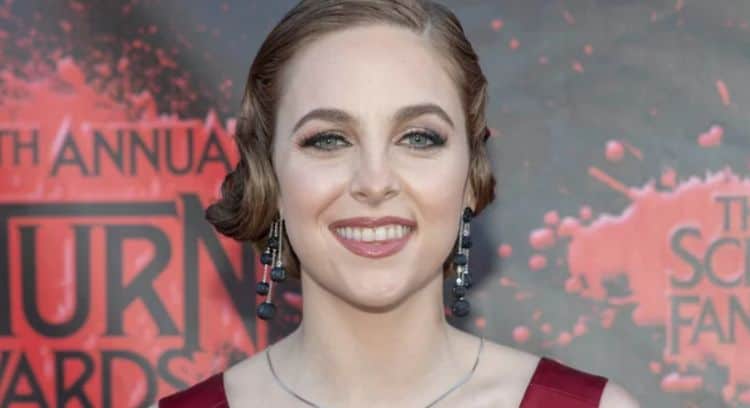 Brittany Curran's acting journey began when she was just a kid. During her years in the industry, she has experienced lots of ups and downs. No matter what she's gone through, however, she's always managed to come out on top thanks to her talent and unwavering dedication to her craft. She now has a very impressive resume that includes more than 40 credits. She is probably most well known for her roles in TV shows like The Magicians and Men of a Certain Age. In addition, Brittany has also found success on the big screen. Although she has yet to make an on-screen appearance in 2022, we know that we are going to be seeing a lot more from her in the future. Keep reading to learn 10 things you didn't know about Brittany Curran.
1. She's A Massachusetts Native
Brittany was born in Massachusetts where she lived in several towns including Cape Cod. She fell in love with the arts at an early age and began taking dance classes at a local studio. When she was around 11 years old, she relocated to the Los Angeles area. It was there that she broke into the entertainment industry.
2. She Is Also A Producer
Being in front of the camera is what has made Brittany famous, but she has also shown an interest in being on the other side. In 2005, she made her debut as a producer with a short film called Betsy. Since then, she has produced a handful of other projects and will likely do more in the future.
3. She's Done Some Voice Work
Versatility is one of the keys to finding success in the entertainment industry, and it's a quality that Brittany definitely has. While the majority of her acting roles have been in live-action projects, Brittany is also a talented voice actress. According to her IMDB page, she has two voice-acting credits. Most notably, she was the voice of Goat in the 2018 animated movie Cats.
4. She Loves to Read
When people talk about what it takes to be a good storyteller, they often forget that consuming stories on a regular basis is one of the key ingredients. And that's exactly what Brittany likes to do when she isn't working. She is an avid reader and she loves curling up with a good book and getting lost in a story.
5. She Enjoys Spending Time Outdoors
Just because Brittany has spent most of her life in the entertainment industry doesn't mean she only knows how to have a good time when cameras and flashing lights are around. She actually appears to be the kind of person who really appreciates the simple things. Among those things is the beauty of nature. She loves being outdoors and she enjoys going hiking and exploring her surroundings.
6. She Made Her Acting Debut in An Episode of MadTV
It's fairly typical for actors to land their first job on a small project, but that wasn't what happened for Brittany. Her first on-screen appearance was in 2001 in an episode of the sketch comedy series MadTV. Since then, she has managed to work fairly consistently for more than 20 years.
7. She's A Pet Parent
If you ask most people whether they prefer dogs or cats, they won't have any problem picking a side. Brittany, however, loves both equally. She is a very proud pet parent and her fur babies are her pride and joy. Both her cat and dog have become fixtures on her Instagram profile and her followers love when she posts them.
8. She Likes to Travel
Working in the entertainment industry comes with lots of perks, one of which is the ability to do lots of traveling. Brittany has gotten to see places all over the world since starting her acting journey. Some of the places she's visited include Scotland, France, and Canada. She has also done lots of traveling within the United States.
9. She Enjoys Doing Yoga
The entertainment industry can be grueling, and staying in good shape can help make the grind easier. That said, it's no surprise that Brittany likes to stay active. However, that doesn't mean that she wants to spend countless hours in the gym. Instead, she enjoys doing yoga. Not only is yoga great for the body, but it also has benefits for the mind.
10. She Enjoys Interacting With Her Fans
Brittany has built a large fan base during her career, and she is thankful for all of the love and support they've shown her. She does her best to return the favor whenever she gets the chance. It's not unusual to see her responding to fans on Twitter.
Tell us what's wrong with this post? How could we improve it? :)
Let us improve this post!