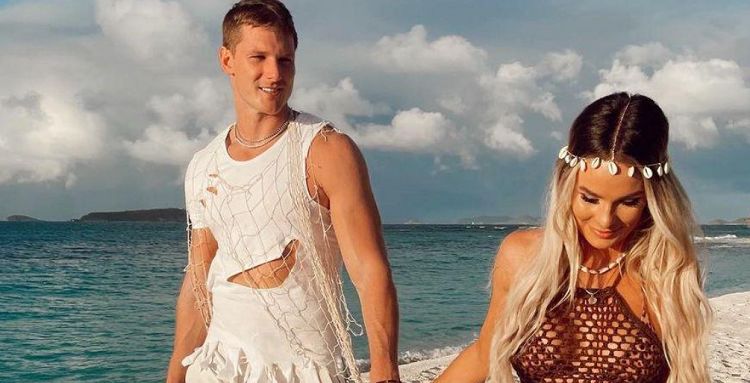 Since Siesta Key began airing, fans have been wanting to learn as much as possible about the stars of the show. Their affluent lifestyles are certainly interesting to those who watch, and many find themselves wondering what these people do for a living. Sam Logan is one of the stars. He's in the news right now after breaking up with his girlfriend, and his fans are suddenly more curious than ever about him. We did some digging, and we've learned as much as we can about the young man who is so television famous.
1. We Don't Know What He Does
At the end of the day, no one really knows what this guy does for a living. He's not one to speak of his job other than the fact that he's on social media and he is a reality star. He doesn't have a job listed anywhere, and we don't know if he works for his parents or if he just has a trust fund he uses to enjoy his life.
2. His Father's Family Owns a Construction Company
What we do know about this young man is that his father's family owns a lucrative construction company. The company builds homes in the most affluent, wealthiest communities in Florida and in the Caribbean. Those who go to them for a new home are doing so because they want high-quality homes in beautiful neighborhoods, and they want to spend a pretty penny to make it happen.
3. His Mother's Family is Wealthy
If you thought his father's family is wealthy, you should learn a bit about his mother's family. They are the owners of the Scripps Research Institute. His mother also happens to be a major shareholder for one of the biggest companies in television. She is the main shareholder for Scripts Network Interactive, so it's safe to say that his family is quite wealthy.
4. His Parents are Very Private
If there is one thing you will not learn from him or see from him online, it's a lot of his mom and dad. While it's clear he is close to his family, it's also obvious to us that he is someone who has a lot of respect for his mom and dad's privacy and their desire to not join him in his reality star lifestyle. He tends to keep them away from the public eye, and he tends to respect them significantly.
5. He Is Close to His Brother
While we don't see much of his mom and dad, we do see him with his brother a lot. They are very close. His brother is Max, and they spend a lot of time together. It seems that they always make time for one another whether they are hanging out at home or they are traveling the world. they have an impressive brotherly bond.
6. He is Not Dating his Girlfriend Any Longer
Fans were super disappointed to learn that he and Juliette are no longer together. They met on the show, began dating, went through a few ups and downs, and that was the end of it…or so we thought. Fans thought that they seemed good, even when his ex showed up and wanted to cause some issues. However, it seems that they've ended things, and he and Juliette are no longer an item. He did not elaborate.
7. He Calls Juliette Amazing
After he admitted to some fans that he and his girlfriend broke up, he then went on to call her an amazing person. He also said that some things just don't work out, and then he said that being on reality television is definitely a factor that makes it difficult to have a good relationship. It didn't help theirs, and it ultimately ended.
8. He Just Turned 30
2021 was his 30th birthday year, which is always a big one. He was born on July 3, 1991, and he's spent his entire life in Florida. His parents live and work here, so we think, and he's been here his entire life. He's a born and raised Floridian.
9. He is a College Grad
When he was finished with his high school diploma, he made the decision to go to college. He didn't go too far from home, either. He attended courses at the University of Central Florida, which is located in Orlando. His father's company is based out of Windermere, which is a suburb of Orlando.
10. He is Not Private
Unlike some people who like to keep their lives as private as possible, Sam Logan is not one of them. He's not a man who cares about sharing everything. He has no problem with the world knowing what he is doing, where he is doing it, who he is with, and everything in between. There is no privacy in his life for the most part – he is an open book.
Tell us what's wrong with this post? How could we improve it? :)
Let us improve this post!