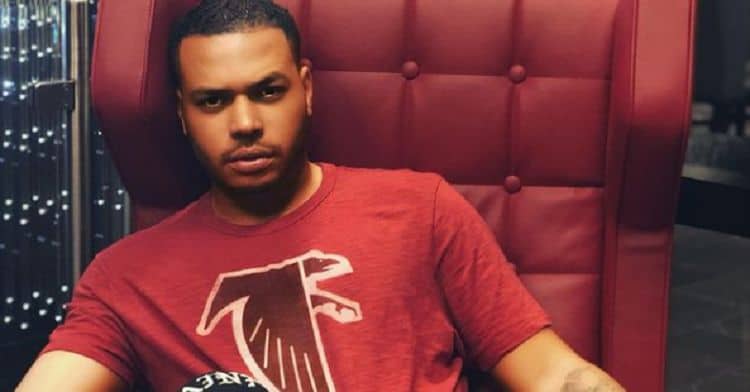 DJ Simmons may be relatively unknown to the general public now, but that won't be the case for much longer. Simmons is a cast member on the upcoming MTV reality TV series, Buckhead Shore. The show is a spin-off of Jersey Shore one of the network's most successful show's of all-time. This time, however, the show will be filmed in the Atlanta area and will feature a more diverse cast. DJ and the rest of the cast are looking forward to bringing all of the fun and excitement (and of course drama) that fans are expecting. Buckhead Shore is set to premiere on June 23. Continue reading to learn 10 things you didn't know about DJ Simmons.
1. He's a Lakers Fan
Despite the fact that DJ Simmons lives in the Atlanta area, he is still a huge fan of the Los Angeles Lakers and Kobe Bryant. In a post on his Instagram account, he wrote, "My true friends know how much of a Lakers and Kobe fan I am …this man taught me fight he taught me heart and taught me discipline. I use to watch you play and go in my drive way and practice your moves .
I'm sick to my stomach I didn't get to ever meet you and tell you how thankful I was for how you impacted my life …long live the Greatest ROLE MODEL AND NBA PLAYER OF ALL TIME".
2. His Father Is A Talented Songwriter
DJ Simmons is the son of legendary songwriter and music producer, Daryl Simmons. He is best known for the work he did with Babyface and LA. Reid and his songwriting credits include Bobby Brown's hit single "Don't Be Cruel" and Boyz II Men's hit song ""End of the Road" which he won a Grammy Award for.
3. He Loves Fashion
As far as we know, DJ doesn't have any experience in the modeling or fashion worlds, but that hasn't stopped him from developing a great sense of style. Whether he's going to a formal event or a simple gathering with friends, he knows how to put the perfect outfit together for any occasion.
4. He's Private
DJ Simmons may be on the brink of reality TV stardom, but that doesn't necessarily mean that he wants the world in all of his business. He actually appears to be a very private person who hasn'ts shared many details about his personal life. That said, we'll probably get to know a lot more about him when the show airs.
5. Buckhead Shore Is His First TV Experience
These days, there are lots of reality shows that with cast members who have already been in the reality TV world. That isn't the case with Buckhead Shore, though. Like many of his other castmates, DJ doesn't have any previous on-screen experience. Now that he's in the industry, however, he may decide to take on other opportunities.
6. He Likes Mushrooms
Mushrooms can be a very polarizing ingredient. Although they can be made in a variety of ways, there are lots of people who simply don't like the taste and/or texture. DJ, however, appears to be a fan of mushrooms and he has some thoughts on people who aren't. In 2019, DJ tweeted, "People who don't like mushrooms have childish taste buds".
7. Family Is Important to Him
Since DJ is a pretty private person, we don't have a lot of details on his family outside of what we know about his dad. At the same time, though, some of DJs Instagram comments make it very clear that he really values his relationships with his loved ones. He seems to be especially close to his mother.
8. He Already Has a Decent Social Media Following
One of the best things about being part of the reality TV world is that it tends to result in a large social media following. While DJ's numbers haven't reached six figures yet, he already has a pretty substantial (10.5k) following on Instagram. It'll be interesting to see how much bigger that number is by the end of the season.
9. It's Unclear What He Does for Work
As with many of the other cast members on the show, we weren't able to find any details on what DJ does for work. However, it doesn't look like he's followed his father's footsteps in the music industry. If the show ends up being a success, he may be able to leave the traditional working world.
10. He Likes Connecting with People on Twitter
DJ certainly isn't the most active social media user out there, but he does like to engage with people when he can – this is particularly true on Twiter. Leading up to the show, he has been connecting with lots of potential viewers and he's already building a fan base.