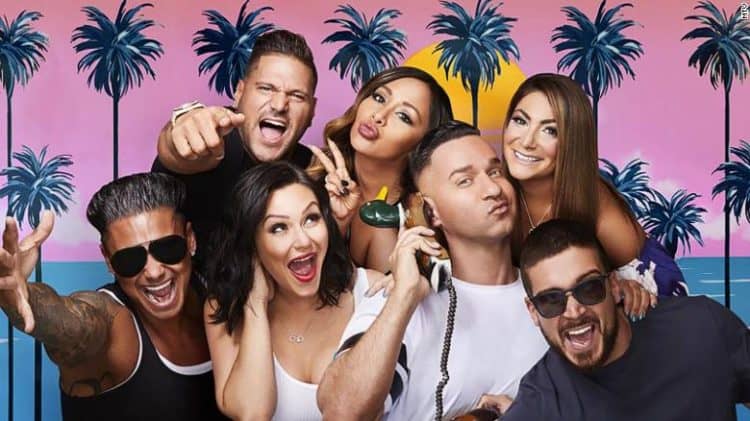 It's been well over a decade since the world was introduced to the cast of Jersey Shore, and a lot of things have changed since then. Not only have some of the original cast members parted ways with the show, but recently, it seems like burgers are the only thing the cast members are eating. Anyone who has turned into the latest season of Jersey Shore has probably noticed that everyone seems to be eating Burger King all the time. This has led lots of viewers to wonder if there is some sort of marketing connection between MTV and Burger King. Keep reading to get more information on why the cast of Jersey Shore is always eating Whoppers.
What's Up With The Whoppers?
While it's very obvious that there's something going on between Jersey Shore and Burger King, there doesn't seem to be any documentation about a sponsorship agreement between the network or the show and the fast food chain. That, however, doesn't mean that there isn't one. Product placements in TV shows and movies have become very popular over the years. It's meant to be a subtle way for companies to get their items in front of large audiences. However, I think we can all agree that Burger King's inclusion in Jersey Shore isn't exactly subtle. Still, it can be more effective than other forms of advertising.
The Legal Side
Since advertising can easily become intrusive, there are legal parameters that companies must follow when trying to market their products. According to Pfieffer Law:
"When it comes to TV and radio, the FCC has something called "sponsorship identification rules," (47 U.S.C. §§ 317, 508) which basically says that if a program producer, broadcast station, or a station employee receives anything of value, directly or indirectly, in exchange for causing material to be broadcast, the sponsorship and the identity of the sponsor must be disclosed on-air. These rules require program producers to notify the broadcaster if they have a deal to include any sort of product placement in a program, which allows the broadcaster to then make the necessary on-air disclosures.

The FTC, however, has said that under the FTC Act, product placement doesn't require the disclosure that the advertiser paid for the placement in traditional media forms (i.e. TV, radio, films)."
What Viewers Think
Lots of viewers have commented on the constant presence of Burger King in this season's episodes. Some people find it entertaining while others feel confused and even slightly annoyed by the constant burger eating.
One Twitter user named armchairlb tweeted, "not sure if i like the newest member of the jersey shore crew, i think he goes by the name burger king". While another user, AntLOL666, said, "…After some other nonsense we then dedicate nearly 2 more minutes to Burger King. Im not a dummy and I know Im watching Jersey Shore, but I can stop thinking about how much they shill for BK. Its Hawaii 5-0 Subway levels bad."
NotirousALY also commented, "I like how Jersey Shore just adds in that Burger King ad money smoothly lol. #JSFamilyVacation".
Since there are quite a few people in the cast who like to keep themselves in good shape, it seems a little unlikely that they would willingly eat so much Burger King on a regular basis. However, getting paid to eat Whoppers on TV isn't the worst gig in the world.
Jersey Shore And Burger King Connected In The Past
Sure, there may not be any evidence of an official agreement between Jersey Shore/MTV and Burger King, but it appears that the connection goes way beyond this season of the show. In 2017, the cast reunited to film a commercial for Burger King to advertise its new chicken parm sandwich.
Additionally, the Jersey Shore/Burger King have yet another connection. On top of the commercial, Mike "The Situation" Sorrentino and his wife also did a review of the Impossible Whopper on his YouTube channel back in 2020. At the beginning of the video, Mike noted that the viewers had been asking for a Burger King review. However, his tone was somewhat sarcastic which suggests that he chose to do it on his own. It's important to note, however, that Mike has reviewed several other fast food chains on his YouTube channel.
Jersey Shore and Burger King may seem like an odd couple, but the relationship seems to be working well for the two. It'll be interesting to see how much longer Burger King continues to make appearances in episodes of the Jersey Shore.
Tell us what's wrong with this post? How could we improve it? :)
Let us improve this post!