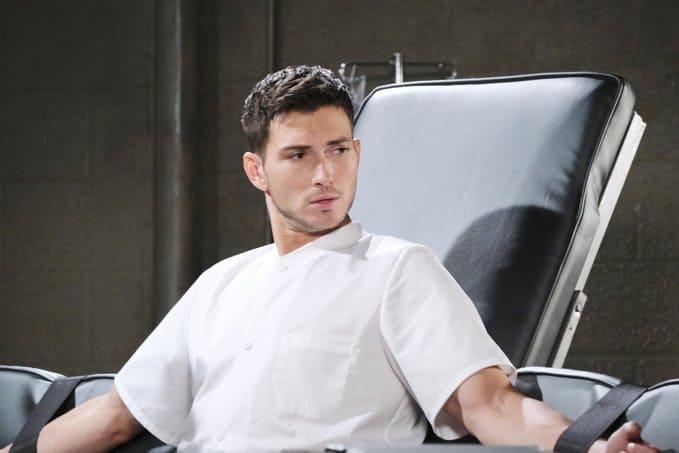 Days of Our Lives fans aren't sure that there is going to be much time for anything other than panic right now. Ben is set to die, and there is nothing that anyone can do to stop this right now except for Ciara and Will, who are working so hard to make this stop. She did manage to put something into Rafe's head that makes him think perhaps he is wrong — and he is wrong. She told him that the DNA might not be anything other than the father of David, who is the child of Jordan, who is related to Ben, and now we know that this is Evan. However, they don't know that it's Evan. Sonny knows, of course, because he is now being held hostage by him and things are also looking a bit dire for him, too. But, that's that. And we don't know much about it, otherwise.
There is also the situation that involves Kristin, who has laid into Gabi about things. She's not happy with the way that things went down, but she's not going to let this go. Kristin is not someone with whom you want to be in a tiff, and that is nothing short of obvious to us when it happens. Ben is doing nothing but seeing his life with Ciara. They had so much potential. They had so much hope. They had their entire lives to be together. They should have the chance to get married, to have a family of their own, and to be happy, but this is the end of the road for him as he is sitting here about to be injected with a solution that will end his life for a crime he did not commit. It's a tragic moment, and it's not one that was all that easy to watch.
What's Happening on Days of Our Lives
In the latest #DAYS, Will and Sonny reunite. https://t.co/ZsCmioRrzb pic.twitter.com/5oF1rSMmWS

— Days of our Lives (@nbcdays) March 2, 2020
Still so happy about this one.
What's Next on Days of Our Lives
Is this the end for Ben? As his execution begins, Ben calls out for Ciara. Watch #DAYS, weekdays on @NBC. pic.twitter.com/xjY70XXMYc

— Days of our Lives (@nbcdays) February 29, 2020
Things are not going well today as Ben is going to flatline. This means he is dead, and there might not be a thing that anyone can do about this right now. There is no more time, and we cannot decide how to feel about this. We know that they cannot be that late, and we know that there has to be another chance. He cannot be gone because Ciara has not even had a chance yet to save him, and we know she can save him, but this is what we will see today. That's all, and we are heartbroken. Then there is what is going on with Maggie, who is about to turn herself in and admit her wrongdoings so that she can take responsibility and get things in her life together. She's got to get this situation handled now before things are too late.
Nicole is not a fan of Xander or Dr. Raynor, but she's also not stupid. She can see that they are hiding something from someone, and she's going to find out what it is and put a stop to anything they are doing. Xander has been so bad to her in the past, and she's not going to have another moment of that in her life. She hasn't the time for that, and she's not going to deal with it in the least. She's got her life to focus on, and that's that. It's too much for all of us, and that's why we know she's about to uncover something that will blow her away.
Stay tuned for more Days of Our Lives and be sure to check out TVOvermind daily for the latest Days of Our Lives spoilers, news, and updates.