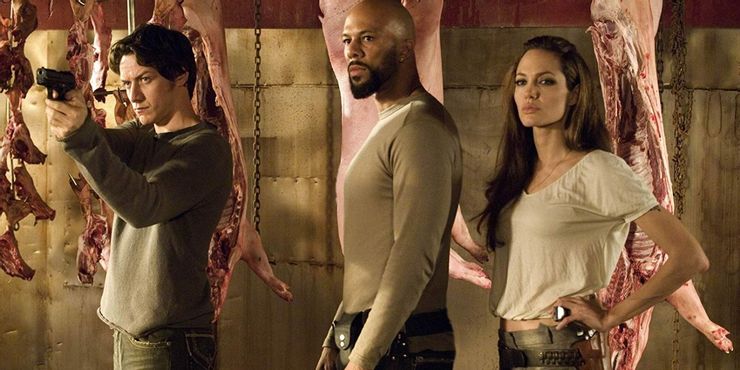 It sounds as though James McAvoy wants the chance to see what happened to the character, Wesley Gibson, that he portrayed in Wanted back in 2008. The sequel that could have happened never did since apparently there weren't enough good ideas that were forthcoming that would have made for a great sequel that didn't mirror the first. If you're as confused by that reason then don't feel too bad since it does sound like one giant copout since so many sequels in Hollywood have been close to the same thing as the original movie and yet were made anyway. Moving on though, it would be interesting to see what Wesley is up to since there are other assassin organizations out there apparently and it's likely that the remaining four wouldn't look too kindly on someone that was willing to take out their own group. In fact, any organization that's taken down by one of its members would likely feel a little vengeful, and any other organization that's even remotely attached to the one that's been destroyed might feel obligated to take out the problem before it can affect their ranks.
But it's easy to understand if the main plot was for Wesley to take on a protege and train them to take down the other groups since this would be kind of cool given that it would be a much bigger battle and it might even be far more grandiose than Wanted, but apparently this idea wasn't desired and so the movie stalled. The fact that there are many different ways to use assassins doesn't appear to register with those that are in charge, or it does and they aren't comfortable heading off the beaten path to see what else could be done. A story about assassins has numerous pathways to tread, a lot of which aren't taken that often since they're not exactly convenient when it comes to an assassin. But this is a movie about killers that can bend the flight path of bullets, and can heal from serious wounds in a much shorter amount of time thanks to a specialized healing regimen. Wondering why something like the lack of marketable ideas would be able to keep things from progressing is a little difficult.
But that's where this sequel has been apparently, stuck in development hell where so many movies have gone to die or at least collect dust. Thinking about how to do this feels like a simple plan that shouldn't take a room full of writers, but when opinions tend to vary so much it's fair to think that those writers that have the clout and state that a certain idea shouldn't be used are going to have more pull than anyone else when it comes to the producer or a director. This is one of the several reasons why people tend to think that creativity is dying in Hollywood since those that are tasked with creating a story are either afraid or unwilling to push various limits that might take one movie or another to another level that might actually be approved by the audience. Hesitancy in Hollywood is apparently a bad thing since missing out on a shot that might work is frowned upon by quite a few people, but it would appear that refusing to take the shot when one has already done something great is perfectly fine. That sounds a little cynical on purpose since the fact that some of the most ridiculous ideas get pushed while some with the most potential are left to rot in development hell is a bit frustrating.
Wanted had its flaws, there's no doubt of that, but it was an otherwise solid movie about a guy that was unremarkable but essentially belonged to a group of remarkable individuals that had a set of skills that were ingrained into each one of them, meaning that any child they had would have the same chance to be just as skilled. Watching Wesley's journey from being a nobody to being one of the deadliest people in the world was a lot of fun since it was inspirational in a way and exciting all the way through. If nothing else, it might have given a lot of people a needed boost since their lives might have been kind of pathetic as well.
But a sequel with assassins shouldn't be that hard, especially if there are four other organizations that would be itching to get a piece of Wesley after what he did to the Fraternity. Just imagine how great the effects might be in a sequel, and then imagine that Wesley's actions would inspire others within the groups to strike out on their own. Perhaps the chaotic nature of it is what those in charge don't want, or perhaps it's something else. In any case, it would be great to see a sequel.