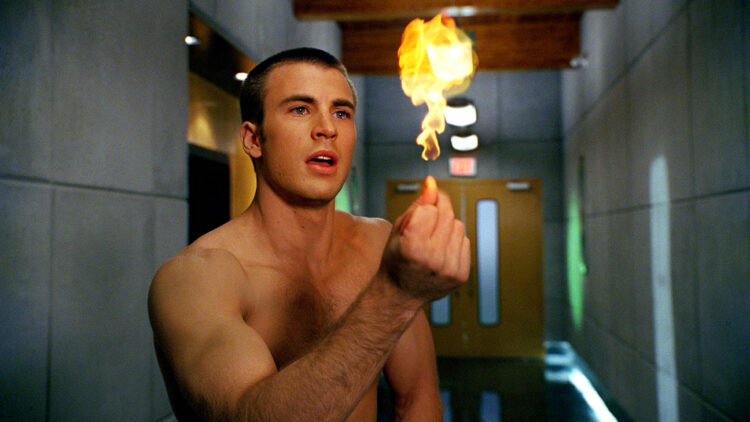 It's funny just thinking of Chris Evans' desire to go back to playing the part of the Human Torch, but not in a mocking or bad way. Instead, it's amusing since this was the first Marvel role he ended up playing, and he did it quite well. Without trying to disrespect Michael B. Jordan, he did it even better since his role as the carefree hothead that eventually became the Human Torch didn't feel quite as serious. Johnny's character in the comics was usually a little more carefree and not quite as serious, and again, with all respect to Jordan, the 2015 version felt a little too serious. But at this time it does sound as though the desire to have Evans back as Captain America at some point is bound to be a desire, but when thinking of the MCU, it would appear that Chris would rather come back as Johnny Storm of the Fantastic Four. That's not entirely surprising, it did look as though he had fun with the role back in the day when he was acting alongside Jessica Alba and the others. 
But what would be really interesting is if he was given his wish and allowed to take on the role once again, or if he would be expected to pick up the shield and put on the suit again to reprise his role as Captain America. One has to remember that he's already stepped away from the role, kind of, and it's fair to think that he's earned a reprieve from the star-spangled hero. Even with fans pulling to see him as the shield-bearing hero, it's likely that he might want to walk away if he doesn't get the chance to play the role he wants. Some might say that he would be seen as ungrateful if he did such a thing, while others might consider that he's done his bid as Captain America and that Anthony Mackie deserves the shot he's already been given on Disney+, as well as the chance to see what he can do with the role of Captain America in a live-action movie. 
It would be interesting to see which character fans would want to see Evans play, since the Fantastic Four movies haven't managed to get a lot of love in the past, and Captain America has been given a serious boost over the years. But to be realistic, there were a lot of elements that didn't work in the FF movies, and Johnny Storm wasn't one of them. If anything, he was the life of the party but was given just as many cheesy lines as anyone. Chris managed to take the role and make something of it, but the dialogue and the overall writing in the two movies were subpar at best, leaving one to wonder how they were ever pushed the way they were. There are explanations as to why, of course, and hindsight is always as perfect as it could possibly be, but at this point, it would appear that Evans didn't have enough of the character and wants to go back. It would be interesting to see how he might interact with those that are going to be cast in the FF movie, especially since he would be the only one that has any experience with this particular team.
That's assuming that he gets the part though since one has to remember that it's been a while since he's been seen as Johnny Storm, and he's had plenty of roles since then. On top of that, he's also gotten a bit older, so it might not be quite as possible to see him in this role unless things take a turn that might favor his casting. It would be fun to see him back in the role without any doubt, but at the risk of being insulting, his time might have come and gone at this point. I could be wrong, and I kind of hope I am as it would be enticing to see Evans step back into this role to play the cocky, hotheaded character. Perhaps if the FF movie didn't bother with their origin it would be easier to place him on the cast. But the general feeling is that he was the better Human Torch. 
Should that happen it's easy to think that a lot of fans might go nuts over the mere thought of seeing Chris Evans back in the blue jumpsuit and blazing through the air after yelling "Flame on!". At this time though there isn't a lot that's known about the FF movie, and waiting is beginning to become a bit bothersome to a lot of people since in the minds of the fans, there are various individuals who would be perfect for the roles that are up for grabs.