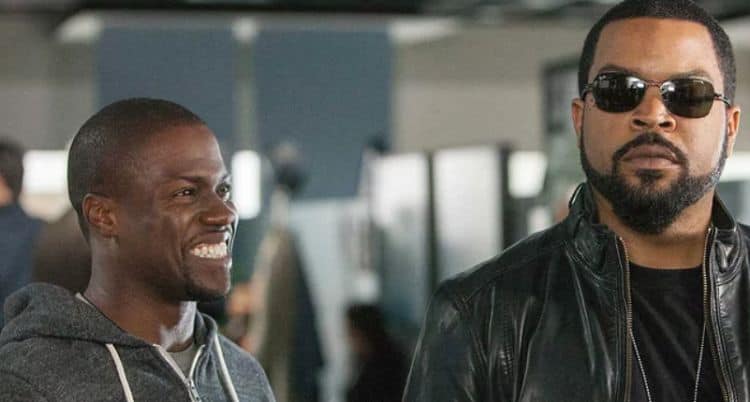 When Ride Along was released in 2014, it became a box office hit. The movie followed an undercover detective named James Payton (Ice Cube) who takes his soon-to-be brother-in-law Ben (Kevin Hart) on a ride-along to prove that he's the right man for his sister. As soon as their adventure begins, it's clear that it's going to be more eventful than either of them could've imagined. The movie was so popular that it spawned a sequel which was released two years later. Apparently, Ice Cube and Kevin Hart were the duo that the world didn't know it needed. Although it's been more than five years since the second Ride Along movie, fans will be happy to know that there's another one on the way. Keep reading to find out what we know about Ride Along 3.
Where The Second Film Ended
Sequels can sometimes struggle, but Ride Along 2 was equally as successful as the first film. In the movie, Ben has officially become a part of the police department, but he is still trying to prove that he has what it takes to become a detective. Of course, his antics leave the rest of the department feeling like he has a long way to go. However, once James' partner is injured, Ben has the opportunity to step up to the plate. Once again, we see Ben and James go on a wild ride. This time, however, they are attempting to bust a drug dealer. At the end of Ride Along 2, we see James and Ben get rewarded for their awesome police work and it's clear that Ben might legitimately have a future in law enforcement. On top of that, Ben was in a good place in his relationship with Angela.
Where The Third Film Could Go
Even though the first two Ride Along movies were great, you're probably wondering how on earth they could make a third one. After all, the title doesn't really lend itself to much else other than Kevin and Ice Cube riding in a cop car and chasing down bad guys. Unfortunately, though, there isn't a lot of information on what the third movie is going to be about since it's still being written. Hopefully, however, the writers understand that they're going to have to really switch some things up in order to ensure that the third movie isn't repetitive. During an interview with The Wrap, director Tim Story said, "We're writing the script right now, we're writing away and basically, I'm waiting to see some pages and we're excited for the idea and what it can be and of course bringing Kevin [Hart] and Ice Cube back together because they are the greatest odd couple in the world," he said. "I'm impatiently waiting for a script to be given to me. We have some great ideas."
The Cast
There haven't been any official announcements about who will be in the film, but Kevin Hart and Ice Cube will more than likely be reprising their roles. After all, there really isn't a Ride Along movie without either of them. It also seems likely that Tika Sumpter will be reprising her role as well. More than likely, there will probably be some new cast members introduced as well. It would be interesting to see if they decide to bring another big name into the fold to help bring more attention to the movie.
Release Date
If you're like most fans of the Ride Along movies, you're probably wondering why it's taking so long for the third one to be released. As with everything else in life, though, making a movie comes down to timing. According to Metro, Will Packer said, "We haven't locked in on the script just yet. And Ice Cube and Kevin Hart are both extremely busy, so we'll see. I've got to find the time. I've got to sew both of those guys down in order to make that movie". Needless to say, the movie doesn't have a release date as of now. That being said, it definitely won't be coming out before the end of 2021. There's also a good chance that it won't be released in 2022 either. Fans are just going to have to sit tight and wait for an official announcement.
At the end of the day, producers are going to have to be careful not to wait too long. People genuinely love the Ride Along movies, but they also tend to have short attention spans. If the film isn't released relatively soon, there's a chance that people will lose interest in seeing it all together.