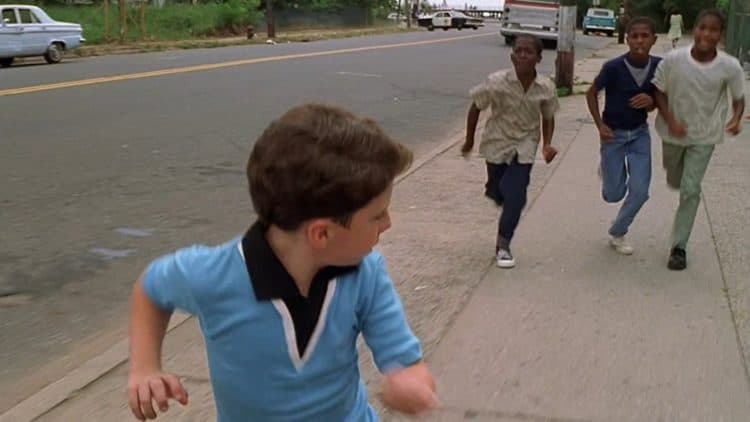 When looking at some actors it's easy to recognize them in earlier roles either because they had more than a few seconds of screen time or because they were a bigger part of the project. But it's fair to say that a lot of Michael B. Jordan and Soprano fans aren't going to remember that Jordan was on the show for a brief moment in the early days of the show. Back in the first season, in episode 7, when Tony's son was having troubles, it sent Tony back to the past when he had his own issues with other kids, and it's there that we see a young Michael B. Jordan as one of the few kids that are chasing a young Tony down the street, which makes it clear that Tony wasn't always the biggest and baddest on the block since he was capable of being bullied. It's a brief moment, seconds only, but if anyone goes back and takes note of one of the kids that were chasing the future mafia boss they'll see that Jordan was in the group. That role would expand into his time on The Wire, and then from there would end up becoming a successful career that's taken him to where he is now. At this point, Michael B. Jordan has become one of the most sought-after names in Hollywood, and his next movie, Creed 3, is going to be an attempt to continue the legacy that he and Sylvester Stallone have had a hand in cementing at this point.
It's usually interesting to see how so many famous people managed to get their start since some of them have fairly crazy stories to tell while others had to scratch and claw their way for a role and after that were being picked up because it was discovered that they had real talent that could be developed and used to the greatest extent. Jordan was seen as a raw talent obviously and was given a shot to advance even further, and to date, he's been continuing to climb as his roles in Fruitvale Station and Creed, and of course, Black Panther, have escalated his career to such a height that he's able to do just about anything at this point and be accepted. Creed 3 still feels like a risk but is likely worth it if Jordan can find a way to make it new, exciting, and worthwhile. The era of Rocky is quickly receding and while the character that Stallone created decades ago is bound to be remembered and upheld for a long time to come, Creed has thus far been a worthy successor in light of the many boxing movies that now exist. To think that Jordan got his start in such a simple manner isn't surprising though since everyone has to start somewhere, but thinking that his character might have had something to do with the development of a young Tony Soprano, and would be a memory his character would bring to mind years later, is kind of amusing really. He could almost be credited with giving rise to the character of Tony Soprano in some way, from a cinematic sense at least.
Jordan has done quite a bit with his career already as he'll be directing Creed 3, and like many younger actors, he's not wasting any time as he continues to build his career with each passing year. There's a rumor that he might come back for Black Panther 2, but as of yet, it's really sure how that would happen. But he's expressed his interest in coming back if that's how things are going to go, even though in the MCU it's been a hope that once a character dies off that they'll stay dead if only to give the level of consistency that the comics have failed to live up to for years now. There's not much information on that front, but it does sound as though Jordan is going to be plenty busy for a while to come. One has to wonder if the younger version of himself was thinking if life would ever be like this, or if he was just thinking about doing what the director had instructed him to do and was trying as hard as he could to not screw up. Learning what actors were thinking at key moments in their careers is kind of funny sometimes since while some folks might think they're calm and cool, there have been a lot of actors that have admitted that they've been stressing out at certain moments and were trying not to vomit or trip over their own feet. But as anyone that's watched The Sopranos might know, the show went off without a hitch and no matter how many takes it required, the story was well-crafted, and to think that Jordan was a part of that is pretty cool.