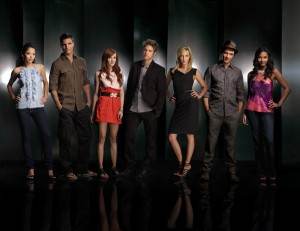 I've noticed something about CW shows that the new Melrose Place pilot only seems to confirm: the pilot episodes of CW shows are filled – positively FILLED – with (current) pop songs. In the first three minutes of the episode alone you'll listen to "Let it Rock" and "Poker Face". In the first three minutes. I noticed this in the pilot for The Beautiful Life and I remember it from the 90210 pilot in 2008.
[WARNING! This review will contain spoilers] I'm not crazy about the rebotted 90210, because I was a fan of the original version in the 1990s (at least until the end of season 4). I did not, however, watch a lot of Melrose Place. Oh sure, I knew what it was, but I wasn't devoted. So I had no idea that Sydney Andrews (Laura Leighton) was supposed to be dead at the series end of the original show. How did she survive to live another day in this updated version? She and Dr. Michael Mancini (Thomas Calabro, who reprises his role here) did….something. There was some plan where she faked her death. The reasons for which are unknown and not at all explained. But all of this is ironic, because she dies in the first five minutes of the new show and is thereafter seen only in flashbacks.
Sydney's death is what brings the beautiful people who live in the complex together. Most of them seem connected to her in some way. You have David Breck (Shaun Sipos), who just so happens to be Sydney's young former lover and Dr. Mancini's son (bedding father and son is kind of gross, by the way). David and Daddy don't have a good relationship.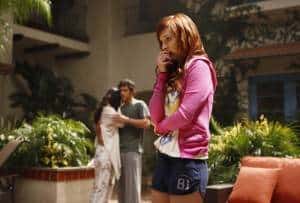 Then there's Ella Simms (Katie Cassidy), who just so happens to be a bisexual publicist who spars with Sydney and is trying to push the career of neighbour/wannabe filmmaker Jonah Miller (Michael Rady). Jonah's dating Riley Richmond (Jessica Lucas) who's an elementary school teacher. It's at this point that I wonder how this couple can afford to live in this apartment complex, because it seems awfully posh and expensive and neither of their jobs seem that great.
Other people round out the cast, including medical student Lauren Yung (Stephanie Jacobsen), who resorts to prostituting herself out for tuition money, Violet Foster (Ashlee Simpson-Wentz), who doesn't really talk that much and, as such, can't really be judged yet for her acting ability, and Auggie Kirkpatrick (Colin Egglesfield), a sous chef who is caught burning some very telling evidence at the end of the episode.
The new Melrose Place is like a lot of other CW shows: filled with rich (or semi-rich) attractive people who deal with outlandish situations. Whoring for tuition money? Check. Possibly involved in a murder? Check. Hiding some sort of secret? Check, check, check. I don't think this show will ever summon the love I have for Gossip Girl, which I honestly find a step above 90210 and Melrose Place. I can't explain why, but Gossip Girl just seems different.
I may have dismissed Melrose Place, but I'm actually kind of interested in finding out who murdered Sydney and for what reason. It was kind of ballsy for the showrunners to kill her right off the bat. I like a good murder mystery and I seem to connect more with Sydney's character than the others (this might be because I identify with the original cast members on 90210 more as well). Maybe I'll nostalgic for my early teen years.
If you are in the younger demographic and you like 90210, you'll probably like this show. If you watched the original then you might be excited to learn that more original cast members will likely pop up throughout the season (including Daphne Zuniega, I believe). I only hope the original cast members get more in-depth storylines than they have on 90210.
Email me at clarissa @ tvovermind.com