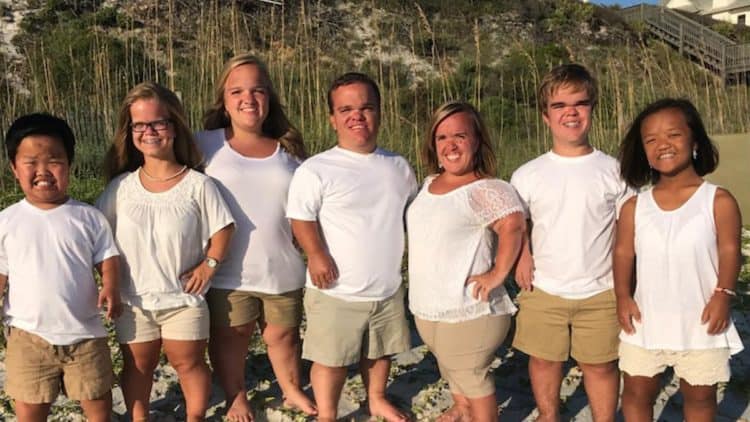 It might be fun to guess at the net worth of the Johnston family from the 7 Little Johnston's, but right now it's more of an estimate than anything since there's no real number attached that would be entirely accurate. According to those at The List the estimate is anywhere between $1 to $5 million, though a year or so ago it was much less. One of the reasons it might be up however is that Trent, the father of the family, is a grounds supervisor for a local college in Georgia. Apart from that it would appear that the family earns tens of thousands per episode, not quite that much compared to some but definitely enough to afford a pleasing lifestyle. Some reality shows thrive on conflict and on whatever trouble can be started and made to entertain the viewers, but shows such as this tend to be for those that want to see something positive and uplifting as it makes them feel better about the world around them and themselves in a way. Those shows that depict conflict and struggle between the cast members are usually those that get more notice since like it or not, people love to watch drama unfold, and the more realistic the better for one reason or another. In this light that fact alone makes a lot of people feel like drama-hungry vultures that might not fully support such behavior, but enjoy watching it all the same. It's a vicious cycle really, but it's one that definitely makes the money.
The story of the Johnston's is one that a lot of people love for the inspiration and the positive nature since it is a nice break from the otherwise troubling shows that dominate the airwaves. Unfortunately it's also bound to be seen as gimmickry at one point, exploiting those that are a bit different from the majority of the populace and giving them a chance to cash in on it in other words. That might sound like a very cynical way to look at things, as the show attempts to showcase the positive family aspects between the siblings and their parents, but the feeling is still there for a lot of folks since the whole idea of reality TV has been blown out of proportion over the years, making a lot of people question what they're seeing and what's real versus what's being staged. To think that anything with the label of 'reality' is staged kind of feels wrong in a big way since people are willing to pay for something that is said to be real but in truth is as far from being the real thing as possible. People don't act the same way in private as they do when on camera, on average. Some folks don't care if they have a camera on them or not, The Tiger King proved that point, but many others, on average, will act very differently when they have a camera pointed at them than they will when they're not being watched by thousands to millions of people.
With a show like this however it does make a person wonder if the family is just as interesting as they appear or if they're a little more ho-hum, just another day type of folks when the cameras are off. Most people would agree that families are going to be families, it's a common thing among anyone no matter how rich or poor or how big or small they are, when there isn't a camera on them it's very likely that they're going to go about their business and be at least a little different than they'll be when they're being observed. After all, if people were going to be boring and not at all interesting on camera then there wouldn't be a need for a show, but it's still the rare individual that will be just as interesting off camera as they are on. There's a reason why the show has managed to gain the attention of so many, and it's not simply the nice and respectful family unit that's been presented. That's a nice fantasy, but ratings aren't necessarily generated when a family is nothing but 'nice'.
As it stands now though The 7 Little Johnston's has been doing just fine as a show and people have responded in a positive way. As far as the net worth goes it does sound as though Trent's job is a big part of the income, but the show definitely does cover a hefty amount of their lifestyle as the family moved into a nice big home and have been doing quite well for a while. As to what the future is going to bring, well, that's anyone's guess since a show that's nothing but nice is a risk when it comes to ratings unless it can possibly find a way to appeal to a larger number of fans.