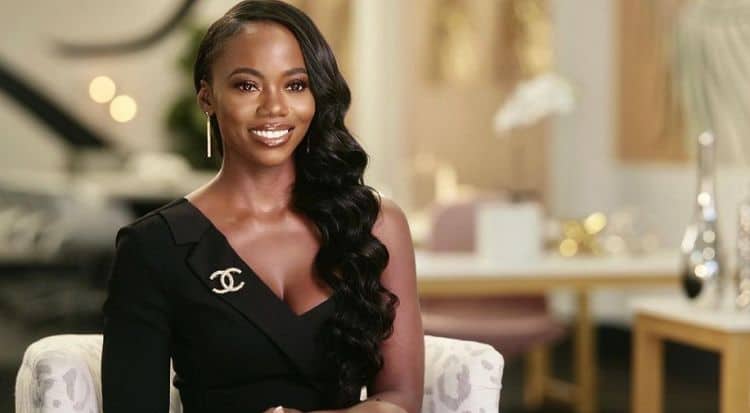 Everyone is talking about Tampa. It's the city on the west coast of Florida that's both beautiful and relatively calm compared to some of the other cities in the state, but it's also one that is being filmed for reality television right now. When Sharelle Rosado made the decision to reach out to the people at Netflix to suggest that their idea for "Selling Sunset," was a great one, but that they should focus on a Tampa-based brokerage with an all-black, all-female employee base, the network did agree with her. Now she's the star of "Selling Tampa," alongside her brokerage, Allure Realty, and the women who work in her luxe office. Colony Reeves is one of those women, and we want to know more about her.
1. She is A Tampa Native
What sets her apart from some of the other women on the show is that she's from Tampa, and she knows the city better than anyone else. She's been here her entire life, and that is something that shows when she is working and living her life in this little city by the sea.
2. She is 30
She's also among the youngest women on the show at the age of 30. Many of the women are a bit older, and they have come from other backgrounds. One is an attorney who decided to go into real estate a little later. One is a former army veteran who served two tours in Afghanistan. They are all from different walks of life, and Colony is among the younger part of the cast.
3. She is a College Graduate
Prior to focusing on her real estate career, she made the decision to focus on her education. She enrolled in courses at the University of South Florida, which allowed her to obtain her college degree and still remain part of the Tampa Bay area for her college career. She's been busy, and it shows.
4. She Was a Teacher
Prior to her role as a luxury real estate agent, she had a much different career path going on. She worked as a teacher. But, she did not work as just any teacher. She worked as a preschool teacher, which is an entirely different game that requires a lot of patience and a lot of love for the job. She did not love her job – we assume, anyway, since she's not doing int any longer, and she left the education field.
5. Her Father Suggested Real Estate
Following her departure from her job as a teacher in the preschool field, her own father made the suggestion that she focuses on a different career. He suggested that she go into the real estate world, and she did just that. From what we understand, she's been with Allure for slightly over two years, and she was an agent with another brokerage for about two years prior to joining the Allure team.
6. She is Doing Well
According to some estimates online, she's not doing too poorly for herself, either. She has an estimated net worth of just over a half-million dollars. To be more precise her 2021 net worth is around $600k. She has a lot going for her, and she is clearly successful.
7. She Has Fans Looking to Set Her Up
She had a client when the show began, and the world went nuts. He's a handsome man fluent in French and in the market for a piece of property, and they seemed to hit it off. His name is Cho Ndiforchu, and it seems that fans are hoping – a lot – that there is a little romance going on between them. For now, they seem like they are good friends, but they have not confirmed anything else about any sort of relationship or romance outside of a working friendship.
8. She Has a Professional Motto
All is well. And, she makes it very clear that if ever there is a chance that all is not well when she is working with you or alongside you, she does not mince words or hide things. It will be well, and she will make sure of it.
9. She is Knowledgeable
She is very honest about the fact that her lifelong stint in Tampa is one that has given her so much knowledge and so much insight into the community. She's had a front-row seat to how the city has grown and evolved, how it has changed, and she knows what will happen to the city as a result. She uses that to her advantage, and it works for her.
10. She Appreciates her Privacy
She's a woman who knows a thing or two about privacy, and she appreciates that. She's happy to keep her private life under wraps, and we have a feeling nothing will change that as she continues to become more successful and more famous.
Tell us what's wrong with this post? How could we improve it? :)
Let us improve this post!