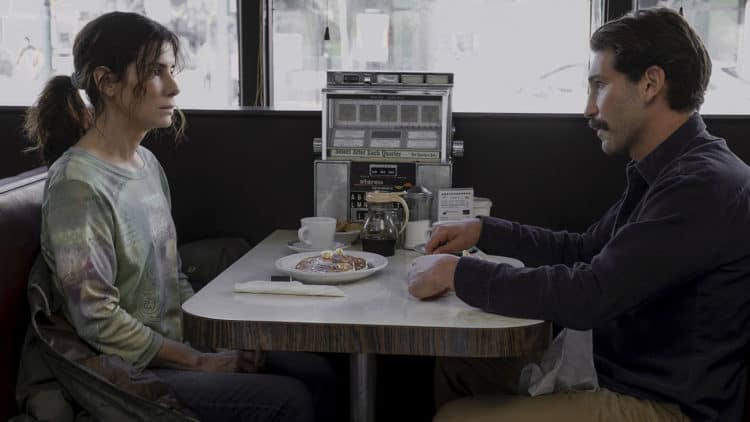 In life, some things are just unforgivable. Killing someone in cold blood is one of those things. In Netflix's Unforgivable, Sandra Bullock is a cop killer at least that's how everyone sees her even after spending twenty years in prison paying for it. That's right, I said the words "killer" and "prison". When you think of Bullock's iconic roles in films like Miss Congeniality where she played an agent turned beauty pageant queen, and Blindside where Bullock adopts a traumatized boy it might be hard for some to imagine America's sweetheart in such a gritty role. But Bullock does a great job in her role as Ruth Slater, a felon, re-entering society after spending two decades behind bars for killing a police officer. Forced to live in a slummy halfway house and work a dead-end warehouse job Ruth quickly realizes that starting over will be the hardest thing she's ever done. Ruth's newfound freedom comes with a new set of barriers that's almost like being back behind prison walls. Ruth's struggles finding suitable work, finding love, and more importantly reconnecting with her little sister that she lost to the system when she went in, shed light on the discrimination and the lack of job opportunities the formerly incarcerated are subjected to. With a star-studded cast that features the likes of Viola Davis and Jon Bernthal, Unforgivable has all the makings to be another great film under Bullock's belt. While Sandra Bullock's performance is nothing less than stellar, The Unforgivable falls short
Is Unforgivable A True Story?
Unfortunately, The Unforgivable is not based on a real-life story. However, the film is based on a British miniseries called Unforgiven which premiered in 2009. The script was written by Scott Frank and Christopher McQuarrie. There are slight differences between the British mini-series, which starred popular UK actress Surrane Jones.
What Is The Unforgivable About?
The entire plot revolves around Ruth reuniting with her little sister, Katherine who was only five years old when she was arrested for murder. As the film goes on, we find out through a series of flashbacks that Ruth and Katherine's biological parents are dead and all they ever had was each other. Although one of the conditions of Ruth's release was that she far away from Katherine, that doesn't stop get from finding her sister. Katherine was adopted by a nice family. Yet because of Ruth's criminal record and the fact that the cop was murdered in front of Katherine which left her with emotional trauma, her adoptive parent's view her as a day her to their daughter. Fortunately, Katherine never forgot her sister. Even though she doesn't have any memories of the incident she suffers from PTSD and has been on edge ever since Ruth's relief. When she finds a stack of letters Ruth wrote to her over the years while locked up Katherine seeks to reconnect with her sister disregarding her parent's wishes. Reuniting with her sister isn't the only hurdle that Ruth will have to overcome. There's someone out there who wants her to suffer for her subs and that person is the deceased officer's sons who's lives were significantly impacted by their father's murder.
Is The Unforgiveable Worth The Watch?
The film has many opportunities to be amazing. For instance, it was a crime to not give Viola Davis more screen time. Davis has a single profound scene towards the end of the film when she angrily reminds Ruth that she's no victim and instead emphasizes her white privilege. The writers work hard to paint Ruth as the villain. From the cops that sit outside the halfway house and roll their eyes at Ruth every day when she walks past, her douche bag parole officer that reminds her that she'll never be anything but a cop killer to the co-worker that kicks her butt the hate she experience is an overkill. If you don't pay close attention, you risk getting confused by the mini subplots that are going on within the main plot. If that sounds confusing it's because it really is. The first half of the film is a complete tease because it flows really well. However, between Ruth constantly bouncing between the city and the rural areas of Seattle and the random transitions between the subplots you might end up abandoning the movie altogether. Bullock's performance is way too good for this porky executed storyline. If you're a big fan of Bullock than you might want to give The Unforgiveable a watch. Otherwise, you're not missing out on anything.
Tell us what's wrong with this post? How could we improve it? :)
Let us improve this post!