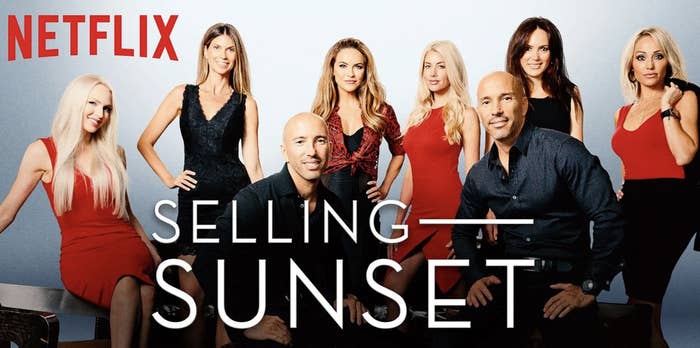 Adam DiVello has done it again! The brains behind hit reality shows, such as Laguna Beach: The Real Orange County and The Hills, has made his successful comeback with Selling Sunset. The reality series follows the personal and professional lives of a group of agents working for the Oppenheim Group, a high-end real estate brokerage firm headquartered in Los Angeles. The series features the most luxurious homes in the most expensive zip codes in the West Coast, and is also notorious for its equally explosive confrontations and catfights. It's a cutthroat industry, filled with even more cutthroat personalities. The series has gone one to be wildly successful, and was even able to bag a 2021 Primetime Emmy nomination for Outstanding Unstructured Reality Program. There is also a spin-off series in the works, which is about to make it to our binge-watch list as well. What a ride it has been. Here's to hoping it won't end anytime soon. Here are five reasons why Selling Sunset season 4 has exceeded our expectations:
5. The factions that have formed
This season brought about new alliances that were fiercer and bolder than the previous seasons. The ongoing feud between Christine Quinn and the other girls blazed on, and lines were drawn. Christine's ex-bestfriend, Mary Fitzgerald ending up teaming up with Chrishell Stause and Heather Young, whom Christine has both wronged in the past. Christine has been the mean girl and queen bee of the brokerage in the past seasons, so seeing her fall from grace was kind of satisfying. The girls were done with her pot stirring and gas lighting, and were finally standing up for themselves. This was a recurring theme in season 4, and one that just proves that what goes around, comes around.
4. New cast members to spice things up
Two new agents joined the brokerage this season. There is Vanessa Villela, a former Mexican soap opera actress, who is pursuing a career in real estate to give tribute to her sister's sudden death. There is also Emma Hernan, the entrepreneur-slash-top-realtor who could easily pass off as a supermodel. She rejoins the Oppenheim Group, and is back with a vengeance. The two girls each have something to bring to the table. Vanessa had a soft spot for Christine, and tried to help her with her ongoing issues with the other girls, while Emma joined the long list of people whom Christine has aggravated in the past. There's a lot of tension involved, and we're totally there for the drama.
3. Unraveling old issues
There were a lot of pointing fingers this season, and a lot of those involved an ex-lover whom Christine, Emma, and even Heather (albeit, briefly) shared. Old wounds were rehashed, and "he said, she said" issues were brought to light once again. Lies seem to have been told, and the girls got to business in unraveling the ugly truth. This caused the major drama this season, and has wrecked relationships altogether. Confrontations may not have been as extreme as the past seasons, but it still made for great reality television. As the saying goes, if you can't handle the heat, get out of the kitchen!
2. More celebrity cameos
Viewers must have been pleased to see brief cameos of rapper, French Montana and rising Hollywood star, Simu Liu (Shang-Chi and the Legend of the Ten Rings), who may or may not have been subtly flirting with Chrishell in one of the episodes. There have been rumors in the past that the agents portrayed in the show are not really licensed real estate professionals, but these have been shot down by the heads of the brokerage, Jason and Brett Oppenheim. I guess the company's wide celebrity clientele can speak for itself.
1. The big twist no one saw coming
Like in true reality show fashion, the last few seconds of the finale episode contained a huge cliffhanger that has got us all counting the days until season 5 premieres. There have been hints along the way, but nothing was really confirmed until we saw Jason and Chrishell kissing and acting all lovey-dovey with each other in the preview of the next season. It was the plot twist that was most unexpected, as the two have been working together for years already. The two have been seen out and about, and romancing their way across the world. They have also been vocal with professing their love to one another in their social media pages. Chrishell has gone through the wringer in her past relationship, and she and Jason actually make an oddly cute pair. It would be most interesting to hear wedding bells ringing in the succeeding seasons. Here's to manifesting more series renewals in the near future!Simu Liu
Tell us what's wrong with this post? How could we improve it? :)
Let us improve this post!