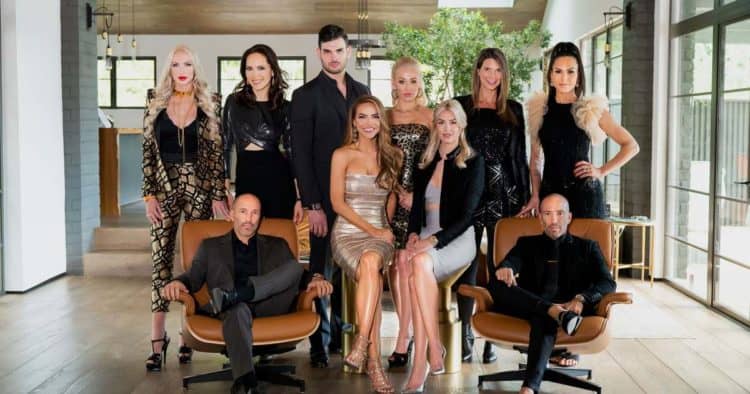 Dream big and live large. This seems to be the motto of the high-end real estate reality show, Selling Sunset. The hit series features high-end residential properties that are even made more luxurious by its gorgeous real estate agents, who can easily pass off as supermodels and celebrities. The housing market in the United States have hit even higher heights the past couple of years, and there seems to be no end in sight. There's still a lot more properties to show, and sales targets to hit, as a Selling Sunset spin-off, Selling the OC, is coming to town. Get ready for more drool-worthy designs, and even more noteworthy behind the scenes drama at the same time. Here are five reasons why we'll be watching the spin-off series:
5. More luxury properties to see
Viewers with a knack for real estate will be thrilled to see a whole new set of properties. Expect nothing but more breathtaking views from every angle. The spin-off follows Oppenheim Group co-founder, and the other half of the dynamic twin duo, Jason Oppenheim, as he opens a new office in Newport Beach, California. Oppenheim has already mastered selling properties in Beverly Hills, and the nearby neighborhoods. It would be interesting to see him make his mark in the coastal area of Orange County this time around. It's a cutthroat industry, and the Oppenheim twins are in it to make a killing.
4. New cast members to spice things up
Oppenheim will be joined with a set of fresh faces. This includes real estate agents Alexandra Hall, Austin Victoria, Brandi Marshall, and many others. A lot of these agents have years of real estate expertise under their belt. It's only a matter of time before they show us what they can bring to the table. It's still too early to tell if our favorite agents from Selling Sunset will be making an appearance on the spin-off, especially since one of the agents, Chrishell Stause, is now happily dating Jason Oppenheim, after her nasty divorce with This Is Us star, Justin Hartley. Who says you can't have your cake and eat it too?
3. Competition is getting tough
The Oppenheim Group has been a market leader for the past couple of years, and there's no slowing them down anytime soon. The spin-off only goes to show how they plan to widen their reach, and venture out into new markets. The Oppenheim twins, Jason and Brett, have been inseparable in the past, so another thing to watch out for is if Jason will be able to run the new office effectively without his other half. It's not easy making money, and the real estate agents know this beforehand. They have to go through a lot of ups and downs before finally closing a sale, and they won't be able to last long in the industry without grit and determination. All this and more should be explored further as the spin-off progresses.
2. Drama is expected to be in full swing
Will the ocean breeze bring in good luck, or will it ensue a whole lot of new drama? Selling Sunset is known for its nasty confrontations and catfights. There's the ongoing feud between the real estate agents have been entertaining to say the least. There's bound to be clashes and feuds, especially since the new Newport Beach office features a new set of agents with different personalities. Call it scripted or what, but reality shows are a guilty pleasure that are hard to shrug off. Selling Sunset has also added a new spin to the genre, by mixing work and pleasure. It's a glamorous take on a fast-paced world where money is the least of issues. Here's to hoping the spin-off has more to offer, and a lot more drama to look forward to.
1. There are still lots of unanswered questions
There are still a lot of questions up in the air, and this includes the guessing game on which Selling Sunset cast member, if any, will be joining the spin-off. The new series is like a blank canvas in which fans can still come up with their own theories and assumptions. The spin-off is produced by Adam DiVello, who is also the man behind Selling Sunset, as well as other hit reality shows, such as Laguna Beach and The Hills. He has already mastered the genre like the back of his hand, and this time is no different. Here's to hoping we'll have another binge-worthy guilty pleasure on our hands.
Tell us what's wrong with this post? How could we improve it? :)
Let us improve this post!