It's all been leading up to this! The trial.
The ratings have been growing this season but I honestly can't figure out why. I struggled to watch this episode without blurting things loudly in the direction of the screen, arm waving like a lunatic.
We know that Paddy Doyle had a young, passionate relationship with Maura's mother Hope. We learned that Paddy was the main backer for her non-profit and that's a cause for worry. We know that he ran the Boston leg of the Irish Mob, and was responsible for no less than 15 murders. We know this. The FBI knows this. Jane, Maura and the rest of Boston Homicide know this.
Now Vince Korsak is all about those old school murders. He knows the mob scene, the dock scene, the Navy scene. He's a cool cat and constantly impresses his team with some of his methods for obtaining finger prints and other trace evidence. Lieutenant Cavanaugh is cut from the same cloth, and has slowly become more of a presence in the show. He was sleeping with Jane's mother after all. So why is it, after the hand full of episodes that we have had revolving around the Paddy Doyle case, are we just now finding out that he had worked the case back in the nineties and had Paddy Doyle as a CI!? That's important information. That's some pretty big news, and considering what we know about Paddy's hatred for cops, kind of bizarre.
But Paddy has been on the run from the cops for years, so there is obviously a catch. And the one here being Cavanaugh was used to get rid of Paddy's drug competition. The manipulating mobster made it look like he was trying to clean up the streets for the good of Boston and instead cleared any rivalry in his way.
Oh, and because of some weird evidence we are just now hearing about, he killed Cavanaugh's wife and son. Which isn't cool.
Hope, the mother, who we have learned to be one of the smartest women in the world when it comes to bodies and parts is shown as completely naive. It's not completely farfetched, but she just doesn't believe he would kill women or children. So does that mean men are fair game but don't cross that line?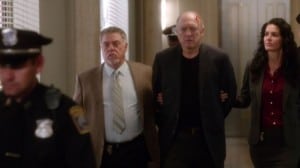 The one(!) witness they had against paddy had been killed right before he was set to testify, and its only because Maura pretty much forces Hope to testify do we get any clear idea that Paddy might actually go down. We know that mobsters on the TV are slick and sly and always have a way out, but for a million dollar Capital trial to stand on a single witness and almost no physical evidence doesn't make much sense.
Not to mention Cavanaugh trying to kill Paddy at least twice. I won't touch that.
I have been rather disappointed with this season. I've said that in the past. I have absolutely loved past seasons, but their rush to close arcs has been sloppy at best. I have faith; I really do, that they can pull something out if they go down a different path. Until then, at least I've got the banter.