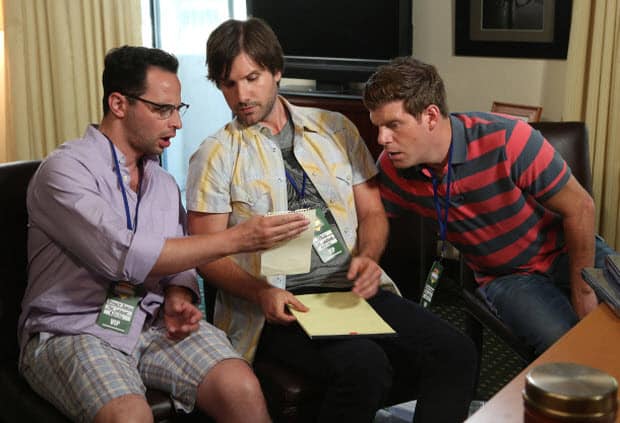 While there are great TV shows that are on every single night that we can all choose to watch, it's always a little depressing when you know that you've got to play catch-up in order to understand everything that's going on. And while DVR is good to have to make sure one can do that sort of thing, thankfully we personally have a Netflix and Hulu account to help never miss a moment. So since we just sometimes want to sit around on a weekend and make sure we're all up-to-date with our favorite shows, we're giving you the ones that you should never feel ashamed about binge-watching, because they're just that good. These are the best TV shows to catch up on.
5. The League
Although I've been disappointed that there haven't been any new episodes in awhile, making sure each season of The League had been watched from start to finish on Netflix was a top priority as soon as I first got my account. While the show focuses on the concept of fantasy football, even those who don't understand the online competition can appreciate the laughs and wildness the characters get themselves into in this show. Need proof? My sister who would never even think about playing in a league was the one who suggested watching this show for the first time, getting us hooked ever since.
4. Freaks and Geeks
I must admit that this is still one of my favorite shows of all-time–even if it did only last a total of 18 episodes. With each episode, creators Paul Feig and Judd Apatow remind everyone just how awkward high school really was, making for great television–and funny memories, even if they weren't our own. For those who haven't given Freaks and Geeks its due by watching more than an episode or two, I promise you it's worth a Friday night in to watch the entire series.
3. The Wire
One of the best TV dramas we've ever seen, each season examines a new detail of the inner city of Baltimore, giving viewers a new feel with every new season. Naturally, the writers adopted new characters into the plot as well, helping shape the main folks that much better, but avoiding to take away anything from the ones we all recognize the most. Lasting five seasons, The Wire is a show that every TV lover should be happy to watch all the way through.
2. Breaking Bad
It's one of the most popular TV shows to ever grace cable, but, believe it or not, there are some people who have never actually seen an episode of Breaking Bad. Yeah, it's surprising not only because of its success and the fact that the show has since ended, but I admit that it can be tough to follow should one not have caught the buzz in the early seasons. Forced to be patient and work yourself through all that's happening, once you understand things, it's tough to hit "stop" on the remote control. It's seriously like a drug–no pun intended.
1. House of Cards
Maybe we're just riding the wave of emotion following the release of season two of House of Cards on Netflix recently, but this show is seriously worthy of calling in sick to get all caught-up on. Seriously, we actually know friends who did just that, spending the entire day playing hooky just so they could clear their schedules of responsibility in order to watch Kevin Spacey as the conniving Frank Underwood. I'm not sure I can blame them, either. It's that good–and crucial–to understand all that's going on in the show.