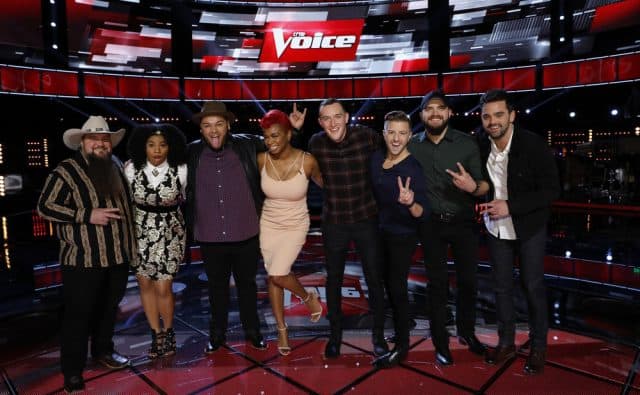 That's right fans! Tonight is The Voice season 11 semi-finals, so the top eight will be singing for a spot in the top four! Yikes! This also means that you'd better think hard about who you want to make the top three. If the fourth person comes down to an instant save on Tuesday, well you know how that can go. (If not, check out this article on the pitfalls of the instant save.)
Now, we don't know exactly how these four singers will be cut. Maybe the bottom person is immediately eliminated and the other three go on for the instant save? We'll find out for sure tonight!
The Voice Season 11 Semi-finals – Who Will Likely Make it Through?
Regardless of how it's done, this semi-finals week is going to be hard to go through! Given the iTunes rankings over the course of The Voice season 11, it's a reasonable bet the top three will be: Billy Gillman, Wé McDonald, and Sundance Head. That's one singer from every team but Team Miley.
Coach Miley Cyrus has the pop/r&b diva Ali Caldweld and the dark horse rock alternative singer Aaron Gibson. Ali's last outing put her at number 15 on the iTunes top 200, and in the top 10 on iTunes's pop chart. Aaron has been on the bottom every week, but has won the instant save each time. Because of how the instant save is structured, chances are that these two are in the bottom four. Just because of the way the instant save works Ali would probably lose to Aaron. However, what about Christian Cuevas on Team Alicia and Team Adam's other two guys: Brendan Fletcher and Josh Gallagher. Could he be saved over them as well?
Even though Christian was number 7 on iTunes last week, during an instant save that becomes irrelevant. Darby Walker had charted higher than Aaron and still lost to him. The instant save is more about how many followers on twitter a person has – and in what part of the country. Because of this, out of the five – Ali, Aaron, Christian, Brendan, and Josh – the person most likely to win an instant save is probably Josh. He's the only one with more followers than Aaron, and country music fans fall heavily in the central time zone. So, unless one of the top three somehow aren't picked as the top three, I'd guess that the fourth person will be Josh or Aaron.
Now, if one of the top three end up in the bottom, all of the above is moot. The fans of the top three wouldn't let them lose an instant save, regardless of what time zone they're in. Of course, I can't imagine them letting any of the top three be in the bottom either. For that to happen some fans would have to get disillusioned by a performance, or Machiavellian about who they want in the top four. Still, judging by tonight's song list, everyone is going to be swinging for the rafters. If anyone misses….
Yes, I did say tonight's song list. You can find out who's singing what at www.mjs.com, but below is the music you'll be hearing tonight.
The Voice Season 11 Semi-finals Song List
"I Surrender" by Celine Dion"
Angel "by Sarah McLaughlin
"Danny's Song" by Loggins & Messina
"To Worship You I Live (Away)" by Israel Houghton
"Scars to Your Beautiful" by Alessia Cara
"I Will Always Love You" by Dolly Parton/Whitney Houston
"I've Been Loving You Too Long" by Otis Redding is now "Love Can Build a Bridge" by

The Judds

"Everything I Do (I Do It For You)" by Bryan Adams
As you can see, it's a powerhouse ballad night. With songs like these, if a performance isn't absolutely spectacular, it will be noticeable. Being that this is a live show, anything's possible. Likewise, someone could be extra amazing and through everyone off their game.
Do you have any thoughts about who might end up going home tomorrow? Drop me a line in the comments if you do!
Tell us what's wrong with this post? How could we improve it? :)
Let us improve this post!