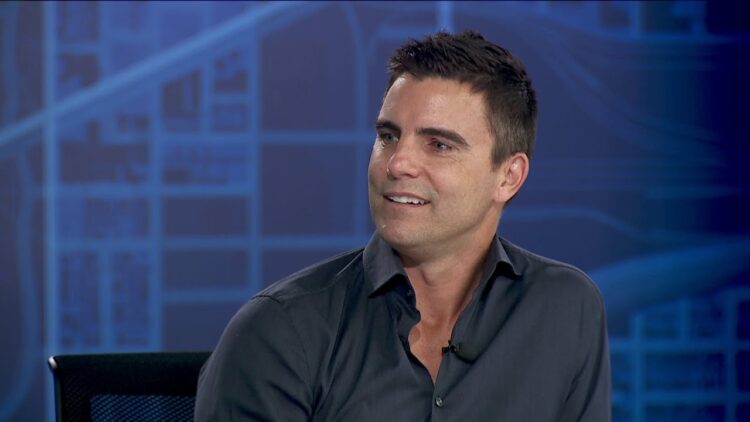 With a handsome face and plenty of talent to go along with it, it's no surprise that Colin has had a successful acting career. He made his first on-screen appearance in 2000 in a TV series called The $treet. Throughout the early 2000s, Colin continued to make minor guest appearances in a variety of shows before getting his big break when he was cast as Joshua Madden in the popular soap opera All My Children. Colin remained on the show until 2009. In more recent years, Colin has spent a good amount of time working on movie roles, but it doesn't appear that he will ever leave the small screen behind. Keep reading to learn 10 things you didn't know about Colin Egglesfield.
1. He's From The Midwest
Colin is a midwesterner through and through. He was born in Michigan but lived in Illinois for much of his life. He comes from a close-knit Catholic family and he has two siblings. From what we can tell, there isn't anyone else in his family who has worked in the entertainment industry.
2. He Got His Start as A Model
I think most people would probably agree that the camera loves Colin and this is something that has worked in his favor time and time again. Before he got into acting, Colin actually did some modeling while he was in college. During his modeling career, he got to work with several well-known brands including Versace, Armani, and Calvin Klein.
3. He Has an Account on Cameo
Colin has been fortunate to receive lots of love and support during his career, and that's something he has never taken for granted. He enjoys being able to return that love to his fans, and one of the ways he does that is by selling personalized video shoutouts on Cameo. He is currently charging $55 per video.
4. He's an Entrepreneur
Since Colin is a successful actor, it's clear that he has the creative side of life down to a science. However, Colin is also a very business-minded person. Colin is the founder of a clothing company called Shout Out Clothing! According to the business' website, "Shout Out! makes interactive clothing that promotes creativity, literacy, and imagination. Our stylish, premium apparel lets you have fun with fashion and make a true style statement."
5. He Was Once on Track to Become a Doctor
Becoming a professional actor wasn't always the future that Colin saw for himself. Instead, he planned on following a much more traditional path. He studied at the University of Iowa where he was in the pre-med program and his goal was to go to medical school and become a doctor. As we know, however, life had other plans for Colin.
6. He Is A Cancer Survivor
Colin has had lots of great things happen in his life, but he has also had to experience some serious challenges. About 15 years ago, Colin was diagnosed with testicular cancer. According to an article from People, Colin said, "I just noticed that my left testicle had swelled up, and I went to see the doctor and he said that we needed to do some tests, ultrasound, a blood test. And they discovered that it was at a pretty advanced stage, and did the surgery and found that some of the cancer cells had gone through the veins and arteries to the kidneys". Fortunately, he is now cancer free.
7. He's a Writer
Acting is what Colin is best known for, but that isn't the only way he likes to let his creativity shine. Colin is also a published author whose book, Agile Artist: Life Lessons from Hollywood and Beyond, was released in 2019. It's unclear if he has plans to write another book.
8. He Hosts an Online Talk Show
Colin is the kind of person who really enjoys connecting with others, and having his own talk show has allowed him to do that. Colin is the host of a talk show called Coffee with Colin where he sits down with a new guest during each episode. New episodes are posted on his YouTube channel.
9. He's a Public Speaker
In addition to all of the other cool things Colin does, he is also a public speaker. His speaking engagements typically focus on topics such as resilience, teamwork, and communication. He loves being able to interact with audiences and he hopes that he can inspire people.
10. He Likes to Stay Active
Colin grew up playing sports and he was actually a pretty talented football player. In fact, he was a member of the team when he attended Illinois Wesleyan University before transferring to Iowa. While his playing days may be over, Colin still likes to keep himself in good shape.
Tell us what's wrong with this post? How could we improve it? :)
Let us improve this post!