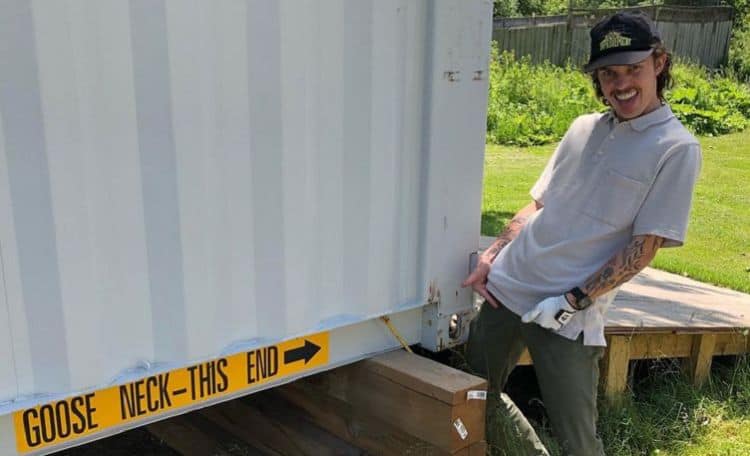 Kurtis Conner has been creating content on the internet for well over half a decade, and during that time he has become well known to millions of people all over the world. His sense of humor and creativity have proven to be the perfect combination. After getting his start on a now-defunct platform called Vine, Kurtis has become a successful YouTuber. In addition to his solo posts, he has also gotten a lot of attention for his frequent collaborations with fellow YouTubers Drew Goodman and Danny Gonzalez. As Kurtis' fanbase continues to grow, it'll be great to see how many more cool things he does over the years. Keep reading for 10 things you didn't know about Kurtis Conner.
1. He's From Canada
Kurtis was born and raised in Ontario and he appears to come from a close family. In recent years, it has become very common for social media influencers to relocate to the Los Angeles area. However, that doesn't seem to be something Kurtis has any interest in doing. He still lives in Canada and doesn't have any plans to move.
2. He's In A Relationship
They say life is better when you have someone to spend it with, and Kurtis has found that person. Kurtis has been in a relationship with a woman named Jenna Allard since the beginning of his career. The two don't technically have any children together, but they are very proud pet parents to their adorable fur baby.
3. He's A Big Fan Of The Office
The Office is arguably one of the best shows of the 2000s/2010s and Kurtis is definitely someone who would agree with that idea. During an interview with High Voltage Magazine, Kurtis said, "I could watch The Office front to back over and over again forever." Like most fans, he's probably hoping that talk of a revival is true.
4. He's Always Scared That His Success Will Fade
Kurtis has worked very hard to get where he is today, and he has no intention of letting up. He is always looking for ways to grow and improve and he's scared that if he doesn't everything he's worked for will disappear. He told The Gateway, "I live in constant fear of this going away. So, I feel like I have to do everything all the time. So that works. That keeps it going. It's just stress and fear all the time."
5. He's A College Graduate
Kurtis attended Humber College in Ontario where he studied comedy. While some people feel that traditional education is a waste of time and money, Kurtis is very thankful for his experience. During an interview with Humber, he said, "Humber prepared me in more ways than one. Humber taught me to always be professional and responsible, no matter what you're doing. I learned to treat fellow comedians/managers/business partners with extreme kindness, because that goes a very long way. Humber taught me to be hardworking and driven, and it taught me to constantly challenge myself."
6. He Loves Fashion
Kurtis may not think of himself as a fashionisto, but he might want to start. Kurtis has a cool sense of style and he loves showing his personality through his clothing. Although he's usually dressed pretty casually, he knows exactly how to bring his outfits together and make them look stylish.
7. He Isn't Afraid To Speak His Mind
Being funny is what Kurtis is most well known for, but he also knows when to be serious. Unlike some other people in the spotlight, he isn't afraid of topics that many see as political He has used his platform to speak out against things that he doesn't agree with including sexism.
8. He's A Gamer
Now that Kurtis has established himself on the internet, he has also opened up about some of his other interests which include gaming. Kurtis has created a separate YouTube channel where he posts gaming content. Although his second channel is significantly smaller than his main one, he still has more than 200,000 subscribers. He also streams his gameplay on Twitch.
9. He Hosts A Podcast
Being versatile is a very important skill for content creators to have, and it's one that Kurtis has mastered. Kurtis is the host of a podcast called Very Really Good. According to the show's description, Kurtis simply talks about various things that he finds funny during each episode.
10. He Loves Connecting With His Fans
Kurtis has received support from millions of people over the years, and he's thankful for every single one of them. Although it's not possible for him to interact with everyone on an individual level, he looks forward to any chance he gets to connect with his fans and it's something he does on a regular basis.
Tell us what's wrong with this post? How could we improve it? :)
Let us improve this post!