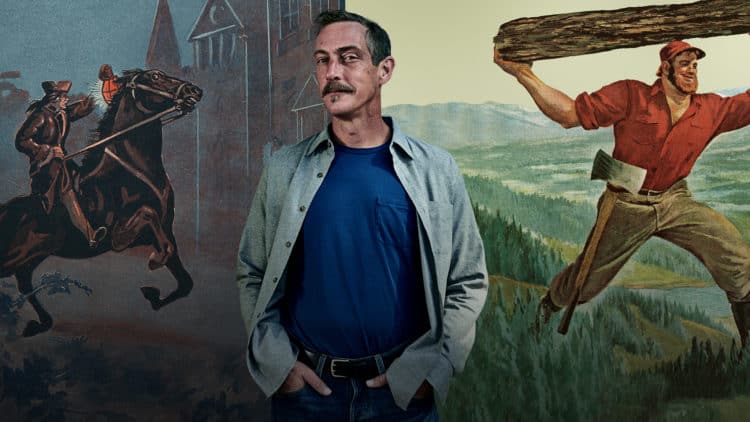 Have you ever heard of a professional storyteller? You're about to. Bil Lepp, the host of the new History Channel series Man vs. History has built an entire career on telling stories. He has competed in dozens of storytelling competitions and he has become well-known for his ability to use his imagination to come up with all sorts of wild tales. Now the History Channel is giving him a chance to share his passion for stories with the world, and viewers are going to be in for a big treat. Not only is the show itself interesting, but Bil is the kind of guy who will have absolutely no problems holding viewers' attention. Continue reading to learn 10 things you didn't know about Bil Lepp.
1. He's From West Virginia
Since Bil Lepp is relatively new to the mainstream spotlight, there isn't a lot of information floating around about him on the internet just yet. What we do know, however, is that he is from West Virginia and appears to have lived there for his entire life. He is very proud of his roots and they play a big role in who is he as a storyteller.
2. Man Vs. History Appears To Be His First TV Show
A career in TV probably isn't something Bil envisioned for himself. But as we know, life has an interesting way of working things out in ways we'd never expect. From what we can tell, Man Vs. History is Bil's first time working in the entertainment industry. That said, he's obviously a natural at what he does.
3. He's Won Lots Of Awards
Throughout the course of his storytelling career, Bil has earned tremendous respect and his talent has been recognized with many awards and other accolades. Some of his awards include a Vandalia Award, an Anne Izzard Storyteller's Choice Award, and a National Storytelling Network Circle of Excellence Award.
4. He Has A YouTube Channel
Man Vs. History may be Bil's first venture into the TV world, but it's not the first time he's stepped in front of the camera. He also has a YouTube channel where he uploads some of his performances and other content. He only has 688 subscribers, but his channel has more than 26,000 views. This number will probably increase thanks to Man Vs. History.
5. He's A Private Person
Bil may love to tell stories, but sharing stories about his personal life isn't really his thing. He seems to be a very private person and while we'll probably get to know more about him the longer he works with The History Channel, he doesn't seem to have any interest in turning himself into an open book.
6. He's Written Children's Books
In addition to his storytelling performances, Bil is also an author who has released several books throughout the years. Among them are a few children's books that have gotten him a lot of attention. His ability to captivate young minds is definitely impressive and he also knows exactly how to help them explore their own imaginations.
7. He Wants To Sell Man vs. History Merch
At the moment, it doesn't appear that Man vs. History has done much in the branding department, but Bil is hoping that won't be the case for much longer. Eventually, he would love to sell some merch that is inspired by the show. As the series gets more popular, there will probably be a lot of people who would love to buy items.
8. He Loves Spending Time Outdoors
As someone who comes from West Virginia, Bil is no stranger to spending a lot of his time out in nature. This is something that continues to be a hobby of his and he loves getting out and exploring. Some of his favorite activities include hiking, skiing, riding his motorcycle, and hanging out by the water.
9. He's Active On Instagram
Even though Bil does have an Instagram account, it isn't verified at the moment so some people may have a difficult time finding it. He is very active on the platform and likes to post a wide variety of photos. He doesn't have very many followers at the moment, but his numbers will probably be increasing very soon.
10. He's In A Relationship
Despite the fact that Bil doesn't share a ton of information about his personal life, we know that he is in a relationship although he doesn't appear to be married. It also looks like he has children but it's unclear how many. When Bil isn't busy with work, you can almost always catch him spending time with his family.