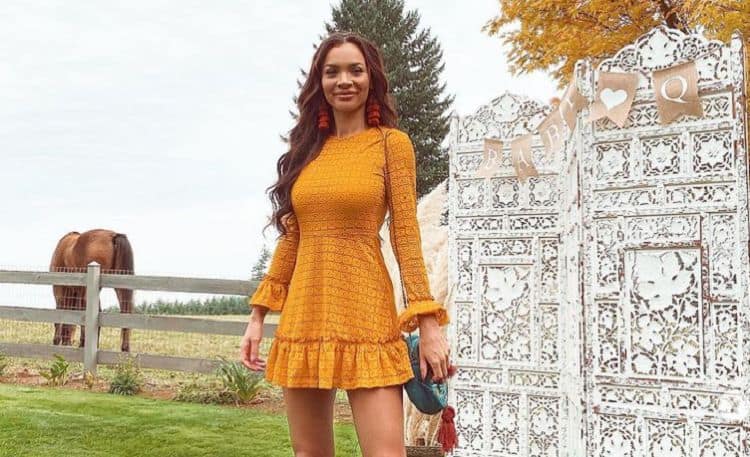 Not to be confused with the country musician of the same name, Alyssa Scott's name has been in blogs over the internet due to her alleged relationship with Nick Cannon, and the recent birth of her son. Neither Alyssa nor Nick Cannon has officially confirmed their relationship, or that her newborn son is Cannon's, but at this point, that is widely believed to be the case. If the rumors are true, Alyssa's son would be Nick Cannon's seventh child, and his third born in 2021. Although lots of people have been questioning Cannon's motives in having children with so many different women, Alyssa doesn't seem to be letting any of that bother her. She appears to be happy and enjoying her adorable bundle of joy. Keep reading to learn 10 things you didn't know about Alyssa Scott.
1. She Is A Model
Alyssa Scott is commonly referred to as a model, however, we weren't able to determine whether or not she is signed to an agency or if she's ever worked with any major brands. That said, her Instagram profile is full of model shots and it's clear that she knows what to do in front of the camera.
2. She Is A Private Person
Once rumors started to circulate that Alyssa was pregnant with Nick Cannon's child, lots of people flocked to the internet in hopes of learning more about her. However, there isn't much information about her online. Alyssa is a very private person and she's revealed almost no details about her personal life. She's so private that it's actually somewhat surprising that she's revealed the birth of her son via social media.
3. She May Be 27 Years Old
Since Alyssa has kept her personal life so guarded, we weren't able to find any information on her date of birth. According to Your Tango, Alyssa is currently 27 years old which seems believable. If this is true, it makes her more than a decade younger than Nick Cannon.
4. She May Have Worked On Wild 'N Out
Little is known about how Nick Cannon and Alyssa Scott met, but it is believed that she was a model on his popular show Wild 'N Out and she may have appeared in some episodes. However, she doesn't appear to have a page on IMDB so it's unclear if she has any official credits in the entertainment industry.
5. She Has A Large Instagram Following
Despite the fact that very little is known about Alyssa, people seem to really love her social media content. She has 185,000 followers on Instagram and the number seems to be growing as information continues to spread about her possible relationship with Nick Cannon.
6. She Loves Being On The Beach
Even though we don't know for sure where Alyssa lives, it appears that she's somewhere on the West Coast based on the amount of time she spends at the beach. When the weather is nice, you can almost always catch Alyssa hanging out by the beach. Needless to say, she likes to make sure her body is beach-ready at all times.
7. She Is A Dog Person
Alyssa may not post much about her personal life, but some of her posts have given some insight into her personality. From what we can tell, it's clear that she is a dog person. Alyssa has an adorable little dog that has made several appearances on her Instagram profile.
8. She Has Another Child
If it's true that Alyssa's new baby is from her relationship with Cannon, the child will be their first together. However, her new baby isn't her first child overall. Based on her Instagram post from Mother's Day 2021, it appears that Alyssa also has a young daughter. However, she has not shared her daughter's name or any information about the child's father.
9. She May Be From Texas
While it's very likely that Alyssa currently lives somewhere in the Los Angeles area, some sources suggest that she is originally from Austin, Texas. However, there is no way to confirm this information. If she is from Texas, she has never mentioned anything about it.
10. She Likes To Travel
If there's one thing that's very clear about Alyssa — even with the limited things we know about her — she is the kind of person who loves to get out and make the most of life. She seems to enjoy visiting new places and she has gotten the opportunity to do that quite often. We don't have a list of all the places she's been, but it's obvious that she loves beautiful tropical destinations.