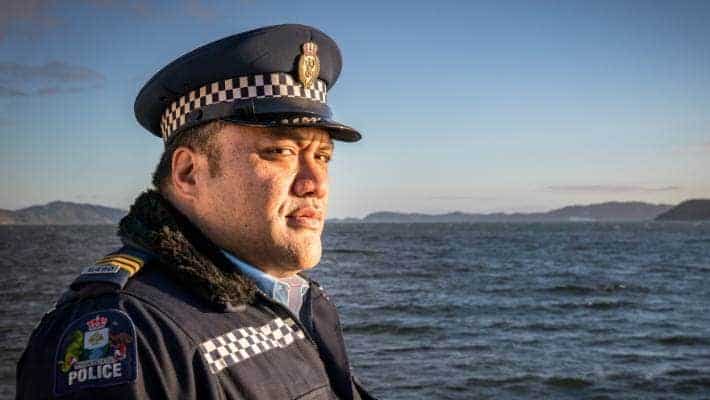 Maaka Pohatu's name may not be well-known to American audiences, but he has become quite popular in his home country of New Zealand. Maaka began his professional acting journey over a decade ago, and he has been working very hard to establish himself. He's built a solid resume in the process, although he may not always have the biggest roles. Regardless, Maaka always gives 100% to each character he plays. Most recently, he has gotten a major opportunity with the TV series Wellington Paranormal. He has a significant role and his fans are excited to see him getting more screen time. Continue reading to learn 10 things you didn't know about Maaka Pohatu.
1. He Is Of Maori Descent
Maaka was born and raised in New Zealand and as far as we can tell he still lives there. He is Maori which is a term used for the indigenous people of the country. Maaka is very proud to be from New Zealand and that's where he has done most of his acting work.
2. He Is A Musician
Acting is the thing that has gotten Maaka the most attention, but he's also a very talented singer and guitarist. He is one of the founding members of a Maori band called Modern Māori Quartet. The band regularly performs live and they've released two studio albums over the years.
3. He Is A Formally Trained Actor
Slow and steady wins the race has definitely been the motto for Maaka's career. He has put lots of hard work and dedication into building a solid acting career for himself. Maaka attended Toi Whakaari: New Zealand Drama School where he earned a bachelor's degree in acting.
4. He Is A Screenwriter
Maaka has spent almost all of his career in front of the camera, but that isn't the only thing he has to offer the entertainment industry. In 2019, he also ventured into writing with Wellington Paranormal. He has been a contributing writer on the show ever since. At the moment, his only writing credits are with Wellington Paranormal, but it seems likely that he will eventually branch out into other projects.
5. He Is Not Into Social Media
Social media has become so popular over the last ten years that it's almost impossible to believe that there are lots of people out there who have no interest in being online. Maaka is one of those people. Although most people would probably expect him to have an online presence because of his career, that isn't the case. Maaka doesn't have verified accounts on any social media platforms.
6. He Has Theater Experience
Lighting up the screen is one thing, but Maaka also knows how to bring that energy to the stage. Maaka has done lots of theater work over the years. Unlike many actors who step away from the stage when their on-screen careers take off, Maaka has continued to do plays. He has also done theater with his bandmates.
7. He Has Done Voice Work
Live-action opportunities are what has made up the bulk of Maaka's career, but he's also put his voice to good use in the acting world. According to his resume, Maaka has done two voice projects during his career: Darwin & Newts "Maori Language Week" and Journey to the West (Te Reo Māori version).
8. He Likes His Privacy
People in the entertainment industry often find it difficult to keep their personal lives to themselves. However, Maaka hasn't had that problem. In addition to not being on social media, Maaka also doesn't do many interviews. As a result, there isn't much information about his life outside of his career.
9. He Has a YouTube Channel
While it's true that social media isn't Maaka's thing, he does have a YouTube channel. The channel was created in 2016 and he has only uploaded one thing since then. The video is of him singing "Come Back Home". To date, the video has 5,200 views. It doesn't appear that he has any plans to return to YouTube.
10. He Has Struggled With Being Too Hard On Himself
Most creative people would agree that they can be very critical of their work, but Maaka was especially hard on himself for most of his career. This often resulted in him feeling down and wanting to give up. He eventually realized that he simply couldn't go on like that. While talking to RNZ, he opened up about his journey to be kinder to himself. Maaka has since learned to appreciate himself and all of the great things he has to offer the world both personally and professionally.