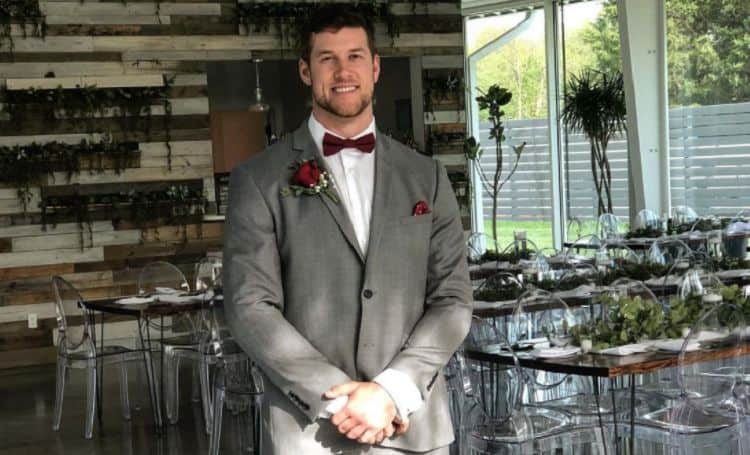 The name Clayton Echard is one that might be familiar to anyone who knows football – and so many of us know football. It's the American way. He was a good player in college, he was drafted into the NFL, but his career there fell short of the mark. If you knew him then, you were probably shocked to see him vying for love alongside something like 30 other men on Season 18 of "The Bachelorette," and now he's the season 26 star of "The Bachelor," and he will go looking for love in likely all the wrong places. We hope he finds what he is looking for, but until then, we'll just see who he is.
1. He's a 90s Kid
Echard was born and raised in the 90s. He was born on April 29, 1993, so he probably even remembers some of his time in the last simple decade, and that probably brings him some happy memories. He grew up in a small town in Missouri called Eureka with his family, which includes two brothers.
2. He Began Playing Football in Middle School
Many assume you cannot be a great athlete unless you start playing right away, but it's not the truth in so many instances. When you are good, you are good. Echard was not a football player until he was in the 6th grade, which means he got a late start. Yet, he's the one drafted into the NFL as a fresh college graduate.
3. He Was a Walk-On
While he was a good player in high school, he didn't receive any offers from any football teams going into college. He ended up playing football in college for the Mizzou (that's the Missouri Tigers) as a walk-on member of the team who earned his place over the course of the next four years despite his red-shirt freshman season.
4. He Studied Hard
While in college at the University of Missouri, he did focus on his academics. He majored in health sciences, and he graduated with his degree in 2015. He chose to minor in Spanish as well as in business, and we imagine that was a wise move for him.
5. He's in Medical Sales
Since his football career did not pan out (he was drafted by the Seattle Seahawks after his college graduation but let go only a few weeks later), he put his college degree to good use. He went on to become a medical sales representative for a company located out of Missouri. It's called Stryker Medical Sales.
6. He is Back in School
In addition to working, he's working on his education once more. He's decided it is time to focus on obtaining his Master's Degree in Business Administration, so he's enrolled in courses at Southeast Missouri State University. He's continuing his degree in the health care program in the administrative aspect of health care.
7. He is Very Close to His Family
If there is one thing we can say about him that is absolutely certain, it is that Echard is a man who is close to his family. He is close to his parents and both brothers, and they do spend a lot of time together. Family is of the utmost importance to this young man, and he hopes that he can create a family of his own with a woman who is perfect for him to spend the rest of his life with.
8. He's Not Super Active on Social Media
He's not one of those guys who decided he would go onto national television looking for love with a woman only to see if he could become a social media influencer by building his social media following. In fact, he rarely ever posts on any of his social platforms. When he does post, it's typically all about his family fun and the time he's spending with his loved ones.
9. He's a Relatively Private Man
He spent a lot of years being talked about, watched, and written about when he was a college player, and he hoped to play for the NFL. However, he never once spoke about his personal life. He's someone who keeps that relatively close to the vest, and that's not a bad way to live life. The entire world does not need to know every move you're making.
10. He is an Outdoorsy Type
If you want to know what he does for fun, it's stuff outside. Hiking, sports, biking, and so much more. He loves to be outside, and that's also a great habit to have. There's nothing like being outside to brighten the day, to make you feel good, to reduce stress, and to improve health overall. He knows this, and he takes advantage of it.
Tell us what's wrong with this post? How could we improve it? :)
Let us improve this post!